Peer Audience Ambassadors Program: TU Dance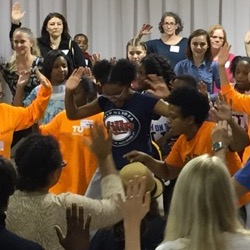 Organization Name: TU Dance
Department Submitting Recipe: NA
City: Saint Paul
Program Name: Peer Audience Ambassadors Program
Time of Program: Generally evenings
Program Length: Numerous programs ranging from 20 min conversations to 1.5 hour events
Program When Elaborate: Numerous programs. Most events happened during the month prior to performance. One activity in the lobby pre-show, the performance itself and 3 post-performance.
Goal: • We will engage an estimated 125 adults, at least 40 of whom are new to dance/performances. • We will provide training for 20-30 young people enrolled as TU Dance Center students to act as Audience Ambassadors, helping them to develop their capacity as leaders. • We, and the young Ambassadors, will better understand the various barriers that have prevented the adults from engaging with dance previously, supporting our efforts and youth development. • Over the longer term, we anticipate repeat engagement and participation among the adult guests. • Beyond the scope of the project, we will seek ways to continue engaging the youth as leaders.
Time of Year Offered: Fall
Program Description:
TU Dance used this grant opportunity to empower youth to orient the adults in their lives to dance culture. It supported a series of events including; bringing youth to a cultural awareness training, youth conducting interviews about adult participant's views of dance and dance audiences, attending the performance and finally a debrief session with the youth to discuss what they discovered about the adults in their lives and about themselves in the process. A total of 22 students participated in the program through completion. These young people originally identified 112 adult participants. We proposed that each youth ambassador engage 4-6 adults. Among the 22 youth who completed the project, 70% of them engaged 5 adult participants. Building new audiences for dance was an additional project focus; a total of 82% of the young ambassadors were able to engage at least 2 adult participants who had never before attended a professional dance performance.
Number of Participants: We had 22 youth participants. They engaged 112 adults in their lives. Events were arranged so that they were able to experience and talk about dance one-on-one and in large groups.
Target Audience: TU Dance youth were ages 12-18 of diverse backgrounds. Among the adults the ambassadors engaged, 18% were ages 18-24, 17% were ages 25-34, 24.5% were ages 35-44, 26.5% were ages 45-54, 10% were ages 55-64, and 4% were ages 65-74. The adults, as with the ambassadors, were of diverse racial and ethnic backgrounds, including mixed-race individuals. The largest portion of the adult participants identified as White or of European descent. Those who identified as Black, of African descent, or Afro-Caribbean also represented a large portion of the group. The group also included those who self-identified as Hispanic/Latinx/Mexican-American, Asian/Asian-American, Hawaiian/Pacific Islander, Middle Eastern, Native American/American Indian, and multi-racial. Among respondents, 27.6% reported that they had never attended a dance performance before. The majority were female (77.6%). The adults also reported diverse occupations; not surprisingly, given that the young ambassadors were students, many of the adults worked in education. The adults' relationship to their young ambassador spanned a range of connections, including friend (44%), family member (36%), teacher/other school staff (14%), and someone they knew from church (6%). The adults also represented 21 different communities across the Twin Cities area and the state of Minnesota, with 64% urban residents, 31% suburban residents, and 5% rural/beyond the metro area.
Is the program for kids? Programming was for adults in our youth ambassador's lives. The program involves youth as agents of engagement! Participation was invitation only.
Nature of Audience Engagement: Due to the variety of numerous events audience members were able to engage in multiple ways. They conversed with their youth ambassador either on the phone or in person for their pre and post interviews. They attended events at TU Dance Center the month prior to performances that included either a family-style meal or light refreshments, watching and interacting with the choreography, opportunities to ask questions and socialize with the artists, students/youth and choreographers. They were encouraged to get on the dance floor and move with the youth during our "Deepening Community Event" and had the opportunity to contribute to Stephanie Batten Bland's choreographic work with an interactive tracing activity in the lobby prior to the performance.
Location: Numerous locations: Students/participants home or coffee shop, TU Dance Center, theater lobby, theater greenroom.
How Many Staff: The Education and Outreach Coordinator was project coordinator. The Artistic Directors, Managing Director and School Director oversaw the project. Dancers in the company were mentors, 22 students from our school participated by finding, interviewing and hosting the adult participants.
Program Cost: The Grant amount was $44,000. We paid for 1 ticket for each adult participant and youth ambassador, the outreach staff, and for support for each of our six events.
Marketing for Program: Youth from our school found adults in their lives to participate in this program. 44.9% were a friend of the students, 36.7% family, 14.3% Educator (teacher at school or other school staff) and 6% were from the student's church.
Cost for Program Participants: Free
Attendance To Date: 134
Past Iterations: This was our first time doing this program. Events such as the open rehearsal and Community event have been held in the past but did not include these particular participants in the past.
What works? We found out from the interviews that personal connection was by far the biggest driver to both improving the experience and enticing audience members to go to performances. Our informal showings and "Deepening Community Events" luckily coincided nicely with this finding! Having youth attend company rehearsal and learn some of the choreography themselves also increased their excitement and ability to talk about the work and share it with the adults in their lives. 94.8% of adults who participated chose either that they were likely to attend another performance and 70% of youth said that they felt more comfortable talking about dance to adults after participating in this project. Having chances to be in the space with the artists outside of the theater helps to create that sense of personal connection!
What doesn't work? We learned that our "Deepening Community" event was too long for young children and should be shorter. We learned that there were too many events to commit to and we ended up requiring participants to only attend one of the events, the interview and the performance. Some participants didn't feel comfortable attending the performance alone even if their ambassador was going to be there. If we did a similar project again we would make purchasing a companion ticket easier and encourage it!
Performances Where Offered: We happened to choose our fall performance but feel that it could be done at most performances depending on the theater venue. This evening was full of emotionally challenging work which we weren't sure would resonate with first-time dance patrons but we received very positive feedback about the work which makes us believe that if this performance was successful, some of our more accessible work would also be just fine.
Past Research on Program: Our pre and post-interviews generated a study unto itself! It was very helpful information to have internally. The interviews that the youth had with their participants collected demographic information and covered questions that were directed towards understanding barriers that keep people from attending dance performances. The vast majority of adults – 94.8% – reported that they were either likely or very likely to attend another dance performance. Perceptual barriers—lack of understanding about the art form, a feeling of not belonging, or an assumed lack of audience diversity—were noted among adult participants. Comments elaborating on these barriers included: "I picture white dancers and a white audience and I don't see myself represented," or "Growing up in Rural Iowa, dance was not for blue collar people," or about arts general, "there is a snobbish atmosphere on some occasions and on those occasions I feel that I am not welcome." Still, perceptual issues were far less prevalent barriers than time and money, which were the two primary barriers to attendance that adults noted. Not surprisingly, these barriers did not diminish between the start of the project and the end of the project. Ticket cost remained the greatest and most persistent barrier for participants beyond the scope of the project. A number of adults spoke about the challenges of allocating time and money as precious family resources among varied obligations. We're considering opportunities to offer more explicitly family-friendly activities as a result of this finding. Participants also noted location and related issues (transportation, parking) as potential barriers.
Continuing Program? We plan to incorporate aspects of this project into our regular programming in particular parts that were little to no cost. This includes inviting youth to learn parts of the choreography prior to the performance. We are also planning to invite those that participated in this program last year to our informal showing and fall performance and offer them a discounted ticket price.
Dance Affinity Groups
Students
Target Audiences
Secondary school students
Families or kid-friendly
Event Formats
Dance 101 - How to introduce contemporary dance to the novice adult
Forming Dance Affinity Groups, either adults or students [keep?]
Dance 101
Participation - attending performances
Ideas for Working with Young Audiences
Social
Participatory
Social Bonding Aspects
With artists - meeting a choreographer, dancers
With other "guides" such as students, volunteers