Art Forward: Cleo Parker Robinson Dance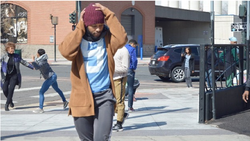 Organization Name: Cleo Parker Robinson Dance
Department Submitting Recipe: Development
City: Denver
Program Name: ArtFwd
Time of Program: Three were done mid-day, one was done early evening.
Program Length: 15-20 minutes
Program When Elaborate: Mid day or late afternoon, in the community and not associated with any other programming.
Goal: Bring art into different communities, encouraging audience interaction and participation. In a few cases, our ArtFwd projects concluded with a chance for the audience to join the ensemble in movement, in there cases the art burst was used as a way to start a discussion around a particular relevant topic, such as gentrification and homelessness.
Time of Year Offered: They were offered as one-off events in Fall and Winter.
Program Description:
All too often, our media devices alert our attention to calamities or tragedies of varying degrees. In many cases, our humanity is moved to respond or reacts to these events with the intention to restore a sense normalcy. Within the creative sector, cultural workers have responded to these types of flashpoints with powerful artworks that at times memorialize the loss of life as we have experienced with Sandy Hook Elementary in Connecticut, Emanuel African Methodist Episcopal Church in South Carolina and Pulse Nightclub in Florida. Other times, the artwork developed as a form of backlash to hotbed social issues like police brutality, homelessness, gang violence, domestic violence and gentrification. In each of these instances, the cultural worker draws on insights to inspire a different set of possibilities that may prevent or minimize similar adverse events from occurring again. In an age where opportunities for rapid response acts of solidarity are more frequent, ArtFwd proposes a more forward thinking approach to shaping the future we want for our communities. ArtFwd will convene thought leaders culled from various sectors to work in collaboration with the CPRD creative team to forecast signals for dissonance and plan the proper time and place for an artburst – an infusion of creative expression. Equipped with expert insight, foresight and artistry, ArtFwd will assess different scenarios to help inform creative content for the appropriately placed artburst. Artbursts may occur at the CPRD Creative Arts Campus or other points of interest throughout the city. Each artburst will feature original choreographed movement, spoken word and music performed by the CPRD Ensemble.
Number of Participants: Average audience size was 20-30 per event.
Target Audience: They were created to spur discussions for adult populations; however, any age group could participate.
Private/Public Public
Nature of Audience Engagement: At our first two events, held on a medical campus, the program was designed as a watch and then join in. The first part was a performance focused on the importance of moving. As doctors, therapists and nurses who give so much of themselves, the idea was to give them a chance to get back in their bodies, and spend a lunch break being in tuned with music, movement and each other. After a short performances, the audience joined the ensemble to move together. In the following ArtFwd pieces, the audience watched a performance given in a public space (on a street corner, City Hall). These pieces were designed around specify topics and the focus was more to experience dance in an everyday space. The art was used as a catalyst to break up routine and to get folks to be present.

Location: Three were outside - two on the Anshutz medical campus, one on Five points, and one in the City of Denver building at the top of the City council meeting.
How Many Staff: A lot! In addition to Cleo, and Winifred working on the artistic aspects, staff had to arrange venues, timing and contacts. Marketing and event teams had to spread the word and get attendees to the event and then the full Ensemble participated in each event.
Program Cost: Almost all costs were related to staff time, we created some marketing materials and some costume expenses but those were minimal. They main cost was payroll.
Marketing for Program: For the first two events, we created a piece and worked closely with the Farley Health Center to create awareness. The Five Points performance was held more as a flash mob, and we created it for folks who were in the area at that time. The City Hall piece we coordinated about a month or two out and knew that a certain number of people would be in attendance.
Cost for Program Participants: free
Attendance To Date: Over 100
Past Iterations: This was the first time we did this program.
What works? Being in the community in general worked well. Attendees at all events thanked us for coming and for changing their perspective for a few minutes. "Naturally, I am not a very creative person. So I often forget to invest into my own creative side. Dance for Health illustrated the joining together of exercise and creativity." "Cleo Parker Robinson is a legend in our community. She has helped make Denver what it is today bringing inclusivity and culture to our lives. What a gift to bring her to our campus and a bright moment in the middle of a work day!"
What doesn't work? The challenge in this programming has been around the original Social Forecast idea. The Social Forecast team was to consist of a 'core group of members that will add to the group as the themes and site locations change throughout the district to ensure specific neighborhoods are represented.' Although different community groups have been engaged with each ArtBurst, we have found that a 'core group' was neither feasible, due to time constraints and busy schedules, or ideal, as each project has had such a different theme and hasn't subsequently needed a different group involved. Our timing originally included 6 ArtBursts, with an estimated completion of May 2018. In reality, CPRD will complete 4 community ArtBursts and 3 School-based ArtBursts by May 2018.
Performances Where Offered: This sits outside our season and was seen more as a community project, a way to bring art into the community, to disrupt and bring beauty into public spaces, it was not designed to promote the season or the Ensemble directly.
Past Research on Program: No
Continuing Program? These projects had a lasting impact in the community. We will continue as specific companies request us to partner with them. The open community ArtFwd was very time and staff intensive, so we probably won't repeat those as often.
Additional Comments:
One of the unintended side effects was that the third piece, about homelessness, created a really captivating internal conversation, one that the whole ensemble and many of the staff participated in. This ArtFwd piece was only seen by 15-20 people, but for the artistic team it was the most interesting process and brought about real questions that the dancers had to grapple with and find personal answers to.
Resources & Links:
no
Target Audiences
General Audiences