Every Body Move (EBM): CABD INC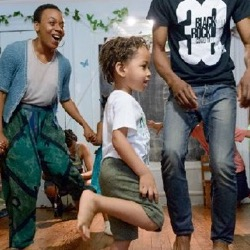 Organization Name: CABD INC
Department Submitting Recipe: Management
City: Jamaica
Program Name: Every Body Move (EBM)
Time of Program: Varies by partner and event.
Program Length: EBM creative encounters for BGS, BMM and BLM usually last one (1) hour each. The Gathering has been a two-hour event with pre-event administrative workshops that are one (1) hour each. EBM Celebration is a half-day event.
Program When Elaborate: EBM initiatives are offered in a way that works with our partners schedules throughout our engagement season.
Goal: CABD's EBM multifaceted engagement platform works to inspire and incite ambitious collective action fueled by the art of social dance. Our initiatives aim to: address intersecting barriers to justice, wellness, economic stability, political visibility, and peace in the lives of Black people; to amplify Black cultural practices integral to solving the problems Black people encounter; and to activate the tools of social dance, intentional dialogue, creative writing, mentoring, deep listening, and radical art making for visioning, storytelling, empowerment and community building, and establishing positive shared values for people of color.
Time of Year Offered: Since EBM initiatives take place locally in NYC as well as on tour, we tend to have opportunities to engage throughout the year.
Program Description:
Built on our belief that social dance works as a powerful tool for social change, EBM brings the artistic rigor of Camille A. Brown & Dancers' beyond the stage and into communities. EBM works to cultivate the creative capacity of its participants through innovative workshops, summer intensives, artistic encounters, educational experiences, public actions, and celebrations for people of diverse abilities, identities, and ages.
EVERY BODY MOVE INITIATIVES
Black Girl Spectrum (BGS): A 10-session experience in movement, self-empowerment, and creative action for Black girls and women.
Black Men Moving (BMM): Launching spring 2018, BMM is an interactive experience exploring healthy masculinity, movement, and creative action for Black boys and men.
Black Liberation Moves (BLM): Intergenerational family programming that explores how movement, black culture and community impact their lives.
The Gathering: An open forum for intergenerational Black female artists to support one another and to advocate for greater cultural equity and acknowledgement in the contemporary dance world.
EBM Celebration: EVERY BODY MOVE celebrates the power of creative citizenship. We see you, building thriving and interdependent spaces and communities. We see you, making art, volunteering, organizing, teaching, or growing food in neighborhood gardens. We know that EVERYBODY has a role to play in sustaining cultural vitality and creative action in our communities. We are celebrating how communities use their creative capacity to build the world they want to see. We celebrate the myriad ways communities resist through brilliant, bold, and brazen practices of resilience. Join us for music, art-making, dance, poetry, and community-building. The time is now! EVERY BODY MOVE!!!
Number of Participants: Depending on the initiative, participant attendance can range from as few as 10 to as many as 100.
Target Audience: The target audience for EBM is contingent upon each initiative. BGS targets young Black girls and women. BMM targets young Black boys and men. BLM targets Black families. The Gathering targets Black female choreographers, dancers and arts professionals as well as allies who are agents, presenters, dance writers/critics, etc. EBM Celebration targets intergenerational past & present EBM participants, dancers, non-dancers and all those interested in using social dance for social change.
Is the program for kids? Depending on the partner, our initiative participants could only include youth or be an intergenerational experience. Initiatives are both private and public. All EBM creative encounters support self-expression, education, and empowerment.
Nature of Audience Engagement: As a platform, EBM engages with community in a multitude of ways, including but not limited to: post-performance discussions ("The Dialogue"), social dance classes, creative writing, deep listening, informal conversations, reading, mentorship opportunities, reference & resource guides, and more.
Location: EBM initiatives usually take place at our partner facilities and/or in schools, community centers and theaters when on tour.
How Many Staff: We have a Director of Education & Engagement who oversees all elements of the program; an administrative EBM team consisting of a engagement coordinator and engagement assistant, a team of community facilitators to lead our initiatives with local partners, dancers who facilitate creative encounters on tour, and volunteers. In addition, the Artistic Director and Managing Director for CABD are heavily involved in the creative development and management of the overall platform.
Program Cost: With the rapid growth of EBM, our budget is approximately $100K for our activities locally and nationally inclusive of community facilitators, EBM administrative staff, select CABD administrative team, marketing, documentation, operational costs, etc.
Marketing for Program: For most of the EBM initiatives with partners, these relationships are cultivated overtime and thus not marketed per se. However, for our more public events (EBM Celebration and The Gathering), we use the organization website, social media, and other e-marketing tools to recruit participation.
Cost for Program Participants: All EBM initiatives are FREE or pay-what-you-can.
Attendance To Date: 750+
Past Iterations: Our EBM Platform is a refinement and expansion of our successful pilot, Black Girl Spectrum, in 2016.
What works? Over the years, our commitment to crafting a customized experience for each of our partners has helped garner more interest for what we do. It has strengthened our relationships with partners in a way that supported our vision and new goals.
What doesn't work? With rapid growth programmatically, we needed to staff-up more than we anticipated to truly support the impact we wanted to have in communities. Understanding the "human capacity" needed is critical to the success of any program.
Performances Where Offered: Though we do have a standard practice of engaging audience via "The Dialogue", the initiatives of the EBM platform stand on their own respectively and do not necessarily have to be connected to a performance by Camille A. Brown & Dancers.
Past Research on Program: We have conducted research that helped us understand the needs of our partners which has continuously been helpful as we refine and analyze each component of the EBM platform.
Continuing Program? Yes, CABD Inc. plans to continue our dance and community engagement platform, Every Body Move (EBM). Our partners and participants personal testimonies of the impact we are having has been a main factor in deciding to continue the initiatives of this platform.
Additional Comments:
We were excited that in our first year as a nonprofit our Board was able to also be involved in the refinement of the platform and engage with community facilitators during their training. Having their support has also been important for the growth of the platform as a whole.
Target Audiences
Young Adults, 25-35
Ideas for Working with Young Audiences
Instruction
Social
Participatory
Social Bonding Aspects
With artists - meeting a choreographer, dancers
With peer audience members