Buniyaad/Foundation: Ananya Dance Theatre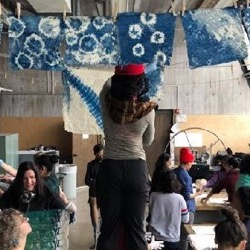 Organization Name: Ananya Dance Theatre
Department Submitting Recipe: N/A
City: Minneapolis-St. Paul
Program Name: Buniyaad/Foundation
Time of Program: Morning, afternoon, evening
Program Length: 1-3 hours
Program When Elaborate: Year-long leading up to performances
Goal: The five components of this program aim to (1) develop leadership capacity in cultural activism; (2) develop a deeper network of understanding and solidarity among community leaders who have shared perspectives; (3) specifically welcome women as participants and audience members; (4) increase capacity and networking for creative community leadership realized through alliances among leaders across communities of color; (5) recognize women of color as creating excellent art in legitimate, alternative aesthetics; (6) cultivate new generations of dance artists trained as cultural activists.
Time of Year Offered: Throughout the season
Program Description:
1. #Spinespin Dialogues: Emerging and established leaders from local communities of color participate in a series of conversations about movement and story sharing circles with our dancers. This exchange of stories, ideas, spinal extensions and breathwork, requiring participants to share time, space, and perspectives.
2. Choreographing Identity Workshops: Women and girls from refugee, immigrant, and communities of color participate in a series of workshops to develop stories about themselves and articulate them through abstract movement.
3. Summer Intensive Dance Training Classes: Students from Twin Cities communities of color participate in 45 hours of dance training based in Yorchha™, our contemporary Indian American dance technique, to build next generation artists and cultural activists.
4. #Occupydance: Youth and community leaders drawn from the Dialogues and workshops participate in the concept of dancing as civic action at site-specific installations and performances.
5. Audience Empowerment Workshop: People, drawn from #Spinespin Dialogues, past workshop participants, current audience members, and the general public, view and discuss, twice, two choreographed excerpts from an upcoming production. Attendees join dancers in movement to connect their visual and bodily encounters to their own experiences.
Number of Participants: As few as 5 and as many as 50 people have attended.
Target Audience: Target audience is women and girls of all ages, income, and educational levels who are members of indigenous, immigrant, refugee, and people of color communities in Minneapolis-St. Paul, Minnesota.
Is the program for kids? This program is for youth and adults, but is geared primarily to ages 18+.
Private/Public Public
Nature of Audience Engagement: Participants converse and socialize in-person with artists and each other, tell stories about their lives or specific experiences, listen to others telling their stories, watch dancers demonstrate concepts and movement, and move and dance themselves. They ask questions and provide verbal feedback in conversations with artists and other participants.
Location: In our meeting and rehearsal facility, community centers, libraries, and other public spaces.
How Many Staff: We use 2-11 dancers to lead, model, and otherwise participate in workshops, dialogues, and intensives. 1-3 administrative and artistic staff members greet participants at the door, direct them to the activity area, and clean-up afterward. Staff oversee the event and interact with any donors who attend.
Program Cost: The overall program in the course of a year costs $25,000.
Marketing for Program: Participants are best recruited through a combination of social media advertising and one-on-one conversations between artists and recruits.
Cost for Program Participants: The program components are offered without cost.
Attendance To Date: 350
Past Iterations: We have held this program for two consecutive years.
What works? We find that conducting activities at consistent locations promotes retention and repeated attendance.
Performances Where Offered: We offer this program annually for our annual productions.
Past Research on Program: No
Continuing Program? We will offer this program in 2019.
Dance Affinity Groups
Students
Target Audiences
Secondary school students
College Students
Young Adults, 25-35
Ideas for Working with Young Audiences
Participatory