African Roots of Hip Hop: Destiny Arts Center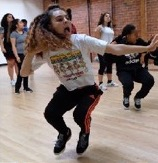 Organization Name: Destiny Arts Center
Department Submitting Recipe: Performance Companies
City: Oakland
Program Name: African Roots of Hip Hop
Time of Program: Evening
Program Length: 2 hours
Goal: 1) To provide audience members with a felt experience of community, delivered through African diasporic dance styles in a professional theater setting 2) To connect audience members to stories of resistance through Black dance traditions and histories 3) To facilitate audience members' opportunities to explore social issues 4) To inspire increased social action.
Time of Year Offered: Before, during, and after performances.
Program Description:
We selected "after;" however, African Roots of Hip Hop is a multi-stage engagement process that started a few weeks prior to the mainstage performance and ended with post-performance workshops within a month after the performances were complete. We also engaged audience members during the performances.
1) We hosted preview performances that allowed audience members to engage directly with the content before the mainstage production, so they could offer feedback to the performers, writers, and directors. It was an intimate view of both the content and the process, as audience members engaged in our organization's restorative practices such as opening/closing circles and props. During these practices, audience members create intentions with the performers, critique the performance content, and then also "shout out" to the successes of the performers.
We also took the show on the road, and connected to school audiences in Oakland. This helped us increase connections to our students peer audience as well, as most of our performers are teens from Oakland.
2) During the performance, African Roots of Hip Hop connected audience members to social issues and the history/lineage of African diasporic dance traditions. We engaged in call-and-response with the audience and incorporated the context of each dance tradition into our overall performance through story or text. We provided more opportunities for audience members to respond directly to the content of the show through a post-it Q & A process in the foyers, during intermission and after the show. We posted intriguing questions, and audience members could respond directly with post-its, creating their own layers of meaning for themselves and other audience members.
3) We also started post-performance workshops for the first time. Here, audience members were able to create their own work (poetry, skits, etc.) that explored the show's content even more. We opened the post-performance workshop by pouring libations for ancestors, and we had a closing circle as well. In both the format of the workshop and the content being explored, we helped to increase experiential engagement with African diasporic forms.
Number of Participants: As few as 15 or as many as 300, as we have included audience engagement components into our mainstage performances.
Target Audience: Everyone in Bay Area, but especially Oakland residents. Our audiences are largely audiences of color, and we make sure to make it accessible to folks from low to moderate income levels.
Is the program for kids? Our program is for youth, and our performances feature youth performers. However, our audience engagement efforts are for adults and youth. We reached adults through preview performances and post-performance workshops, as well as our "during performance" offerings. We reached youth by offering more performances at students' school sites.
Private/Public Public
Nature of Audience Engagement: Audience members engage in person in the following ways: • Read (program notes or web text): During the performance, we provided text that contextualized the African roots of dance/rhythm forms for audience members. • Socialize (with each other or the artist?): Post-show workshops created space for attendees to interact with one another and the artists, many of whom were in attendance. • Eat or drink – We provided refreshments during the post-show workshop • Converse informally (among themselves or with the artist): During the preview performances and the post-show workshop, audience members were able to discuss the show content and provide direct feedback/ask questions of the performers, directors, and choreographers of the show •Provide a written response (survey, post-it note, blog entry): Audience members were able to respond to interesting questions about the shows content via post-it notes in the theater foyer. • Offer feedback in other ways: During preview performances, audiences were allowed to provide direct feedback. As a result, we actually cut an entire scene from the show! Audience members also participated in Destiny Arts Center's practices, such as opening/closing circles and props during previews and post-performance workshops. They were able to engage in call-and-response during the production.
Location: At Destiny Arts Center's North Oakland arts center, in the theater, and in the lobby of the theater
How Many Staff: Co-Artistic Directors (2), the collaborators who helped us integrate African rhythmic patterns into our choreography (2), post-performance workshop facilitators (4), and our workshop facilitators.
Program Cost: Not including time for our Co-Artistic Directors and the production, we spent $14,800 on additional artistic staff and facilitation. We also spent $2,000 on study guides for the performance and subsidized tickets for school audiences who came to the theater to see the show ($12,000).
Marketing for Program: For preview performances, we reached audience members by invitation. Our post-performance workshops were open to the public and marketed during our shows. Field-trip shows were arranged directly with the schools.
Cost for Program Participants: Free
Attendance To Date: 3,135
Past Iterations: 2017-18 was the first time.
What works? We found that splitting up the post-performance workshop working groups into content areas was very helpful, as group members could focus on a single topic of interest. Grounding all of our pre/post activities in opening/closing exercises to build rapport and a sense of comfort also helped. It connected attendees with one another, and helped people engage with difficult material or a creative process. For the post-performance workshops, we also made sure to engage facilitators who could be engaging and who were community leaders/content experts, so everyone could have an authentically enriching experience.
What doesn't work? Post-performance workshop attendance was lower than we expected, because we did not start marketing early enough! We also needed a better workshop sign-up system in the lobby.
Performances Where Offered: Yes, we offered it at all performances. Every DAYPC performance is grounded in African diasporic dance styles. This year African Roots of Hip hop allowed us to explicitly engage audiences in the lineage of the styles we are presenting. Therefore, our format (pre/during/post) allowed us to connect audiences to this at every stage.
Past Research on Program: We did not research our program, but we sought reflection and feedback. We distribute a general audience survey already, and this year, we also conducted a post-it note response practice in the foyer, so people could respond directly to show content.
Continuing Program? Yes, while the topics of DAYPC performances change every year, we will always perform dances of the African diaspora, supporting DAC's historic culture and the communities we continue to serve. These additional engagement measures help us create deeper connections with our audience members who want to have additional community-based experiences with our practices (e.g. opening/closing circles) as well as the content of our shows.
Additional Comments:
Our youth enjoyed the preview performances as well! It gave them a chance to be in front of an audience before the full performance. Getting feedback from an appreciative audience was incredibly valuable for them, as they received notes that were different from the DAYPC Co-Directors'.
Resources & Links:
We will have links to our full show at our Destiny Arts Center website in the near future! For Oakland/Bay Area residents who missed the show, we will also be having a movie night during which we will show the full production!
Target Audiences
Secondary school students
Dance 101
Participation - moving
Online Engagement
In person
Ideas for Working with Young Audiences
Out of school programs
Instruction
Participatory
Social Bonding Aspects
With artists - meeting a choreographer, dancers