Hair & Other Stories - Audience Engaged Version: Urban Bush Women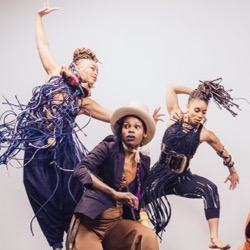 Organization Name: Urban Bush Women
Department Submitting Recipe: N/A
City: Brooklyn
Program Name: Hair & Other Stories - Audience Engaged Version
Time of Program: Evening
Program Length: 30 minutes
Goal: To use pre-engagement relationship building with community organizations and presenters to develop Audience-Engaged versions of "Hair & Other Stories" (H&OS) that incorporate unique opportunities to engage with the work pre-show, during intermission and post-show.
Time of Year Offered: During the tour
Program Description:
UBW conducted pre-engagement site visits with presenters and held meetings with local artists and community organizations weeks before the performance. For the Audience Engaged version of H&OS at the Contemporary Arts Center of New Orleans co-commissioned by the CACNO and Junebug Productions, UBW held Hair Parties (movement conversations between community members and UBW company members that feature excerpts from H&OS and discussions on race and gender), a post-show dance party, and worked with local artists to create a pre/post-show art installation that invited audiences to talk about the work, record their own Hair Stories in the Story Booth, see their real-time tweets broadcasted in the installation room as well as sing along with and listen to local artists hired to animate the installation room with songs, storytelling and a drum line. These activities allowed UBW to create an experience for audience members that included their voices and stories in the work.
While this level of engagement was not possible at every performance during the H&OS tour, elements of the CACNO/Junebug Productions audience engaged performances were carried throughout the tour. This included Hair Parties before many performances, a post-show dance party at NC State Live and opportunities to record audience member Hair Stories.
Number of Participants: Up to 230 audience members participated.
Target Audience: UBW's target audience is women and girls, especially women and girls of color.
Is the program for kids? It is for audience members of all ages, however, there are activities in the installation room targeted for children (a play corner with coloring pages, books like "Happy to be Nappy," hula hoops and magnetic letters for a word scramble activity featuring the names of people important to Black History and Black Superheroes.
Private/Public Public
Nature of Audience Engagement: Audiences enter the installation room prior to the in-person performance. New Orleans artist Ausettua AmorAmenkum created an intention table, a visual response to H&OS that drew audience members into conversation with each other and introduced the idea that the audience's own stories and participation would be important to the evening's performance. Audience members also encountered a Story Booth, a semi-private space constructed so audience members could record their own Hair Story video via an app created by H&OS projections designer, Nick Hussong. The installation room also contained a living room space to explore "living room talk" - polite talk for guests and a kitchen space to explore "kitchen table talk" - in-group/family talk. Audience members were invited to play cards (featuring UBW photos), dominoes and tell stories at the Kitchen Table. The installation room also included a kids' play area and a screen that displayed audience members' real-time tweets with their reactions to the installation room. Local artists and community members were hired to "animate" the space through storytelling and song leading. During the intermission, the audience was led back into the theater space by a local drum line and one performance featured a post-show dance party in the CAC lobby.
Location: In a space adjacent to the performance space. This can be in the lobby of the theater or in a nearby room.
How Many Staff: We hired up to two artist responders per evening to lead songs and tell stories reflective of H&OS. The stage manager assisted with broadcasting the live tweets in the installation room. UBW performers interacted with audience members during and after the show as well as during the intermission. Additional UBW staff (up to three) engaged with audience members to get them to tell their own hair stories.
Program Cost: The budget for the installation room included funding for the artist responders, the artist who created the installation table, technical staff to build the Story Booth, the projections designer who designed the Hair Story recording app, the drum line musicians, the composer who was the DJ for the post-performance dance party.
Marketing for Program: Audiences enter the installation room prior to the performance. However, audience members are recruited during pre-performance Hair Parties, through the UBW and presenter e-newsletter, social media and websites.
Cost for Program Participants: It is free for ticket holders.
Attendance To Date: 3,500
Past Iterations: Our Audience Engaged version was debuted in New Orleans at the CACNO (five performances) and smaller versions were part of the other tour stops in winter/spring 2018.
Continuing Program? The audience engaged version will live on during UBW's NYC premiere of H&OS at BRIC in Brooklyn in January and February 2019. The performances will include an installation room, pre-show Hair Parties throughout Brooklyn, an artist created installation table and local artist space animators will engage with audience members through storytelling and songs unique to UBW's hometown.
Target Audiences
Young Adults, 25-35
General Audiences
Dance 101
Participation - attending performances
Online Engagement
In person
Social Bonding Aspects
With artists - meeting a choreographer, dancers