Trans-Atlantic Time Traveling Company: Holly Bass|360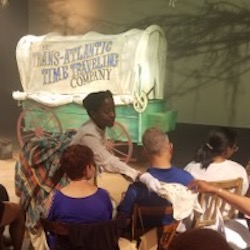 Organization Name: Holly Bass|360
City: Washington
Program Name: Trans-Atlantic Time Traveling Company
Time of Program: Evening
Program Length: 90 minutes
Goal: The Trans-Atlantic Time Traveling Company (TATTCo) is a performance which incorporates various levels of audience engagement, pre-show, post-show and during the performance. Our goal is to spark rich reflection about what it means to be free, through written responses, conversations and post-show debriefs.
Time of Year Offered: Variable
Program Description:
Our audience engagement is integrated into the performances, which took place most recently July 2018. In addition to the performance, my company also offers year-round art programming at a juvenile detention center in Washington DC. With the TATTCo performances, the main pre-show activity was the Cultural Preserves project in which we provide story prompts and ask audiences to contribute written responses. The responses are then collected inside mason jars, the same way one might store fruit preserves in a jar. The prompts addressed the passage of time, which related to theme of time travel present in the show.
During the show, the performers engage the audience with various types of touch or exchange. For instance in one scene we offer healing in the form of a taffy candy. We escalate to anointing audience members with oil, and then finally engaging them in a conversation about the nature of fear and freedom.
After the performance we incorporated "empathy interviews" as a way to collect post-show information, an idea that came from company manager Mel Harper. Together, we designed a series of questions related to the content of the show that would lead to more free-ranging and open discussion. I recruited a team of 6 black women and Mel trained them in the process. She also designed special notebook covers and Freedom buttons for the interviewers. The notes were transcribed by hand. Sometimes the interviews were conducted one-to-one, other times in groups of 2 to 4 people. We also noticed that audience members would start conversations with each other while waiting to share their thoughts with one of the empathy interviewers.
Number of Participants: As few as 15 and as many as 50 people have participated in the most recent run.
Target Audience: While we encourage all audience members to attend our performances, our target demographic is black audiences ranging from teens to seniors. In Washington, DC our audiences tend to be highly educated, and skew more female. The location varies and can influence who shows up for the programs. Most of our programming takes place in NW DC, though this summer we intentionally did more programming in SE DC.
Is the program for kids? The workshops at the detention center are designed for teens. The Cultural Preserves and empathy interviews are all ages activities. The purpose is primarily self-expression.
Private/Public Public
Nature of Audience Engagement: Audience members at the performance are approached by a TATTCo team member and invited to participate by writing down a story or verbally sharing their thoughts which are recorded by hand into a notebook. Audience members are also invited to converse informally. Sometimes, refreshments are provided. At the juvenile detention center, the teens are surveyed for which art activities they are most interested. Based on that we modify our curriculum to include dance, poetry, rhyming/hip hop music production and adornment as radical self-love.
Location: In the lobby of the theater, in the theater house and often at off-site locations.
How Many Staff: Five to ten staff are required. They play the role of gallery guides and empathy interviewers. The gallery guides are usually teens who encourage audiences to participate in the Cultural Preserves story collection process. The empathy interviewers collect post-show responses.
Program Cost: The budget varies but we typically pay teens $15/hour including training and on-site time plus transportation stipends if needed. Empathy interviewers are paid $18-$20/hour on average, plus performance tickets.
Marketing for Program: Audiences are recruited to come to the actual performance. We general don't recruit them to participate in the other activities.
Cost for Program Participants: Free
Attendance To Date: 350
Past Iterations: We had five performances and two previews for TATTCO
What works? The pre- and post-show activities worked incredibly well. We used the previews and early performances to refine the audience engagement during the show as that required more finesse to encourage audiences members to feel comfortable speaking in front of the group.
What doesn't work? We have to strike a balance between the needs of the production crew (to re-set the stage or strike the show) and the desire of the audience to linger in the house. We can move audience members to the lobby but there is a definite interest in staying inside the main house of the theater, which felt more cozy even though it is a larger space.
Performances Where Offered: This program was specifically designed for this performance, but we generally offer audience engagement activities in all of our cultural programming.
Past Research on Program: Only informal research of collecting anecdotal responses. We learned that if given the opportunity people will stay for more than an hour and continue the conversation.
Continuing Program? Yes. The types of responses and enthusiasm for the conversation and dialogue were very inspiring.
Additional Comments:
Our partnering venue and production company were pleased with the programming and would like to bring it back next season.
Resources & Links:
Not at this time.
Target Audiences
General Audiences
Event Formats
Participatory Engagement Methods: involving the audience in activities such as dancing or choreographing
Dance 101
Participation - attending performances
Participation - responding to questions, writing, giving feedback
Online Engagement
In person
Social Bonding Aspects
With artists - meeting a choreographer, dancers