Les Ballets Trockadero de Monte Carlo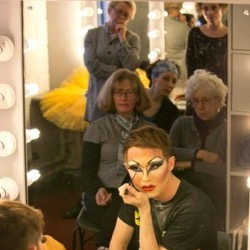 Organization Name: Les Ballets Trockadero de Monte Carlo
Department Submitting Recipe: General Management
City: New York
Program Name: Workshops for GLBTQ Seniors and Youth: Les Ballets Trockadero de Monte Carlo
Time of Program: Afternoon
Program Length: Workshops are 90 min – 2 hours, and the series is currently 6 workshops presented once a week.
Program When Elaborate: Our program currently is offered on-site at our partner institutions at times that our partner organizations believe will be most convenient for participants and will generate the best turnout.
Goal: To instill greater confidence and poise in participants, develop basic classical dance knowledge, develop movement skills and body awareness, and build dance and cultural appreciation (both of the Trockadero and the artists it parodies) in local GLBTQ youth and elders. We also strive to find a safe space where participants can play with gender expression and performance.
Time of Year Offered: Year-round.
Program Description:
Les Ballets Trockadero de Monte Carlo engages communities with educational programming as an extension of the work the company does onstage as a world class all-male comic ballet company, defying expectations and rearticulating absolutes when it comes to dance, ballet and gender. We offer year-round, sequential dance engagement activities that use classical ballet as the jumping off point for workshops specially designed for LGBTQ teens and seniors. The engagement program curricula offer a wide spectrum of expression – masculine to feminine; on-stage to off-stage; individual souls to grand public personas – steeped in an environment of growth and support, with a goal of leading the individual to realize more of the independent person they are meant to be.
Each workshop in the series explores one of the core concepts of the Trocks – ballet technique, parody, and mime, as well as character development and performance. The workshops are structured using elements of the Liz Lerman Dance Exchange Toolbox to provide participants with an opportunity to be an active participant in the creative process. Below is a sample of the first "Persona" character development workshop.
Lesson Overview:
Workshop participants are introduced to the history of Les Ballets Trockadero de Monte Carlo. The entry point for this lesson is built on the foundation/premise of the "Trocks" - that the company parodies historic ballet companies such as "Ballets Russes de Monte Carlo" and assume ballerina and danseur identities when performing. Participants are introduced to Trockadero program notes, specifically the dancers' biographies. Participants will create their own "Trockadero Persona." This persona will inform the movement that the participants will create throughout the remainder of the workshop.
Objective:
Participants will experience creating their own unique Trockadero Persona biography. They will create movement phrases based on the "essence" of this persona. The structure below illustrates the accessibility and progression within lessons:
1. Circle: Participants introduce themselves with name and preferred gender pronoun.
2. Leader gives brief overview of Trockadero history/style. Participants receive handouts with sample Trockadero names and biographies. They then have a brief writing session to create their "Trockadero Persona" including name and biography using the handouts. Share with the group.
3. Warm Up: Participants follow a very basic ballet warm-up. This is based on the experience level of participants and can be as simple as a series of plies and stretches.
4. Partner Work: 1 to 10 Exercise. The first partner makes a shape with their body, then holds perfectly still and says, "one." The second partner looks at the first partner's shape and then makes a shape that relates to it in some way. This partner freezes and says, "two." This process continues until they reach ten.
5. Participants show the group their movement study.
6. Participants turn facing outside the circle. Create Signature Trockadero Movement Phrase: 4 movements that represent an adjective that describes their Trockadero Persona.
7. Participants share work.
8. Participants turn outside the circle and create a longer phrase that will have four components.
• Signature Trockadero Movement Phrase.
• Trace with your finger something of importance that you see when you look out into the theatre/opera house where your persona is performing.
• Create a movement that represents the dominant color in the theatre.
• Repeat the signature Trockadero movement phrase.
9. Share with group.
10. Partner work. Partners combine their created phrases using these spatial ideas:
• Signature Phrase: participants start away from each other.
• Finger trace: participants move towards each other.
• Dominant color: participants are now close to one another.
• Repeat signature phrase and end in a related shape.
11. Participants share work.
12. Leader can now put all the participants movement into choreographic
structure.
13. Closing circle: Each participant gives an elaborate bow in the style of their persona.
Number of Participants: We have had as few as 3 and as many as 20.
Target Audience: Our program was created to specifically target LGBTQ seniors (60+) and LGBTQ teens but can be expanded for a general audience.
Is the program for kids? Out of school, participants are pulled from specific partner organizations. Primary purpose is self-expression though specific technique and dance history elements are included.
Nature of Audience Engagement: Participants take part in a movement workshop, which includes generating their own movement phrases. At the end of the class, participants may view video of Trockadero works as well as the original works they parody. Each workshop wraps with an opportunity for participants to provide feedback on the session - what was meaningful, what was difficult, etc.
Location: On site in the common rooms of our program partners.
How Many Staff: 1 lead teacher and, when scheduling allows, 1 co-teacher. A staff member is often present to assist with video, sound, etc. When working with older populations, we also make an effort to have an accessibility specialist on site to work with participants who may have vision or movement impairments.
Program Cost: Each six-week series is approximately $2,000 for salaries. The teen participants at the homeless shelter each receive $20 for each workshop they attend (approximately $200/workshop or $1200/series). The accessibility specialist receives $100 for each workshop she attends. A small amount, approximately $100, is allocated to cover expenses like music or costuming for the final showing.
Marketing for Program: Our partner organizations do the majority of the recruitment. Methods used include listing in the monthly calendar in hard copy and online, flyers posted on site, and announcements made during other organization events.
Cost for Program Participants: Free
Attendance To Date: 115 participants as of August 2018
Past Iterations: We have done the 6-workshop series three times since the program launched in summer 2017.
What works? Since the Trocks are a comedy company, keeping the workshops fun and un-stressful for dance novices was a priority. Our senior participants gave us the feedback that they appreciated that it was a full movement class and that we didn't "just treat them like old people" (quote from a participant), providing modified Trockadero choreography and offering them the opportunity to do as much as they were comfortable with. We began including a disability specialist with our senior workshops when we had repeat participants who were blind and who used wheelchairs, to ensure full participation. Given that we were working with dance novices who were often interested but maybe not comfortable with full participation, particularly with our teen group, our program leader always included "watchers" as the audience and requested their feedback on what they saw, which often provoked insights that had been overlooked by the lead teachers.
What doesn't work? Working with a fluid population at a homeless shelter meant that attendance and focus were sporadic week to week and even within a single workshop, which made it hard to work toward a final showing as we had to allot a significant amount of workshop time to reviewing the week before. Paying participants $20 each week definitely drove more regular participation, but going forward, final showings will take on a more informal tone.
Performances Where Offered: The program is not offered in conjunction with a dance performance specifically.
Past Research on Program: Not at this time.
Continuing Program? Absolutely; feedback from participants and from partner organizations has been very positive. We will continue to look for new partners and we are actively searching for new ways to partner with our presenters to present some or all of these workshops in communities on tour.
Target Audiences
Seniors
Event Formats
Participatory Engagement Methods: involving the audience in activities such as dancing or choreographing
Dance 101
Participation - moving
Online Engagement
In person
Ideas for Working with Young Audiences
Participatory
Social Bonding Aspects
With artists - meeting a choreographer, dancers