My Park, My Pool, My City: Forklift Danceworks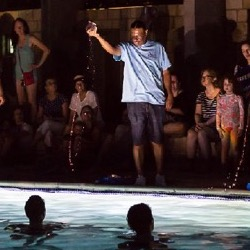 Organization Name: Forklift Danceworks
City: Austin
Program Name: My Park, My Pool, My City
Time of Program: Varies
Program Length: 3 years
Program When Elaborate: In the weeks leading up to the performance
Goal: To support the participation of neighborhood residents in the creation of site-specific dance performances addressing the future of Austin's public swimming pools.
Time of Year Offered: Quarterly meetings for Citizens Advisory Committee in addition to informal one-on-one meetings. Summer during pool operation for Pool Parties.
Program Description:
Through the co-creation of community-based performances at three different East Austin pools over three years (2017/2018/2019), My Park, My Pool, My City employs several community-based engagement strategies. For this project, we further honed Forklift's time-intensive process of relationship building, active listening, and trust building within a community in order to engage more effectively with neighborhood residents. We hosted multiple pool parties at the neighborhood pool where our performances took place. We brought snacks, cold beverages and popsicles to connect with local pool users by sharing food together. We convened a Citizens Advisory Committee, which meets at least quarterly and is composed of community leaders and representatives of organizations specific to the neighborhood in which we're working. As an extension of our Citizens Advisory Committee, we also hired Community Arts Youth Leaders—youth from the neighborhood who help publicize the project, collect stories, and run rehearsals. Both the Citizens Advisory Committee and Youth Leaders are crucial in facilitating introductions and connections for Forklift artists with the neighborhood community, building relationships through which we can collaborate to create a performance. Together, we gathered a cast of 20-50 residents and pool users—including many young children and older adults—in addition to lifeguards and maintenance staff. Many of our participants have not performed in or attended contemporary dance performance.
Number of Participants: 30-100 participants co-create the dance and/or perform for audiences of 2,000+.
Target Audience: East Austin community leaders, youth leaders, and users of Dove Springs Pool.
Is the program for kids? Our program engaged the public, specifically users of Austin's Dove Springs Pool, who are families, teens, kids and older adults. It was designed to take place over the summer primarily at the public pool during out-of-school time as a story sharing and artistic collaboration in dance making.
Private/Public Public
Nature of Audience Engagement: At our pool party gatherings, participants converse informally with Forklift artists to learn more about the project and share stories of the neighborhood pool. Those who are willing may engage in some movement exploration, showing off their jumps into the pool or their favorite stroke. Eventually, we invite those who are interested to attend rehearsals with us where we begin to compose movement sequences together.
Location: At the pool performance site, the neighborhood recreation center, and other neighborhood spaces.
How Many Staff: 2 Choreographers/Directors: directed Citizens Advisory Meetings; trained staff and interns in community engagement; directly engaged members of the public & spearheaded community engagement; and directed movement exploration during Pool Parties in and out of the pool. 3 Assistant Choreographers/Community Artists: supported Citizens Advisory Meetings; organized and produced Pool Parties; helped manage community engagement before/during/after Pool Parties & Citizens Advisory Committee Meetings; supported and directed Community Arts Youth Leaders; directly engaged members of the public; confirmed participation in performances; and led movement exploration during pool parties in and out of the pool. 3 Intern Community Artists: supported Pool Parties; assisted with community engagement; directly engaged members of the public; assisted movement exploration during pool parties in and out of the pool; worked alongside Community Arts Youth Leaders; confirmed participation in performance; and attended Citizens Advisory Meetings. 5 Community Arts Youth Leaders: members of Citizens Advisory Committee; directly engaged public; invited friends and family and encouraged participation among community members; and participated in movement exploration.
Program Cost: $45,000
Marketing for Program: We have found that the most effective recruitment strategy is to show up at the site and talk to people. We also engage in block walking to spread the word to those who may not make use of the pool or have internet access. We make sure posters and postcards are distributed around the neighborhood, and we do a lot of web and social media outreach.
Cost for Program Participants: Free. Whenever possible, we strive to pay community participants a stipend for their time.
Attendance To Date: 30-100
Past Iterations: This program builds on Forklift's distinctive method of arts-based engagement, developed over 16+ years of community-based performances and centered on active listening and relationship building. Our EDA-supported engagement program is the first time we have implemented these particular strategies.
What works? The most critical aspect of our work is showing up regularly in the partnering community with curiosity and delight. Bringing refreshments to share increased attention and interest and facilitated connection with pool users.
What doesn't work? We learned that we had to be flexible in scheduling and often schedule multiple rehearsals for the same thing to accommodate neighborhood residents' schedules. We also learned that people will not always follow through with reserving tickets online or by phone, and finding other methods such as going in person door to door or accepting text reservations made the events more accessible.
Performances Where Offered: We tailored this program specifically for the East Austin neighborhoods in which we're working for this project. Its strength is its adaptability and specificity for the particular partnering community.
Past Research on Program: Yes. We conduct post-performance interviews with participants and distribute brief surveys to audience members immediately following each performance.
Continuing Program? Yes. We will implement similar strategies in next summer's third performance at an East Austin pool, and our work with community this year will certainly inform our future community-based projects.
Resources & Links:
http://www.myparkmypoolmycity.org
Our project website, launched in Spring 2018, documents the three-year project on Austin's city pools and highlights some of the neighborhood participants and their stories. It enables us to share the personal anecdotes and neighborhood histories that have emerged through this project with a wider audience.
Event Formats
Participatory Engagement Methods: involving the audience in activities such as dancing or choreographing
Dance 101
Participation - attending performances
Participation - moving
Online Engagement
In person
Social Bonding Aspects
With artists - meeting a choreographer, dancers