Young, Gifted and Black: A Transformative Experience (HBCU Initiative): Dayton Contemporary Dance Company (DCDC)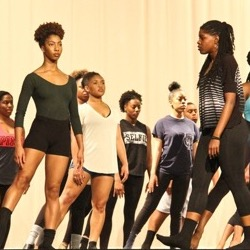 Organization Name: Dayton Contemporary Dance Company (DCDC)
City: Dayton
Program Name: Young, Gifted and Black: A Transformative Experience (HBCU Initiative)
Time of Program: Varies. Some activities held during scheduled class meeting times, day or night, while others scheduled as an extra-curricular or campus wide activity late afternoon or evening. Opportunities to reach beyond the campus to local schools usually take place in the morning or early afternoon.
Program Length: 2-4 days
Program When Elaborate: Over the timeframe of the residency, many forms of engagement can be included from classes to discussions on a variety of topics in addition to a performance and post-show talks.
Goal: The goals of this program are 1) present fine art to students attending HBCUs and the universities' surrounding community to expose them to the art of contemporary dance, 2) connect dance to the background and cultural experience of HBCU students and those in the community, and 3) develop a deeper connection between the HBCU audiences and DCDC.
Time of Year Offered: Academic calendar, typically September-May
Program Description:
Dayton Contemporary Dance Company's HBCU Initiative Young, Gifted, and Black: A Transformative Experience offers students exclusive access to unique artistry based in the African-American cultural experience through hands-on, engaging participation both in and out of the classroom. The goal of Young, Gifted, and Black is to enhance arts and culture exposure for a well-rounded HBCU graduate, celebrating the spirit of creativity and shaping the arts patron of tomorrow.
Young, Gifted and Black showcases dance works by leading emerging and established choreographers of color. In addition to a public performance, DCDC invites campus professors and other experts to join dancers onstage for a pre- or post-performance discussion of the content of the performed dance works.

The HBCU residency is tailored to fit each campus. It can also include master classes or more general community movement classes led by DCDC dancers; excerpted school-day performances for area students brought to campus; and class and community discussions about the role dance plays across time, place and culture.
Number of Participants: Over the activities that take place during the 2-4 residencies, including a performance, there are opportunities for a variety of group sizes. Totaled, each residency has 500-2,000 participants depending on the activities, size of the campus, and size of the community.
Target Audience: The target audience is college-age students at Historically Black Colleges and Universities (HBCU).
Is the program for kids? While not the main target, youth are sometimes part of the audience if the host college decides to host a school day performance or provide instructional opportunities to partner K-12 schools or organizations like community centers or libraries.
Private/Public Public
Nature of Audience Engagement: Various. Some activities of the residency allow participants to move and dance themselves. Others involve conversation or to ask questions or give feedback at a panel or post-show talk. The performance itself is watching and listening. There may be opportunities to socialize and have informal conversations with artists or the artistic team.
Location: Various locations on campus we are visiting.
How Many Staff: Director of Touring and University Initiatives connects with HBCU's and guides school through the process to develop their unique residency. Company Manager assists with logistics both prior to and during the engagement. Artistic Director and/or Associate Artistic Director shape activities and lead teaching artists. Stage Manager assists with the performance aspects. 12-13 Dancers/Teaching Artists attend to teach, speak, interact, and dance.
Program Cost: As a residency, most are between $10,000 and $15,000 to carry out.
Marketing for Program: HBCU's are recruited through phone and email conversations. Additional faculty and staff are recruited internally by the campus. The participants are recruited through university communication channels like newsletters, event calendars, announcements, etc, posters or fliers posted on campus and word of mouth, as a requirement of a class, and outreach to local outlets like media, community groups, schools, etc.
Cost for Program Participants: With grants underwriting the initiative, each college or university makes a $6-7000 commitment. Most activities were free to participants with some performances being ticketed to the general public/non-students in accordance with the school or series guidelines.
Attendance To Date: 15,000
Past Iterations: 16 HBCU's in 11 states over the past three years, 4 in the year of EDA funding
What works? Find a champion. The most successful residencies have been the ones were there was someone on campus willing to find the right people to make the opportunities happen and to recruit the faculty/staff that would intern recruit the students.
What doesn't work? Do not expect all colleges to have knowledge of presenting dance. We have learned to be able to coach staff and faculty to find the places and resources we need to put together the best possible circumstances for residency activities but we have also learned to be flexible and adaptable.
Performances Where Offered: This program is provided on tour.
Past Research on Program: We distribute a link to an online survey to capture basic information and reactions to the overall residency. We have confirmed that we are reaching our target audience even as some activities are open to the general public. We have learned that utilizing university communication channels, campus posters/fliers, and word of mouth are the most popular ways that attendees found out about the activities. Survey respondents identified the opportunities to dance or take class with our teaching artists as their favorite experience. Survey respondents rate their overall experience as a 9 or 10 on a 1-10 scale.
Continuing Program? We will continue to offer this program to schools geographically close to the company home or to where we are on tour as resources are available.
Target Audiences
College Students
Dance 101
Participation - moving
Online Engagement
In person