Stories in Motion: Community Celebration Gatherings: Alabama Dance Council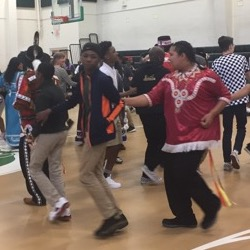 Organization Name: Alabama Dance Council
City: Birmingham
Program Name: Stories in Motion: Community Celebration Gatherings
Time of Program: Community gatherings can be held during the day at schools or after-school programs, in the evening as community events or post-performance experiences, as part of a community festival, etc.
Program Length: 90 minutes as a stand-alone event combining a performance portion by the artists (45 minutes) followed by the story circles and dance making (45 minutes). If used after a performance, allow 45 minutes for the community gathering experience to reflect on the performance. Add additional time for food and social time.
Program When Elaborate: Community gatherings can be offered as a stand-alone event with the participating artists providing a performance experience in the community gathering setting. It can also be offered after a dance company's concert, which provides the performance experience, followed by the community gathering experience to reflect on elements of the performance through story circles and dance making led by the company's artists or local dance artists.
Goal: To offer audiences the opportunity to experience dance in a community setting by combining food and fellowship, dance making, and story circles to share reflections about what connects us as members of a community. To combine dance making and personal story in a way that weaves our stories together as one. The community gatherings are designed and facilitated in a way that leads participants on a personal journey through dance and builds a sense of community with other participants.
Time of Year Offered: As a part of, or an extension of, the annual Alabama Dance Festival in January in Birmingham. Also available to tour to other parts of the state during the school year.
Program Description:
The community gathering event needs to have a theme or purpose that shapes the community gathering content. In Alabama, we are celebrating different cultural perspectives and genres in dance using the themes of place, home, and community. We designed the program to share dance with different audience groups in a setting that is familiar to them (i.e., school, senior center, church, student center, gallery, city hall). The community gathering process involves seeing dance, talking about dance, and making dance in the safety of the shared community space. Sample scripts are available. The format typically includes:
• Community gathering social time, preferably with food and drink. This can take place at the beginning or the end of the event. The artists participate and mingle with community members.
• Invitation to join the community gathering circle and a welcome script by one of the artists or a facilitator. Chairs are arranged in a circle or semi-circle with the artists.
• Introductions: Each dancer/choreographer introduces them selves with one sentence.
• Warm up stretch, led by one of the artists, to connect mind and body in preparation to watch the dances.
• Program of dances: Artists present their "story" or cultural perspective with a short dance. Before each dance, the dancer/choreographer or facilitator introduces the dance by giving the title and a brief statement to contextualize their dance. We used a five-minute limit, including introduction, because of the number of artists (average was 8-9 per gathering). The dances take place inside the community circle and are done in a "stripped performance" context with only sound system support or live music (i.e., drumming or singing). Each artist selects his/her costume, ranging from simple performance attire to full native regalia or other traditional dress.
• The facilitator transitions the audience into small circle groups led by the artists OR one large circle led by the facilitator to share a short personal story using a prompt ("I come from a place where…"). The artist leader for each group is determined in advance and the number of groups is based on anticipated attendance. Use a numbering system to count off around the circle (i.e., number 1-5 if there are five groups). In the small circles, each person completes the prompt and creates a movement gesture for their story that the group learns. Progressively, more gestures are added with each person's story until the circle has created a short dance. Music can be added to the group's dance. NOTE: movement gestures can happen while seated if there are elderly or disabled participants.
• If time permits, each small group "performs" their dance for the other groups.
• Closing: The facilitator asks the participants to summarize their community gathering experience with one word or short phrase, going around the circle or pop-corn style.
Number of Participants: As few as 10 up to 100. The larger the group, the more artists are needed to facilitate the small break-out circles.
Target Audience: We worked with elementary school students up to seniors at a senior community center. The target audience depends on the community partner involved and the location for the event. It is adaptable to all ages, depending on the experience and comfort level of the artists. Our focus was on taking dance to where groups of people congregate rather than asking them to come to us at a theater.
Is the program for kids? This program is for adults or students or a combination of both. It is instructional and provides an opportunity for self-expression. The school program version was usually not open to the public unless the school invited the pubic.
Private/Public Public
Nature of Audience Engagement: The audience socializes over food and drink with each other and the artists, they listen to commentary and watch dances, they share a personal experience and make movement gestures together, and they provide summary feedback about the dances and their overall community gathering experience.
Location: In a large, open room with chairs arranged in a circle or semi-circle (not fixed seating).
How Many Staff: We use 2-3 Alabama Dance Council staff, 2-3 community partner volunteers, and paid artists and facilitator. Community partner volunteers work with staff to plan and market the event, usually held at their location or a facility used by their constituents. Staff oversee the event, and serve as the liaison between the artists, facilitator, and the community partner. The facilitator and artists lead the different community gathering activities. The staff and community partner manage the event setup and refreshments.
Program Cost: We allot $200 for staff, $50-100 per person for artists and facilitator, $100-$250 for refreshments or secure food donations, and $200 for marketing/advertising of the event or use free online marketing.
Marketing for Program: We have pages on our website about Stories in Motion: Community Celebration Gatherings. We use email marketing, social media, and printed flyers for distribution by our community partners. We also ask community partners to market the event.
Cost for Program Participants: Free
Attendance To Date: Approximately 2,000 students & 600 adults.
Past Iterations: We held 22 community gatherings in 11 residency days in 5 Alabama cities and 1 Native nation.
What works? Being adaptable to the space, audience, available artists, and the time limits for each location. We developed three script variations, cast lists, and assigned small group leaders or large group leader prior to each event. Artists did a great job of allowing flexibility to the format based on audience responses and requests. For example, some students wanted to share their dances with us. A planning visit to each city and location for the tour was essential to creating community partner buy-in, working out logistics, and discussing target audiences and marketing strategies.
What doesn't work? We needed more lead time for the marketing and to create social media buzz. Schools provide built-in audiences, but community events in the evening are more challenging to attract audiences. We need to work with community partners more closely to address this issue.
Performances Where Offered: We have not offered this program in conjunction with a dance company's performance, only as part of a residency tour to five cities and one Native nation in January and April 2018. However, we plan to modify the model to use as a post-performance community gathering at the Alabama Dance Festival as appropriate to the thematic content of the program or as part of a dance company's residence at the Festival, beginning in 2019.
Past Research on Program: We collected audience feedback and stories via a web page, "Sharing Our Stories."
Continuing Program? We plan to continue touring to different Alabama cities as funding opportunities become available. We will definitely incorporate community gatherings into the Alabama Dance Festival programming as often as possible.
Additional Comments:
This was a transforming and powerful experience for the staff, artists, and audiences, and make dance accessible to audiences who have never before experienced the rich cultural perspectives of dance in their communities.
Resources & Links:
Website pages on the Alabama Dance Council's Engaging Dance Audiences project, "Stories in Motion: Community Celebration Gatherings" that include a general description, Meet the Artists, tour schedule, and Sharing Our Stories.
http://alabamadancecouncil.org/programs/engaging-dance-audiences/
Target Audiences
Primary school students
Secondary school students
General Audiences
Dance 101
Participation - attending performances
Participation - moving
Online Engagement
In person
Ideas for Working with Young Audiences
In school programs
Participatory
Social Bonding Aspects
With artists - meeting a choreographer, dancers