Undesirable Element: Ping Chong & Company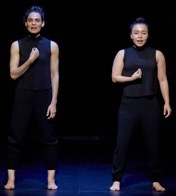 Organization Name: Ping Chong & Company
City: New York
Program Name: Undesirable Elements
Time of Program: All times, usually afternoon or evening.
Program Length: Usually around 70 minutes.
Goal: The overall audience engagement program is the Undesirable Elements series. CALLING, A DANCE WITH FAITH is our attempt to adapt this program to a dance theatre context. The goal of the project was to reach out to Muslim American dancers and create a compelling contemporary dance theatre work rooted in personal testimony.
Time of Year Offered: Year round.
Program Description:
Undesirable Elements is an ongoing series of community-specific interview-based theater works examining issues of culture and identity of individuals who are outsiders within their mainstream community. It's not a traditional play or documentary-theater project performed by actors. Instead, Undesirable Elements is presented as a chamber piece of story-telling; a "seated opera for the spoken word" that exists as an open framework that can be tailored to suit the needs and issues facing any community. Each production is made with a local host organization and local participants. The development process includes an extended community residency during which Ping Chong + Company artists conduct intensive interviews with potential participants and get to know the issues and concerns facing that community. These interviews form the basis of a script that weaves cast members' individual experiences together in a chronological narrative touching on both political and personal experiences. The script is performed by the interviewees themselves, many of whom have never before spoken publicly. Since 1992, there have been over 40 productions in the series. Originally, the shared trait between the performers was their experience of living between cultures. In recent years productions in the Undesirable Elements series have expanded thematically.
Number of Participants: On average there are around 100 audience members per performance. Performances are for both large and small groups.
Target Audience: Varies by the nature of the projects undertaken. CALLING was intended for Muslim American performers and members of the NYC-based dance community as well as the general public.
Is the program for kids? N/A
Private/Public Public
Nature of Audience Engagement: The audience watches and listens to the dance performance and participates in the talk back with the performers and creators directly following the performance. The performers are sharing their lived experiences and artistry, the production has a cathartic and intense impact on the audience and performers. Audience can also submit feedback from a form sent to their email addresses following the performance.
Location: The Undesirable Elements series can take place in many different kinds of community spaces, from professional theaters to museums to classrooms to community centers. CALLING was presented in a small proscenium theatre in New York City.
How Many Staff: Ping Chong & Company functions as an ensemble. Our staff works on all projects that we undertake. Artists directly involved with CALLING was Jesca Prudencio (director), Ping Chong (artistic director), Cecelia Durbin (lighting), Fan Zhang (sound), Kristina Varshavskaya (stage management), Bruce Allardice (executive director), and the performers Natsumi Sophia Bellali and Hala Shah.
Program Cost: The budget for CALLING was $90,816, including salaries, artistic and other fees, supplies and materials, transportation.
Marketing for Program: Ping Chong & Company announced the opportunity through the company's social media channels and eblasts, which reach around 4,500 individuals. We also asked partnering organizations to post about the opportunity through their websites and eblasts.
Cost for Program Participants: Free.
Attendance To Date: 10,000
Past Iterations: We have conducted Undesirable Elements engagement program over 60 times over the past 30 years. CALLING was developed over six months and was presented twice.
What works? Ping Chong & Company has certain core values around the Undesirable Elements program: to create safe space where people can share their feelings, that performances reflect experiences and are told in the language of the individual participating in the program and that there is a community dialogue that accompanies the performance. For CALLING, the text was generated through interviews with the performers as was the choreography developed in dialogue with the dancers as well.
What doesn't work? We would like to continue developing the work, adding in other production elements and increasing the rehearsal time for the next round of work. We intend to produce the show next season and tour the show the season after.
Continuing Program? Yes. The success of all performances to date - the strong, overwhelming response of the audiences and artists.
Additional Comments:
We are so grateful to the Dance USA Engaging Dance Audiences program for making this innovation possible.
Resources & Links:
People can visit this link to learn more:
http://www.pingchong.org/undesirable-elements/production-archive/calling-a-dance-with-faith/
Target Audiences
General Audiences
Online Engagement
In person