Dance for Social Change (DSC) Day of Action (A Block Party With A Purpose): Dancing Grounds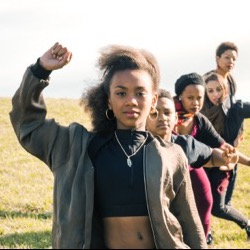 Organization Name: Dancing Grounds
City: New Orleans
Program Name: Dance for Social Change (DSC) Day of Action (A Block Party With A Purpose)
Time of Program: Afternoon
Program Length: 5 hours
Goal: To bring new audiences to connect with the social justice theme of the DSC concert performance the following weekend and energize our immediate neighborhood to participate in Dancing Grounds' work.
Time of Year Offered: Once at the end of March to kick off the DSC festival (before New Orleans' busy festival season kicks off)
Program Description:
We host the Day of Action / St. Claude Festival prior to the DSC performance premiere, where our teen dance company presents original work about a social justice theme they have selected. The goal of this event is to raise awareness about the theme explored in the performance and create ways for attendees to become active participants in the event. For example, last year, our young artists chose the theme, "Breaking Through the Stigmas of Mental Health." We invited performance groups, dance teachers, healers, and local mental health providers to bring their resources and perspectives to the day.
Designed as a "block party with a purpose," Day of Action is centered at the backyard of DG partner school, Arise Academy, a welcoming and familiar place for families in the neighborhood. We have a bounce house and food vendors to signal to the neighborhood that this is a family-friendly, all-ages event. To bring new families to the event, we invite other youth dance, poetry, and singing groups to perform alongside Dancing Grounds' students. We also offer free dance workshops to get the audience moving, and bring resources such as a "healing village" where anyone can receive reiki, acupuncture, massage, or other ancestral healing modalities.
The program extends out from the school to Dancing Grounds' studio, located one block from the school, and other local community centers, art galleries and businesses on the St. Claude Avenue corridor, the main thoroughfare of the neighborhood in which our studio stands. Most events take place outdoors, thus inviting the community in to learn about the upcoming performance; this strategy has introduced audience members to dance who otherwise may not have known a performance was happening. It also builds investment in the purpose of the performance; before the audience even witnesses the performance, they have built some contextual knowledge around the work they will see and why we believe it is important for the community to engage in meaningful discussion around positive social change.
Number of Participants: Typically 150-200 people attend.
Target Audience: Members of the St. Claude community, longtime supporters, those with little to no connection to our organization, families, and local artists and organizers. The event caters to children ages 8-16 and adults ages 24-50.
Is the program for kids? This event is on a Saturday and is geared toward families with children. Youth can engage in fun crafts and activities and also witness performances by their peers, inspiring the artist within them. The event is free and open to the public.
Private/Public Public
Nature of Audience Engagement: The audience has many ways to engage in this event. They can: Move: we offer free dance workshops as part of the event. Past workshops have included: hip hop, ballet, yoga, tap, dancehall, and more. Create: local fashion designer, AYA Designs, facilitates an arts and crafts table where attendees can create picture frames and posters. Heal: a healing village full of community resources, including reiki, acupuncture, and a marketplace with essential oils, herbs, and other healing tools Eat: food vendors serve a variety of items, with vegan and dessert options. Connect: families have an opportunity to connect with each other as well as community organizations such as the local library and health resources. Watch: youth performances from groups across the city.
Location: Core activities take place at our studio and the open outdoor area of our neighboring partner schools. Businesses across the St. Claude Corridor also offer activities and programming.
How Many Staff: Our teen dance company co-organizes the activities and support with set-up and clean-up. 3 staff members lead the planning and coordination of organizations, vendors, and partners leading up to the event. Volunteers, including participant's family members, are employed to pass out information, sign in attendees, and help clean up afterward.
Program Cost: We allot $3,000 to the event – this includes a stage rental, stipends for facilitators, healers, and performers, and any supplies needed.
Marketing for Program: The event is marketed as part of the weeklong Dance for Social Change Festival. We announce it in our organizational newsletter, print posters and postcards and post them around the city, and encourage participating community organizations to invite their communities. We also distribute flyers around the surrounding community and place information in neighbors' mailboxes. Our social media platforms are used in the week leading up to the event to remind attendees. We also send out a presss release about the program. Last year, the event was featured on the front page of the New Orleans Advocate.
Cost for Program Participants: Free
Attendance To Date: 400
Past Iterations: This was the second year we held our annual Day of Action as part of our Dance for Social Change Festival.
What works? Inviting youth companies from across the city to perform automatically boosted our audience because all of their families attended with them. Having it outdoors attracts passersby, as well. Inviting local businesses to get involved broadened our reach and set the foundation for the event to continue to grow in the future. We also launched an interactive map through Google Maps so users could easily identify where activities were happening along the St. Claude Corridor, and click on a location for a description of activities.
What doesn't work? Hosting the free dance workshops at our studio, which was a block away from the core activities at the school, caused some confusion and attendees were less likely to attend a free dance workshop as a result. We also discovered that presenting the Day of Action and the performance premiere on a consecutive Saturday-Sunday was not an optimal way to introduce audiences to the performance premiere. It is very hard for folks, particularly families, to commit both weekend days to attending a dance event. They tended to choose one or the other.
Performances Where Offered: We only offer it as part of our Dance for Social Change Festival as this is the biggest youth performance we present that's marketed specifically to the public.
Past Research on Program: We have not conducted research on the Day of Action. However, we intentionally collect a short survey, printed on the back of the program, at the end of the performance premiere. We distribute a free DSC t-shirt to all audience members that complete the survey, which results in a 90-99% response rate.
Continuing Program? We plan to continue the Day of Action as the kickoff event for the Dance for Social Change Festival. It's a fun and engaging way to get the community involved and ramps up excitement for the performance. To respond to our learnings from last year, we will centralize all activities at the school and offer it one week prior to the performance premiere so that folks do not have to choose whether to commit their Saturday or Sunday to the event.
Resources & Links:
More information about the Day of Action and the Dance for Social Change Festival, including a video about the program, can be found at http://www.dancingrounds.org/dance-for-social-change
Target Audiences
Secondary school students
General Audiences
Online Engagement
In person
Ideas for Working with Young Audiences
Out of school programs
Social
Participatory