Red Hook Fest Residency Program: Hook Arts Media, Inc. formerly Dance Theatre Etcetera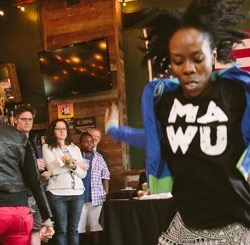 Organization Name: Hook Arts Media, Inc. formerly Dance Theatre Etcetera
Department Submitting Recipe: NA
City: Brooklyn
Program Name: Red Hook Fest Residency Program
Time of Program: Workshops at the Senior Center took place Friday mornings, those at the Red Hook Initiative on Saturday mornings and those at the Justice Center in the evenings. Festival runs 5:30 pm-8:30 pm opening night at 2-7 pm for mainstage event the following day.
Program Length: 10 two-hour workshops at each site and a two day festival
Goal: To promote community dialogue by working closely with our local nonprofit partners to provide movement workshops for their constituents during which the theme of engaged citizenship was explored through multiple artistic activities. Workshops culminated with performances at host sites and at the annual Red Hook Fest.
Time of Year Offered: Spring
Program Description:
Our EDA program consisted of three dance residencies at three local nonprofit organizations. At each site Dance Instigators ( Hook Arts Media dance artists- Rajonna Lewis, Brittany Smith and two dance artists from Naomi Haas Goldberg's Dances for a Variable Population) led a series of ten 2-hour workshops that combined movement warm ups, facilitated dialogue, story circles, the creations of original movement material to explore what each group thought about the concept of engaged citizenship. Each group had the option of performing at their site for their constituents and/or performing at the annual Red Hook Fest.
Number of Participants: 5-20 attended the workshops. Over 3,700 attended the fesitival.
Target Audience: Local Red Hook residents who reside in subsidized public housing. Project worked with people aged 10-80, all either African American or Latinx.
Is the program for kids? Not specifically. The workshops at the Red Hook Initiative were open to any teens registered in Red Hook Initiative's Programs which were limited to residents of Red Hook NYCHA housing.
Private/Public Public
Nature of Audience Engagement: They attend a workshop which involves moving, speaking, discussion, writing, and learning choreography. Snacks are provided. They actively participate over a 10-week period, feel part of a community and get an opportunity to discuss the issues that are of import to them, translating those discussions into movement material. Some groups chose to perform at their site, participate in a talkback and then share meal together. All were invited to perform at our annual Red Hook Fest and bring friends and family along. All were also invited to the festival's afterparty with artists and crew.
Location: At local nonprofit organizations, a school playground and a public park.
How Many Staff: One staff member was designated as Project Manager, and each participating partner site designated one of their staff members to be a Dance Ambassador, to ensure program ran smoothly. It also involved our four Dance Instigators, dance artists that led the workshops. The annual Red Hoot Fest requires our whole core staff of four plus part time 5-10 staff hired to produce, market and act as crew during the events.
Program Cost: Engaging Dance Audiences program- around $46,000, when combined with Red Hook Fest, approximately $121,645.
Marketing for Program: We utilize our partnerships with our many local nonprofit partners to promote the program and evaluate which organization's constituents would be most interested in participating. This was done through calls, emails and in-person meetings. We offered sampler workshops so participants could meet the artists and provide feedback before dance Instigators were officially hired. For the 25th annual Red Hook Fest, Hook Arts Marketing Director undertook a comprehensive media and marketing campaign, seeking feature articles and listings in print and online media outlets throughout the NYC Metro area. Hook Arts website was updated to contain downloadable Festival flyer, press releases, directions, and a press gallery. Brooklyn 12 News ran a message in its news crawl that aired on various cable stations and TimeOut NY donated full page ad. 17,000 flyers were distributed both locally in Red Hook, Brooklyn as well as boroughwide to businesses, schools, restaurants/cafes and community centers. Hook Arts also worked closely with community partners to cross-promote the Festival and partners' upcoming events. Hook Arts also made use of new email lists, a variety of social media platforms, and other new communications initiatives such as the Red Hook Hub, an online digital as well as analog platform for dispensing information on local events that was developed within Red Hook in the aftermath of Superstorm Sandy as part of long-term recovery planning.
Cost for Program Participants: Free
Attendance To Date: 40 people participated in workshops led by Dance Instigators. 3,700 people attended the Red Hook Fest.
Past Iterations: This audience engagement program built on one we initiated for EDA Round Three. So this is the second time, though this was the 25th year of the Red Hook Fest and we have consistently worked with local nonprofit partners and schools through pre-fest workshops with Festival artists each year.
What works? Our engagement work with local seniors was most successful. We continued to develop relationships with seniors and our local senior center that started during our work with Paloma McGregor during EDA Round Three. This work, in particular, succeeded because there was a real need for more quality programming for seniors. They really enjoy moving and dancing, the artists were a great match as they mirrored the demographics of the group and the workshops were led both in Spanish and English.
What doesn't work? Scheduling a workshop that involved teens on a Saturday morning, which was necessary for the artist's schedule, but created challenges for the teens to get to the workshops on time. One group seemed resistant to the idea of performing publically; even though we emphasized it was optional, some participants stopped attending out of concern they might have to perform. We would suggest that participants play an active role in designing the desired outcomes and setting expectations so there is a shared sense of ownership of the program that suits the group's needs and capacities.
Performances Where Offered: We offer this iterations of this program in advance of our annual Red Hook Fest.
Past Research on Program: During EDA Round Three, we worked with a consultant to create a survey that we asked audience to complete at each audience engagement event. We discovered that our annual Red Hook Fest was well known and well branded but few people made the connection between Hook Arts Media (formerly Dance Theatre Etcetera) as the producer of the festival or understood that the organization had a long track record of serving the community.
Continuing Program? As we have recently rebranded and are working on a new five-year strategic plan, we are assessing community needs and considering how our annual dance events are meeting those needs. We will most likely continue this program in some form but with some changes.
Additional Comments:
We are grateful for this opportunity to deepen our relationship with our local Red Hook audience.
Resources & Links:
NA
Target Audiences
Primary school students
Secondary school students
General Audiences
Dance 101
Participation - attending performances
Participation - moving
Online Engagement
In person
Ideas for Working with Young Audiences
Out of school programs
Participatory