Community Discussion and Wood Burning Workshops: Holly Bass|360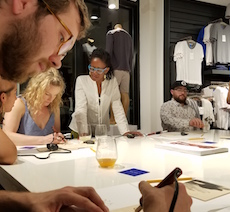 Organization Name: Holly Bass|360
Department Submitting Recipe: Holly Bass, Artist and Founder
City: Washington
Program Name: Community Discussion and Wood Burning Workshops. We sometimes market it as "Welcoming Whiteness" or "Welcome to DC!"
Time of Program: Afternoon or Evening
Program Length: 2 hours, on average
Goal: To offer long-time and new residents in rapidly gentrifying communities an opportunity to sit down with each other and express their point of view, in a format where they could hear other viewpoints. To build trust between newer and older residents in Washington, DC.
Time of Year Offered: The program can be offered at any time of the year, in the months preceding a performance.
Program Description:
Holly Bass|360 hosted a series of workshops leading up to her RACE: Talc & Ash performance on July 10, 2016. At the workshops, long-time DC residents and newer residents met to discuss the changes they've observed during their time in the District, and to share things they wish the other group knew. Audio recordings of workshop participants' observations are incorporated into the dance performance. New and long-time residents were then paired to create wood burned, decorative door signs with welcoming themes pulled from the group discussion and pair-sharing. Participants were encouraged to take their wood burned creations, decorative door signs, home with them to share with a neighbor or hang in their neighborhood.
Number of Participants: We welcome between 10-20 participants per workshop. The workshop begins as a larger group discussion for the first half, and during the second half, the group works in pairs on a wood burning craft.
Target Audience: The target audience for this program are long-time and newer residents in rapidly gentrifying communities. This often breaks down into two demographic groups: black residents ranging in age from their 30s-70s and younger white residents in their 20s and 30s.
Is the program for kids? This program is designed for adults, but older teenagers can participate. Its primary purpose is both instructional and self-expression. Participants are asked to express their experiences and feelings about the changes in their neighborhood. Unpacking these stories can serve as instructional for all participants.
Private/Public Public
Nature of Audience Engagement: Engagement takes place in person. As participants enter the workshop space, they may be offered light refreshments. Participants are asked to introduce themselves and share how long they have lived in their neighborhood. Participants listen to other members of their community as they share stories about the things they've observed in their rapidly changing neighborhoods. Participants challenge their own implicit biases. Participants socialize and converse informally with each other through the workshop. Participants create a hands-on wood burning craft. Participants are invited to write a response to the workshop and mail it back to the facilitator. Participants can hear their own observations weaved into the performance soundtrack, and become a part of the performance.
Location: The program primarily takes place in public libraries, but can take place in any private location.
How Many Staff: We use 1 facilitator and an assistant. A staff person from the venue is also helpful to handle logistics. The facilitator and assistant handle both setup and cleanup.
Program Cost: Supplies for the wood burning activity cost about $30 per participant. We also allot $300 for the facilitator and $100 for the assistant's fee. The venues we have used so far have been free of charge, and have provided marketing services. In the future, $100 could be reserved for marketing materials.
Marketing for Program: The program is marketed on social media and through our email newsletter. The workshop venues market the workshops through their own marketing channels, including email newsletters and event calendars. On the day of the workshop, for the sessions that take place in library branches, the library staff make an announcement over the PA system and we also extend personal invitations to patrons we see.
Cost for Program Participants: The program is free for participants.
Attendance To Date: Approximately 45 people have participated in the workshop program to date.
Past Iterations: We have held 3 workshops.
What works? Asking participants to share a time when they felt welcomed in their neighborhood worked well. Participants were eager to share these stories, as they felt less vulnerable telling them. Sharing stories of when they felt welcomed helped build a foundation of trust among participants, which helped when we transitioned into more challenging discussion topics.
What doesn't work? During the wood burning activity, it's better to have 1 or 2 people using each wood burning tool.
Performances Where Offered: We only offer this program before performances with an audience engagement component woven into the performance.
Past Research on Program: We distributed postcards and asked participants to mail them back to us with a description of a way they extended themselves to their neighbors following the workshop
Continuing Program? Yes, we plan to continue this program in the future leading up to future audience engagement performances.
Target Audiences
Young Adults, 25-35
General Audiences
Event Formats
Participatory Engagement Methods: involving the audience in activities such as dancing or choreographing
Dance 101
Participation - responding to questions, writing, giving feedback
Online Engagement
In person
Social Bonding Aspects
With artists - meeting a choreographer, dancers
With peer audience members