Written in Water: Ragamala Dance Company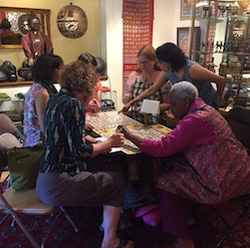 Organization Name: Ragamala Dance Company
Department Submitting Recipe: Development
City: Minneapolis
Program Name: "Written in Water" Audience Engagement Series
Time of Program: Varies, depending on the nature of the activity, the specific constituency being targeted, and community partners' needs
Program Length: 1-3 hours per activity
Program When Elaborate: In the weeks/months leading up to the performance
Goal: - To provide audiences with opportunities to engage with Ragamala's newest work, "Written in Water," via multiple points of access - To engage new audiences while deepening the experience of our current audience base - To engage specific constituencies through custom-designed activities and targeted community partnerships
Time of Year Offered: Throughout the season
Program Description:
Ragamala presented a series of engagement activities leading up to our work, Written in Water. At each activity, attendees played the 2nd century Indian board game of Paramapadam, a central inspiration for Written in Water. This hands-on experience provided audiences access to the abstract, conceptual nature of the Written in Water, and an entrée into the way Ragamala creates culturally hybridic dance works.
Offered over the course of nine months, we offered a variety of activities designed to engage specific audiences via multiple points of access to Written in Water, including: the poetry, music, and visual components of the work; the spiritual and moral significance of the game in Indian culture; the tradition of playing the game during times of all-night fasting; and the current interest in gaming in American culture.
Highlights included:
- A workshop by choreographer Aparna Ramaswamy for docents from a consortium of area museums focusing on interdisciplinary practice in audience engagement
- A lecture on the poetry of the South Indian Alwars, which serves as a textual underpinning for Written in Water
- A game-playing meetup event hosted by the gaming store Dreamers Vault Games
- An artist's talk by choreographer Ranee Ramaswamy at an Indian art gallery
- An activity at the School of India for Languages and Culture (SILC)
- Fasting & Feasting – a dinner event featuring Indian chef Raghavan Iyer—along with the choreographers--who discussed the intersection of food, art, and ritual in India, particularly the fasting traditions associated with Paramapadam
Number of Participants: 10-200, depending on the nature of the activity and the constituency targeted
Target Audience: Depending on the particular activity (described above), our project targeted youth and adults, Indian-Americans and general audiences, regular audience members and those with no prior experience of Ragamala, and people of a variety of genders and educational backgrounds. Activities targeted our home community of Minneapolis/St. Paul.
Is the program for kids? Our program is not specifically designed for schoolsbut could be offered as a lead-up to a school show.
Private/Public Public
Nature of Audience Engagement: Varies. As a general rule, attendees listen to Ragamala artists and/or guest speakers, watch video of Ragamala, play the game, move through a life-sized gameboard taped onto the floor, discuss the game and its philosophical underpinnings, ask questions of Ragamala artists and/or guest speakers, and provide written response on a simple survey
Location: At the Ragamala studios, an Indian art gallery, an art museum, a gaming store, a church, an Indian cultural program for youth, an Indian cultural festival, an artists' loft, and the lobby of a theater.
How Many Staff: Varies depending on the size of the group. At least two are required for each activity, at least one of which should be a staff person and one can be a volunteer. The staff representative can speak firsthand about Ragamala's work. We worked with a group of volunteers called Ambassadors, whom we trained to help facilitate activities, lead game-playing, and speak with audiences about how the game was used as an inspiration for Written in Water.
Program Cost: Varies., For the activities hosted by Dreamers Vault Games and the Weisman Art Museum, the only expense was staff time for planning and execution. The poetry lecture incurred travel expenses for our guest speaker. A large-scale activity like the Fasting & Feasting dinner event required publicity efforts, fees paid to a chef and servers, and cooking/serving supplies.
Marketing for Program: All activities were marketed to Ragamala's email list, on our website, and via social media (with the exception of the Weisman and SILC activities, which were not open to the public). Our partnering organizations marketed the events to their own constituencies online and via email and social media.
Cost for Program Participants: Free for participants, with the exception of the Fasting & Feasting Dinner, which was 75-$125.
Attendance To Date: 600
Past Iterations: We hosted 10 activities between November, 2015 and July, 2016.
What works? Over the course of the events, we added elements to the game-playing in order to encourage deeper interaction from attendees, most notably: - In addition to traditional gameboards set up on tables, we created a life-size version of the gameboard with spike tape on the floor, on which players could physically move through the game as if they were game-pieces (similar to what the company used in the studio during the development of Written in Water). - We provided players with a list of virtues and vices, and a consequence to correspond to each one. Any time a player would land on a snake (or ladder), they would choose a vice (or virtue) and its consequence, write them on post-it notes, and stick them to the board. This allowed players to delve more deeply into the moral implications of the game.
What doesn't work? Being aware that people are never eager to fill out surveys, we made a point of developing creative ways of collecting audience feedback. For the earlier events we experimented with volunteers collecting feedback via dialogue and recording it on specially designed forms; interviewing attendees on camera; and handing out large post-it notes for attendees to write their comments and stick them to one of three poster boards indicating prior familiarity with Ragamala. Each of these had their drawbacks – volunteers found the filling of forms to be a bit awkward, the video interviews took hours of our intern's time to sort through, and attendees didn't respond as enthusiastically as we'd hoped to the post-it notes. We finally settled on simple comment cards, asking only for contact info, prior familiarity with Ragamala, and an answer to one question: "What are you left wondering about?"
Performances Where Offered: This series was specifically tailored to Written in Water. However it is a model we have used before (on a smaller scale) and plan to use again.
Past Research on Program: After some experimentation (described above), we decided to use simple comment cards that would be easy and quick for attendees to complete, asking only for contact info, prior familiarity with Ragamala, and an answer to one question: "What are you left wondering about?" Survey results found that audiences were engaged in the game-playing and found it gave them an entrée into the work.
Continuing Program? Our intent is to continue to design engagement activities around future Ragamala works.
Additional Comments:
In addition to providing audiences with points of access to Ragamala's work, we found that this program had the added benefit of giving our artists and staff an opportunity to interact one-on-one with our audiences.
Resources & Links:
Short video on Ragamala's EDA-supported project, by Perimeter Productions:
https://vimeo.com/167343079
Target Audiences
General Audiences
Families or kid-friendly
Dance 101
Instruction: watching films, demonstrations
Social Bonding Aspects
With peer audience members