FishEyes: Heidi Duckler Dance Theatre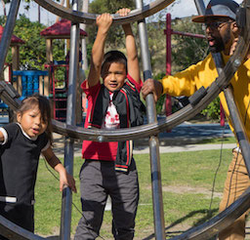 Organization Name: Heidi Duckler Dance Theatre
City: Los Angeles
Program Name: FishEyes
Time of Program: Workshops are during the day, performances during the evening.
Program Length: approx. 60 min
Goal: FishEyes is an adventurous, multidisciplinary project, integrating dance, visual arts and technology. Our goals are to encourage participants to explore issues of drought and water conservation through engagement activities including workshops, panel discussions and interacting with social media including Instagram and Periscope.
Time of Year Offered: Various dates in 2017
Program Description:
While The Fish is in residence, Heidi Duckler Dance Theatre teaching artists lead site-specific dance workshops for neighborhood participants or local dance groups. During each workshop, the teaching artists explain the basics of site-specific dance and employ water themes as inspiration for movement. They lead guided improvisation on, in, and around The Fish, and teach participants how to create original movement inspired by ideas about their environment. Residencies may include a performance featuring Heidi Duckler Dance Theatre company members. Some performances are livestreamed via Periscope, depending on where the site is located and what technology support is available. Participants are encouraged to interact with the Fish, taking pictures and/or videos of themselves and sharing them on Instagram or other social media platforms.
Number of Participants: Workshops are for small groups (10 or fewer); performances can be for large groups depending on the performance venue.
Target Audience: Students, youth, families, dance audiences, performance audiences, dancers, non-dancers, environmental groups, and those interested in public works and architecture.
Is the program for kids? Workshops are designed for after-school and is both instructional and provides for self-expression. Workshops are by invitation only due to the size limitations, but performances are open to the public, and the Fish is always available as a public art installation.
Private/Public Public
Nature of Audience Engagement: Participants are encouraged to: • Touch and interact with the Fish during workshops and after performances and when on display as public art • Take photos of themselves on the Fish and share in Instagram and other social media platforms • Take videos of themselves interacting with the Fish and posting to social media • Engage in talkbacks and receptions after the workshops and performances • Complete the surveys
Location: Currently, at various public spaces throughout Southern California.
How Many Staff: Workshops consist of 2 Teaching Artists. The curriculum is developed by the "Captain of the Fish." Performances are choreographed by Heidi Duckler and a team of 5 dancers, a Lighting/Projection Designer, Sound Designer, Stage Manager, Media Director, Technical Director, and a Technical Crew of 4 to assemble/disassemble the Fish. Also, an Outreach Associate is helpful in conducting outreach with the community in which the Fish is placed.
Program Cost: Each site costs approx. $10,000-$20,000, depending on how many workshops and performances are conducted.
Marketing for Program: The program is primarily marketed through our eblasts; in addition, we use social media, including Facebook and Twitter, to post about the workshops and performances. We also use Instagram and Periscope as marketing tools. And we post flyers at schools, community centers, parks and other places where people congregate.
Cost for Program Participants: Workshops are free and performances are free or ticketed depending on the conditions of the residency.
Attendance To Date: Over 450 directly and hundreds more indirectly.
Past Iterations: HDDT has conducted a total of 6 workshops, and 5 performances.
What works? It is important to take the time to cultivate and develop relationships with the site partners where the Fish is residing. It is also important to trust the process and not be afraid to experiment with different ways of using technology and human-to-human interaction to engage with the Fish.
What doesn't work? A steel Fish can get very hot in the middle of the day, so it is better to plan workshops in the early morning or late afternoon. You don't want to fry yourself on this Fish!
Performances Where Offered: Different forms of engagement are offered during different performances depending upon where HDDT is in its exploration process of its use of technology, if the space and audience is appropriate for that type of engagement, has access to power, WiFi, etc. HDDT consistently offers open rehearsals and talkbacks at most of our performances.
Past Research on Program: We conducted research on our use of Periscope and found that people find it best if the person operating the Periscope keeps it on a base and does not hold it in their hand (so that the picture doesn't move around). Also, it's important to have strong, reliable WiFi access on site so the video doesn't appear choppy. We also found that the talkbacks were most successful if conducted prior to the performance because they provided context about water conservation for the audience.
Continuing Program? Yes, HDDT received funding to take the Fish to San Pedro and San Bernardino in 2017.
Additional Comments:
The Fish currently resides at the Peter Strauss Ranch in Agoura Hills as public art installation.
Resources & Links:
To find out more about FishEyes, visit http://www.heididuckler.org/fisheyes
Target Audiences
General Audiences
Online Engagement
In person