Cultural Scripts: Heritage Works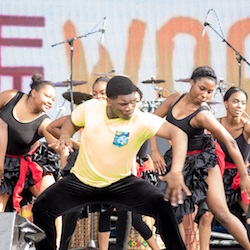 Organization Name: Heritage Works
City: Detroit
Program Name: Cultural Scripts
Time of Program: Evening
Program Length: 45-60 Minutes
Goal: 1) Bring dedicated artists to three under-illuminated communities in metro Detroit; 2) Engage new audiences and foster community dialogues that capture Detroit stories and promote cultural understanding and recognition via dance; 3) Produce new Detroit-focused, culturally relevant work
Time of Year Offered: Once at the start of the summer
Program Description:
Cultural Scripts, a program of art and dialogue, engages people of Detroit and surrounding communities in exploration of cultural traditions, normalcy, identity, and empowerment. The program involves participatory process that engaged the Metropolitan Detroit community in cultural and identity exploration through three phases or components: dialogue (1), artwork creation/curation (2), and performance and talk backs (3).
Resulting performance works represent the traditions of the artists' cultural backgrounds and the interpreted Detroit cultural stories and perspectives. The performances move cultural understanding and provoke the audience to reflect on their identity, their culture and other cultures. Performance talk back sessions occurred in both non-traditional spaces and cultural centers in each of the represented communities. These works also tour through out SE Michigan.
Number of Participants: Dialogues: 20-50 participants Performances: 20 - 500
Target Audience: • Ages:11-Adult • Education Level: Elementary-College and Beyond • Location: Detroit and surrounding metro area
Is the program for kids? • Program is designed for out of school. • Both instructional and self expression • Public
Private/Public Public
Nature of Audience Engagement: Dialogues: Partipants work with visiting artists via movement-based discussions. For example, one artists started with general movemetns (e.g., eye/hand contact, weight sharing). Next participants respond to prompts via movements and gestures. Individually, in pairs or small groups, participants share and create improvisation about their experiences and then share with the larger group. Performances and Talk Backs: The audience watches the performance. After the performance, audiences participate in talkbacks using paper surveys, discussion and Poll Everywhere software, which allows participants to see their responses in real time. Participants are asked open-ended questions and send their response via text messaging. Participants' responses show up on the large screen in the auditorium in real time, with more frequently text words showing up in larger font sizes.
Location: In a dance studio and public performance venues such as schools, universities and outdoor festivals
How Many Staff: We use 2 members of our program staff, 2 members from our administrative staff, a contracted evaluator and a contracted facilitator. Program staff worked directly with the program participants and artists. Administrative staff managed the event logistics, managed the artists, and interacted board members and donors in attendance. The facilitator began the discussion and asked questions to the audience.
Program Cost: Per talkback, we estimate $200 for our program staff, $300 for admin staff, and $400 for the evaluator and facilitator. This does not include event planning, evaluation analysis or reporting
Marketing for Program: We list all of our performance dates, times and locations on our and partner websites. We also post it on our social media sites. On the day of a performance, we announce our next performances.
Cost for Program Participants: Free
Attendance To Date: 832
Past Iterations: • 12 performances at 9 locations
What works? The use of a facilitator and the Poll Everywhere software was engaging, because it provided a strong visual for people to see their answers immediately.
What doesn't work? Because audience members were aware that they could text whatever they wanted using the Poll Everywhere software, some of their text responses were not related to the questions being asked, and may have taken away from the true purpose of this evaluation tool's intended purpose of sharing results in real time.
Performances Where Offered: We offer this program at specific dance performances where we are attempting to engage specific cultural audiences.
Past Research on Program: We used an evaluator to develop the audience questions for paper survey, focus groups, and Poll Everywhere software.
Continuing Program? We plan to continue this program in the future provided that we are able to secure the financial resources needed. We found that this program is a great way to engage non-dance audiences on social justice dialogues that relate directly to the Detroit community.
Additional Comments:
This program has been well received in the venues that we have performed in.
Target Audiences
Secondary school students
College Students
Young Adults, 25-35
Dance 101
Participation - attending performances
Participation - moving
Online Engagement
In person
Ideas for Working with Young Audiences
Participatory
Social Bonding Aspects
With artists - meeting a choreographer, dancers