Engagement Program: Jacob's Pillow Dance Festival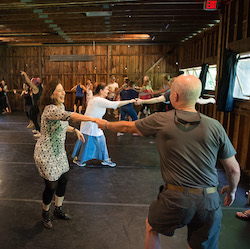 Organization Name: Jacob's Pillow Dance Festival
Department Submitting Recipe: Development
City: Becket
Program Name: Jacob's Pillow Audience Engagement Program
Time of Program: Blake's Barn is open 7 days a week from noon until 30 minutes after the final show ends. Inside/Out classes take place in the afternoon and performances begin at 6:15pm. Sunday classes take place at 10am.
Program Length: Classes with Inside/Out artists are 1 hour, Sunday classes are 1.5 hours, and Inside/Out performances are approximately 40 minutes followed by a brief question and answer session with the artists.
Goal: To extend the reach of our resources; change perceptions about dance that discourage potential audiences from attending performances; build receptive audiences across generations for quality, adventurous dance; and establish relationships and a continuum of involvement with a multi-generational public.
Time of Year Offered: Throughout the Festival season, June-August. After the Festival ends, the Norton Owen Reading Room in Blake's Barn is accessible to the public year-round by appointment.
Program Description:
The Pillow's Audience Engagement Program offers extensive opportunities for audiences – a notable portion of which are introduced to dance for the first time here – as well as long-time dance lovers who wish to deepen their involvement with dance and the related arts. Our EDA project is sustaining our existing programs at the highest-possible level while also providing the following new and enhanced activities:
I. The Pillow produced a video based on concepts presented in the essay Invitation to the Dance, written by the Pillow's Former Executive and Artistic Director Ella Baff. The essay, distributed as part of our Seeing Dance, Talking Dance initiative (funded in Round 2 of Engaging Dance Audiences), includes guideposts distilled from the book "Presenting Dance" which was based on five years of research and discussion at the National Dance Presenters Leadership Forums at Jacob's Pillow. Using performance footage as well as commentary from artists and scholars, the video encourages both novice and expert dance-goers to articulate their experience of dance to themselves and others, and provides thought-provoking visual guideposts for seeing dance and talking about the experience.
II. In June 2015 we celebrated the completion of a significant expansion of Blake's Barn, home of the Pillow Archives, and a central hub for many of our Audience Engagement Programs. Increased public access to the resources available in the Archives has enhanced our capacity to engage in dialogue with patrons about their experience with dance at the Pillow. With expanded hours, Blake's Barn is now an everyday operation during the Festival months, with public access available seven days a week between June and August.
III. Increased opportunities for audience members to have a kinesthetic experience paired with a performance including: a workshop entitled "Dance for Every Body" with members of Urban Bush Women; a series of all-levels community classes with Festival artists including Juan Siddi Flamenco Santa Fe and New York Theatre Ballet; and classes with Inside/Out artists Daniele Agami, Kevin Jenkins, Caleb Teicher, and Elisabeth Motley, prior to their performance on this popular free outdoor series. Our Inside/Out series now includes several special presentations each season that feature an interactive component that brings people closer in to dance. In 2016 these included a lecture demonstration by Urban Bush Women; Ate9 dANCEcOMPANY's Going Solo; the hip-hop duo from Boston, The Wondertwins; and an encore appearance by the incredible percussive dance group SOUL Defined – one of the breakaway hits during the 2015 Festival.
Number of Participants: Inside/Out Classes – 30; Inside/Out Performances – 600; Blake's Barn Visitors – 19,000 over 10 weeks in 2016; EDA Video Views – 8,712
Target Audience: A multigenerational audience attends the Pillow and our 200+ free public programs each year. It is a compelling mix of people, and an audience that is steadily growing. More than 40% of our audiences each year are visiting the Pillow for the first time and many of these people are also new to dance. In 2016, 108,000 visitor experiences took place on the Pillow campus, with audiences hailing from all 50 states and at least fifteen countries; approximately 65% were female; and in age, 14% were 35 and under, 43% were 36-65, and 43% were 65 and older. More than a quarter of the Inside/Out audience comes from Berkshire County, and about half resides in the four counties of western Massachusetts.
Is the program for kids? n/a
Private/Public Public
Nature of Audience Engagement: The Audience Engagement Programs offers multiple entry points for learning about dance and encourages a "culture" of curiosity about the art form that yields long-term, deep engagement. Participants can engage in dialogue with other audience members, artists, scholars, and staff; experience movement first-hand; observe dancers on stage and in the studio; or explore the form online through curated videos. - Sunday classes and classes with Inside/Out artists require a reservation, although walk-ins are welcome if there is still room. Audience members learn movement phrases and vocabulary from artists who will be performing later that day. - Inside/Out Performances with an interactive component offer a range of engagement opportunities from call and response activities; improvisational scores that invite the audience to give the performers instructions; and lecture/demonstrations where audience members move themselves. Each Inside/Out performance is followed by a Q&A session with the audience and artists are encouraged to stay after the performance to continue the dialogue with attendees. - Blake's Barn is the main exhibition space during the Festival and visitors can explore the work on display independently. The Norton Owen Reading Room has an extensive collection of books about dance and places for people to sit and read them. The Reading Room also has several viewing stations with headphones where visitors can watch a curated selection of films from the Pillow Archives, or request to watch a specific film from our collection. Never Stand Still, the documentary about Jacob's Pillow, runs continuously on a large flat-screen monitor in the Reading Room and visitors can watch as much or as little as they like. - Links to the Seeing Dance, Talking Dance video were distributed in the pre-visit emails that are sent to ticket buyers. The video is also on YouTube and was shared on the Pillow's social media sites.
Location: All activities will take place on the Pillow's 220-acre National Historic Landmark site in Becket, MA. Audience Engagement activities take place in facilities throughout the campus with Blake's Barn serving as a primary hub for this program. Dance classes take place in the Ruth St. Denis Studio. Inside/Out performances take place on outdoor Henry J. Leir stage, or in one of the studios if it is raining. The video was distributed online via email, on Virtual Pillow, and through the Pillow's extensive social media networks.
How Many Staff: The Pillow's Audience Engagement Program is managed by 5 full-time staff members and implemented with the support of 4 seasonal staff members: • 5 full-time staff members: A core team of staff including the Director of Preservation, Director of Marketing, Company Manager, Community Programs Manager, and Digital Marketing Coordinator are responsible for program design and implementation planning, scheduling, budget tracking, webinar participation, conference attendance, site visits, and general oversight; • 2 seasonal staff members: Video production, online engagement, and tracking; • 2 Pillow Scholars in Residence: Post-Show Talk moderation; • 6-10 interns and staff members: Audience tracking, performance and class set-up, and assisting visitors in Blake's Barn.
Program Cost: The Pillow's Audience Engagement Program requires a significant amount of staff time and effort with an estimated cost of $45,000 annually. Expenses related to the production of the Seeing Dance, Talking Dance as well as other videos used for audience engagement purposes (Post-Show Talks, company previews, and special features about the Pillow) totaled $10,000. The Pillow allocated an additional $5,000 for Audience Engagement Program advertising and print materials.
Marketing for Program: A detailed overview of the Pillow's Audience Engagement Program is included in the Festival Events Brochure which is printed in the spring and mailed to ticket buyers, distributed throughout the Berkshires, and available on site throughout the Pillow Campus. The Pillow sends pre-visit and thank-you emails to ticket buyers every week listing what is happening at the Pillow and offering suggestions for additional ways to experience Pillow programs on site and online. In 2016 the Pillow launched a completely redesigned website which featured a "Today at the Pillow" section that provided a breakdown of activities taking place each day. Social media is an integral component of the Pillow's marketing strategy and reminders about classes and special engagement programs are posted in the days leading up to an event.
Cost for Program Participants: Inside/Out classes are $5; Inside/Out performances and Blake's Barn are free and open to the public.
Attendance To Date: over 100,000 people in 2015 and 2016
Past Iterations: The Pillow's Audience Engagement Program has been evolving since the organization's earliest beginnings with Ted Shawn offering pre-show talks in the early 1930's. The Inside/Out class series and expansion of interactive performances began in 2015. Blake's Barn has been open to the public for 21 years, but 2015 was the first season that the space was open 7 days a week during the Festival.
What works? Offering audience members an opportunity to move and have an interactive experience with artists they were seeing on stage was very effective. Inside/Out is an ideal venue for this type of engagement activity; it is a relaxed, casual environment and audience members could participate in the interactive components of the performance from their seats. Increased public access to the resources available in the Archives has enhanced our capacity to engage in dialogue with patrons about their experience with dance at the Pillow. During the 2015 Festival nearly 13,000 people attended exhibits and visited the Reading Room - a 35% increase over the previous season – and in 2016 over 19,000 people visited the Reading Room and attended exhibits in Blake's Barn. The Pillow experience is designed for casual discovery, rather than being formal, didactic, or captive: studio doors are open, the grounds are inviting, the staff is trained to be welcoming and helpful, and events encourage casual but meaningful participation. Increasing public access to our Audience Engagement Program has elevated the visibility of engagement opportunities and helped us build new gateways to facilitate audience discovery.
What doesn't work? While the Seeing Dance, Talking Dance video reached a significant number of viewers, the numbers were relatively low compared to other video content the Pillow has promoted online. Our goal was to offer different perspectives on how to view dance and talk about the experience; however, this is a difficult topic to encapsulate in a 3 minute video. Since the first video was published in August 2015, the Pillow has been working closely with Nel Shelby Productions to develop additional videos for engagement purposes and these have been well-received online. For example, we distributed a "Thank You" video that was published at the end of the 2016 season that featured stunning footage of the Pillow grounds alongside highlights from performances and special events. This video has been over 23,000 times in less than one month. We believe that a series of videos delving into the concepts introduced in the original Seeing Dance, Talking Dance would have had a greater impact, rather than trying to tackle the topic in just one video. This would allow us to focus on a couple of artists at a time and include more performance footage to help contextualize what they are saying.
Performances Where Offered: The Inside/Out classes were offered four times during the 2016 season and the all-ages, all-levels classes were offered three times. We choose artists for the class series based on their prior teaching experience and interest in community engagement; we also take into consideration the movement style, in an effort to offer a variety of experiences to participants (e.g. flamenco, ballet, ballroom, swing).
Past Research on Program: We conducted a survey during round 2 of Engaging Dance Audiences and implemented changes to our program based on comments we received from respondents. In fall 2016 we distributed a new survey via email requesting feedback on all of the Pillow's programs and with the goal of implementing refinements during our 85th anniversary season in 2017.
Continuing Program? The Pillow's Audience Engagement Program is part of and important to our ongoing artistic programs, which are inextricably linked with building new audiences for dance. The Pillow plans to continue offering the full slate of programs described here for the foreseeable future.
Resources & Links:
Seeing Dance, Talking Dance Video: https://youtu.be/zfmL3QYDrUk
Target Audiences
General Audiences
Event Formats
Workshops: for audiences to learn something about the art form or art
Participatory Engagement Methods: involving the audience in activities such as dancing or choreographing
Online Engagement
Both online and in person
Social Bonding Aspects
With artists - meeting a choreographer, dancers
With dance experts - professors, critics, etc.