Sensory Friendly Nutcracker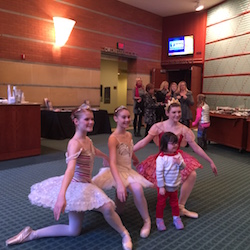 Organization Name: Cincinnati Ballet
Department Submitting Recipe: Development
City: Cincinnati
Program Name: The Sensory Friendly Nutcracker
Time of Program: Morning
Program Length: 2 hours
Goal: The Sensory Friendly presentation of our annual performance run of "Frisch's Presents the Nutcracker" is meant to provide a safe, respectful, and specially adapted theater experience for individuals who have developmental delays, and sensory sensitivities.
Time of Year Offered: December
Program Description:
Cincinnati Ballet's Sensory Friendly performance of "Frisch's Presents the Nutcracker" was designed to engage children and adults with sensory sensitivities in the community tradition of the holiday themed Nutcracker ballet. In order to present this production in the safest manner for the intended audience, our Education & Outreach team engaged with stakeholders in the community and experts in the fields of health and wellness of sensory sensitive populations. Planning began a year previous to the performance, with a focus group of parents and experts review of our 2014-2015 "Frisch's Presents the Nutcracker" to provide advice as to how best to adapt the performance and theater environment for populations that are diagnosed with developmental disabilities like autism, and Down syndrome. After this review, working with specialists from organizations like Cincinnati Children's Hospital, special education instructors from Cincinnati Public Schools, Cincinnati Occupational Therapy Institute professionals, and parents, Cincinnati Ballet collaborated extensively in order to design the project, implement it on performance day, and evaluate the successes and challenges as they occurred.
To best engage this population, Cincinnati Ballet designed the performance experience to reflect a safe and supportive environment for individuals who, due to the nature of their diagnoses, may have never been able to enter into a theater environment due to common strictures on noise, leaving the performance space, and fear of judgement from general public audiences unfamiliar with potential disruptive behavior of those individuals with developmental delays. We provided online resources for families to use prior to the performance so that they might prepare for the experience, including visual timelines, a video sequence about what you do when you go to the theater, and social narratives that take you through everything you need to do when going to the theater to see the Nutcracker. Adaptations to the performance experience itself included designated break spaces where families could retreat during the run of the show if they became overwhelmed, an adapted theater environment including lights up throughout the production, special training and duties for ushers, and some slightly adjusted sound effects.
Number of Participants: We had an audience of 783 individuals in attendance.
Target Audience: Children and adults with sensory sensitivities and their families.
Is the program for kids? Yes, while not exclusively for children, the Nutcracker is family friendly and many pre-show and intermission lobby activities are tailored to children.
Private/Public Public
Nature of Audience Engagement: Audiences of the Sensory Friendly Nutcracker watch the dance performance while listening to accompanying score, participate in post-show and intermission movement and tactile activities designed to engage children with sensory needs, and families provide feedback through verbal communication or surveys after the performance. In advance, families can review online materials designed to prepare children for what to expect during the performance.
Location: Sensory Friendly programming begins in parking lots surrounding the Aronoff Center for the Arts in downtown Cincinnati with volunteers providing directions to the venue, in the lobby of the theater through activities and break spaces, the loge level of the performing arts center for a break space, and in the orchestra level of the theater space itself.
How Many Staff: 20 full-time Cincinnati Ballet Administrative staff providing direction in parking lots, ticketing services, welcoming attendees into the theater, and program evaluation work, 40 volunteer ushers taking tickets and walking attendees to their seats, 20 students of physical therapy to assist the evaluation process, and 4 physical and occupational therapists to staff break and quiet spaces.
Program Cost: Production expenses totaling $12,137 including lighting, musicians, chorus, stagehands, front of house staff, and theater rent. Supplies and materials totaling $3,814 including program marketing, sensory materials for break and quiet spaces, expenses for the creation of the virtual tour video, and evaluation supplies.
Marketing for Program: Families were reached through our partner Cincinnati Children's Hospital's network of families with children with sensory sensitivities.
Cost for Program Participants: $20 per ticket
Attendance To Date: 783
Past Iterations: This was the first sensory friendly ballet performance in Cincinnati Ballet's history.
What works? Above all, gather a focus group of experts ranging from children with sensory sensitivities, parents, educators, physical and occupational therapists, and health professionals from community health institutions to help guide necessary theater and performance adaptations. Community partnerships are key! Training all participating staff, volunteers, ushers, and artists through Cincinnati Children's Hospital programming was especially helpful to ensure staff had the appropriate language skills and expectations for the experience of program day. Preparation materials were also crucial to the experience of families planning to attend the performance.
What doesn't work? We found we needed to better communicate that children were allowed to come and go from the theater as they needed and did not need to be "shushed" when vocal outbursts occurred. We would recommend a general reiteration that sensory friendly performances and the adapted theater environment are safe spaces to experience art and community while acting in accordance with each individual's specific needs.
Performances Where Offered: Only specific dance performances are fully sensory friendly so as to create that safe and respectful environment beyond what families would expect at a regular performance.
Past Research on Program: Our evaluation consisted of field note style observations, a post-event recap with volunteers, ushers, staff, and dancers, a post-performance survey distributed to families in attendance, and phone interviews with attendees. We learned from these inquiries that experiences like this, ones that allow families the opportunity to experience previously inaccessible community traditions and the arts, are very much craved by those who attended and participated by providing feedback. The following are some key results from our survey: • 92% of respondents reported their experience at the show was excellent • 100% of respondents reported that their child connected to the performance • 95% of respondents reported that they would be highly likely to attend another sensory friendly ballet • 62% of respondents used online resources to prepare for the performance and of those that accessed these resources, 100% reported that they were helpful tools. Another finding we found particularly interesting was that 63% of respondents reported that they would consider bringing their family member with a sensory sensitivity to a regular ballet performance. While we are dedicated to providing this safe performance space for populations with specific needs, we recognize that there are many individuals who would be happy to attend ballet with the general population. This has lead Cincinnati Ballet to ask what more we can do to provide a more supportive environment in our theater space throughout our season in addition to maintaining at least one performance within a season adapted to people with sensory sensitivities.
Continuing Program? Yes, we will continue this programming in the future. Because of the immense community response and impact upon attendees, we will continue this programming in our 2016-2017 season with Cincinnati Ballet's second sensory friendly adaptation of our "Frisch's Presents the Nutcracker".
Additional Comments:
If organizations are interested in examining their accessibility practices or developing sensory friendly programming of their own, Cincinnati Ballet would recommend attending the annual Leadership Exchange in Arts and Disability Conference hosted by the John F. Kennedy Center for the Performing Arts to learn from experts in expanding arts access for disabled populations. We found it to be a valuable learning opportunity in refining future sensory friendly performances.
Resources & Links:
Links to Cincinnati Ballet's Supplementary Material:
Cincinnati Ballet's website http://cballet.org/
Main webpage for performance information - http://cballet.org/wordpress/sensory-friendly-nutcracker/
Typical theater rules vs. sensory adapted theater rules - http://cballet.org/wordpress/wp-content/uploads/Nutcracker-rules-PDF.pdf
Video tour of the theater to help parents prepare - https://www.youtube.com/watch?v=AI2UXR-ZNcE&feature=youtu.be
Social narrative of going to the Nutcracker- http://cballet.org/wordpress/wp-content/uploads/Social-Narrative-Going-to-the-Aronoff-Center-to-see-the-Nutcracker_final-9.pdf
Getting to the Theater checklist - http://cballet.org/wordpress/wp-content/uploads/Getting-to-the-theater-checklist-PDF.pdf
Watching the Nutcracker and leaving the theater checklist - http://cballet.org/wordpress/wp-content/uploads/Watching-Nutcracker-and-leaving-checklist-PDF.pdf
Target Audiences
Families or kid-friendly
Dance 101
Participation - attending performances
Online Engagement
In person