Community Choreographic Laboratories ("Labs")
: CONTRA TIEMPO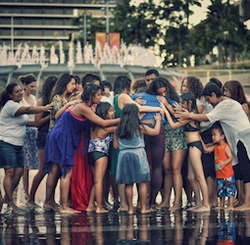 Organization Name: CONTRA-TIEMPO
City: Culver City
Program Name: Community Choreographic Laboratories ("Labs")

Program Length: 3 hours, on average
Program When Elaborate: Labs are not done in direct conjunction with a performance. They include excerpts of performance, and participants are encouraged to attend the performance, but they are not performance-dependent. Rather, they are stand alone participatory experiences designed to inform the creative development process.
Goal: Participant Goals: To build dance audiences by involving them directly in the creative process in non-traditional venues throughout the city of Los Angeles. To increase opportunities for active participation and engagement in the art making process for low-income communities all over Los Angeles. To create a space for compassionate sharing and witnessing around issues of race. To create a public yet personal forum, allowing participants to share their stories through voice and movement. Organizational Goals: To deepen our ties to various communities. To create entry points for us to be able to continue these kinds of discussions with those communities once the labs have ended. To expand and inform the ways that we approach artistic collaboration and community engagement in the future
Time of Year Offered: Usually afternoons (1-4pm), though they can be anytime.
Program Description:
When Lab participants arrive on site, the Artistic Director (serving in the capacity as facilitator) introduces the company and gives a brief history of our work and what we'll be doing in the session. We let them know where we are in the creative process, and what we would like them to pay close attention to as they watch, if there's anything we're struggling with or need particular feedback on.
The company then leads a performance of excerpts of work in progress. After the performance, participants are asked to reflect on what they saw. Using Visual Thinking Strategies as a loose guide, we ask questions such as, "What did you see?" "What makes you say that?" "What else do you notice?" "What did you feel when X did Y [inserting a dancer's name and movement into X and Y, respectively]?" As we express vulnerability in sharing our work in progress and sharing the places where we feel creatively "stuck", we hope to create a level playing field where the participants are just as knowledgable about "art" as the artists and feel comfortable sharing their valuable thoughts openly and genuinely.
After the work-in-progress feedback, we have everyone form one large circle and go through a series of brief movement warm-up games, to get everyone moving and interacting. Then, participants are broken into groups of approximately 10 (obviously depending on the total number of participants). The company also splits up to join different group. The Artistic Director gives each group an instruction to create a movement work, using theater, dance, and/or voice in 10 minutes that speaks to a specific theme. Sometimes groups are given all the same theme (for example, "Think of a children's game that you know, and create an abstraction of it—changing the words, the speed, the height level it's played on, etc."). Sometimes they are given different prompts (for example, "This group will create a scene embodying the idea of "spectacle". This group will create a scene that involves running. This group will create a scene that involves lifting the weight of one or more of your group members…") Groups are left to work alone, and company members who are part of the groups say that they will not take the lead, they are simply participating as any other group member. Groups are given time warnings after 7 minutes have passed. After the time is called, each group shares their work to the audience of other groups. After all groups have shared, we ask questions similar to those asked in the first segment of the Lab, and participants can ask their own questions of the groups, as well.
The final segment of the Labs are devoted to Council circles. Council circles are spaces of personal story sharing, as taught by The Center for Council, and as derived from indigenous story-sharing practice. Participants are again split into groups, with company members divided throughout. Groups sit in circles (if outside, seated on cushions on the ground), and one company member serves as the Council leader. The leader gives the instructions for Council, offers a prompt, and opens the space for anyone to begin sharing a story about that prompt (for more details about Council practice, please see CenterForCouncil.org). Prompts are designed for participants to discuss themes related to the creative work we're developing. They have included things like, "Talk about a time in your life when you experienced a storm." or "Talk about a time in your life when you felt like you were listened to." Participants can "pass" if they don't wish to share. Depending on time, we do one or two rounds, each with different prompts. We close the circle with each person sharing one or two words they heard during the Council.
We close out the Labs with everyone coming back together in one large circle, and typically sharing one word describing how they feel in the present moment. We end holding hands and "passing the pulse" (a hand squeeze passed around the circle). Generally, participants give hugs, too (but we don't mandate that part!).
Number of Participants: Between 15-50
Target Audience: Labs are designed as intergenerational experiences, so for example, parents can come with their children and grandparents, teenagers can come with their friends, and adults can come by themselves. N/A
Private/Public Public
Nature of Audience Engagement: Audiences engage by watching excerpts of giving feedback to performance excerpts they witness, developing creative work in groups themselves, and sharing personal stories with each other. All of these things take place in person.
Location: Our labs took place outdoors around bodies of water—dried-out river beds, fountains in large public parks, a restored wetlands park, etc. They can take place anywhere, though, indoors or outdoors.
How Many Staff: All of the company members (8 currently) and CONTRA-TIEMPO staff (4 currently) are expected to participate, either through performing or facilitating the story circles and community movement sections. Each small group (whether story sharing circle or movement circle) had about 10-15 participants and at least one CONTRA-TIEMPO staff/company member.
Program Cost: The only costs for the program were incurred in staff/dancer salaries, purchasing small stadium bleacher cushions for participants to sit on ($5 each—reusable), and the rental of a porta-potty for a site that had no restroom within walking distance.
Marketing for Program: For each lab we partner with a different community-based organization. Some of the organizations are arts-based and some are not. We partnered with one national organization and one local school, in addition to a community theater group, another dance company, etc. The majority of participation came through advertising through those community partners. They brought their constituents out, and sometimes those constituents brought out their friends. We also advertised on our website and social media, though few participants came through those channels.
Cost for Program Participants: Free
Attendance To Date: We have engaged approximate 320 people to-date.
Past Iterations: We held 8 choreographic labs over the course of 18 months.
What works? Having a community partner is key in getting participants to actually attend. As previously mentioned, we picked up very few participants by simply advertising on our social media and website.
What doesn't work? We learned that with story-circling it is very important that the person leading the circle be specific with their prompts, to help better guide participants in selecting what story they wanted to share. Also, we found that we had to be very careful selecting the kind of prompts. During our first lab, we started by asking,"Talk about a time when you witnessed injustice." This provoked some very uncomfortable stories, including one participant confessing that he witnessed a race-based attack on someone, but did nothing to report it. We did not have the time or resources to properly process those kinds of stories. We also had not done any team-building work prior to create a "container" for those kinds of comments. So, a very unsafe and uncomfortable space was created. In subsequent sessions, we asked questions that were much less pointed, but that still allowed participants to share personal stories that were relevant to our creative work. This helped make the space safer for the participants.
Performances Where Offered: This program does not happen on the day of our performances, but is used mainly as a way for the company to connect with the community and create new work that feels relevant. Also, on tour it is used as a way to get to know the community with which we have entered.
Past Research on Program: N/A
Continuing Program? The engagement model sparked a new and exciting partnership with a South LA-based community organizing non-profit, The Community Coalition, whose Executive Director invited us to embed our Choreographic Labs into their community organizing work to see how movement and story-sharing help move forward community dialogue around social change. This project will shape our engagement work for the next two years and will become the material for our next evening-length piece, "justUS".
Target Audiences
College Students
Young Adults, 25-35
General Audiences
Families or kid-friendly
Dance 101
Participation - moving
Online Engagement
In person
Social Bonding Aspects
With artists - meeting a choreographer, dancers
With peer audience members