Tap Treasures: American Tap Dance Foundation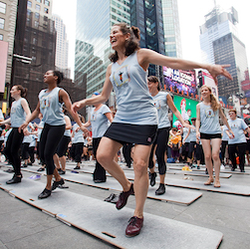 Organization Name: American Tap Dance Foundation, Inc.
City: New York
Program Name: Tap Treasures
Time of Program: Various
Program Length: various lengths. (45mins - Hour)
Program When Elaborate: at various times throughout the festival.
Goal: For participants, immediate goals for Tap City's Tap Treasures program include: • Increased awareness and appreciation of Tap's NYC history and past masters. • Increased knowledge about Tap dance as a vital and evolving form, its various styles, and current artists. • Strengthened relationship with ATDF. For ATDF, immediate goals include: • Growth in audience engagement and satisfaction. • Increased awareness of ATDF's mission and other programs. • Greater participation in ATDF classes and other year-round events. • Increased network and support. • Better understanding of audience interests and needs.
Time of Year Offered: July
Program Description:
"Tap Treasures" takes place during Tap City, the annual New York City Tap Festival. It provides opportunities for participants to learn about and experience Tap's history in its birthplace, New York City. During the Tap City festival, events take place in locations related to the development and evolution of the form (e.g., 5 Points District, Apollo Theater, 42nd Street, the Cotton Club, Woodpeckers Tap Dance Center, Radio City, American Tap Dance Center, etc.), and which are hosted and presented by iconic Tap figures (e.g., Brenda Bufalino, Tommy Tune, Mercedes Ellington, Randy Skinner, Mable Lee and Maurice Hines). These "storytellers" (many who are ATDF Board members) share their personal relationship to Tap Dance history in NYC, and present historic and related information through interactive discussions, films, classes or performance.
Number of Participants: 50-200 depending on the nature of the event.
Target Audience: Tap Treasures participants are drawn from the audiences that attend Tap City. (tap students, teachers, choreographers, historians, preservationists, enthusiasts, supporters and the general public) Ages 5-105
Is the program for kids? Not designed for kids but they are encouraged to attend and or participate.
Private/Public Public
Nature of Audience Engagement: Each event is unique but audiences participate by touring, observing, dancing, reading, asking questions, socializing, being interviewed and surveyed.
Location: Locations in New York City (Theaters, dance studios, street corners, parks....)
How Many Staff: Staff is drawn from the overall festival and includes some time allocation from the following people: Senior Festival Staff (3) Festival Admin Staff (3) Graphic Designer Tour Agents (2) Story Tellers/Artists (4-8) Tap Historians/Writers (2) Volunteers/Interns (4-12)
Program Cost: $160,000, including $35,000 (Salaries) and $125,00 (Production).
Marketing for Program: The Foundation has established a large following. With a direct mail campaign that begins in October of the previous year, the festival has become an established event with consistent programming that allows the public, artists and students, to schedule their participation. A public relations agent is enlisted 3 months prior for listings, lead articles and generating reviews. We have developed strong collaborative partnerships with artists, teachers, local dance studios, dance publications, hotels, and funding sources. Dissemination & promotion of the festival for ten months through our website, mass emails, direct mailings, social media, advertising and press.
Cost for Program Participants: Tap Treasures is offered as part of a package for $40 or a la Carte for $100
Attendance To Date: 95
Past Iterations: Once (July 9-16, 2016)
What works? Literally taking the participants on the tours or to the events. Giving them the tickets in advance of the event instead of expecting them to show up because they are on a list.
What doesn't work? Do not assume they read instructions or even open emails. A orientation is very helpful. Person to person instructions.
Performances Where Offered: So far only during the annual Tap Festival.
Past Research on Program: Filmed interviews and surveys. Participants want to meet professionals and interact with them. They also like to mix with an international audience. They will fill out a survey if it is short and there is an incentive.
Continuing Program? Yes. It was very popular, the feedback was positive, and fits our mission. Much of the initial work has already been done (the design of the program, how to orchestrate, promote and market it)
Resources & Links:
Link to basic information & 1st year Essays on locations: http://atdf.org/TapTreasuresLocations.html
Link to the Tap Map: http://atdf.org/TapMap16.html
Links to Photos of the events:
Copasetic Boat Ride (Monday, July 11, 2016)
https://www.flickr.com/photos/21727100@N05/sets/72157671632709781
Tap Treasures Tours (Monday, July 11 - Wednesday, July 13, 2016)
https://www.flickr.com/photos/21727100@N05/sets/72157670905480261
Tap Treasures Show (Thursday, July 14, 2016)
https://www.flickr.com/photos/21727100@N05/albums/72157671448293695
Tap it Out (Friday, July 15, 2016
https://www.flickr.com/photos/21727100@N05/albums/72157670963366851
Dance Affinity Groups
Adults
Students
Target Audiences
College Students
Young Adults, 25-35
General Audiences
Online Engagement
In person
Social Bonding Aspects
With dance experts - professors, critics, etc.