Stomping Grounds: Chicago Human Rhythm Project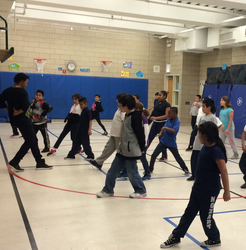 Organization Name: Chicago Human Rhythm Project
Department Submitting Recipe: n/a
City: Chicago
Program Name: Stomping Grounds
Time of Program: varies
Program Length: varies
Program When Elaborate: varies
Goal: Stomping Grounds aims to engage new audiences by offering culturally relevant material performed by artists from Chicago neighborhoods, alongside other artists from around the city. The program is a collaboration with a core group of percussive dance/arts companies based in culturally and geographically diverse neighborhoods across Chicago. Goals are: 1) to build new audiences and life-long engagement through dance-centric/multi-arts events at multiple cultural centers; 2) to support authentic, mutual cultural appreciation and cultural pluralism; 3) to build community within the dance sector and between diverse neighborhoods while fostering a vibrant and unique cultural sector, and economic development; 4) to drive tourism; and 5) to increase participation in dance education programs for all ages.
Time of Year Offered: The festival is presented from April through June each year.
Program Description:
The 2016 Stomping Grounds festival featured six dance/drumming companies (American tap, African, Asian, Irish, Mexican, Spanish) in performance, education, and outreach events. For each of six free performalogues, three partner companies performed, with one company serving as the event's host (a rotating responsibility that included additional performance time during the 75-minute program). The Chicago Rhythm Fest finale concert featured all festival companies, and a $15 "neighborhood/family" ticket was introduced to ensure accessibility to all (ticket revenue increased by 30% over 2015). Featured ensembles included BAM!; Ensemble Español Spanish Dance Theater; Mexican Folkloric Dance Company; Muntu Dance Theatre; Trinity Irish Dance Company; and Tsukasa Taiko (Japanese dance/drumming traditions). Through education and outreach programming, young people experienced professional dance first-hand both in-school and within the community. CHRP presented 14 lecture-demonstrations ("We All Got Rhythm") and 70 master classes. School programs featured dance artists from the festival's core companies, plus Kalapriya (Indian) and Movement Revolution (a Chicago hip-hop company).
Number of Participants: The 2016 festival reached 9,470. Performalogues attendance totaled 1,903 and the finale concert attendance was 1,267. Education and outreach programming benefited approximately 6,300 students.
Target Audience: The festival's performance audiences reflected high levels of cultural diversity in 2016, as 41% of respondents were African American and 24% were Latino/a or Hispanic. Partner school populations are more than 90% African American or Latino/a, with more than 90% of the students coming from families determined to be low-income according to the Illinois State Board of Education.
Is the program for kids? Education and outreach programming is described under "Describe your program."
Private/Public Public
Nature of Audience Engagement: The 'performalogue" program format involves a performance/rehearsal with discussion. During the performance, artistic directors and artists shared historical/cultural context with the audience, and post-performance, directors and artists engaged the audience in a moderated Q&A session. We had entire families dancing/drumming together at the Irish American Heritage Center and the Garfield Park Conservatory.
Location: School programming was implemented in 14 public schools near festival venues. Performalogue venues included the Chicago Cultural Center, Irish American Heritage Center, Garfield Park Conservatory, Northeastern Illinois University, National Museum of Mexican Art, and DuSable Museum of African American History, and the Auditorium Theatre presented the Chicago Rhythm Fest finale concert.
How Many Staff: Seven employees, eight consultants, interns, and volunteers.
Program Cost: CHRP's 2016 expenses to produce the entire festival totaled $243,500.
Marketing for Program: Media buys include public transit ads, postcards/posters distributed at the street level; a print brochure; print ads in other Chicago dance performance programs; ads in education and culture periodicals; digital ads (Google AdWords, Google banner ads, Facebook, etc.); radio ads on WBEZ (NPR affiliate); and TV spots. Both mainstream and culturally-specific media outlets are utilized. Dance company partners share lists and social media platforms. The campaign also features coordinated e-blasts, tweets, live-streaming of selected events, websites, blogs, and social media. A higher percentage of 2016 marketing efforts was devoted to the latter (digital and social media), and we experienced an increase in attendance for all events.
Cost for Program Participants: The Chicago Rhythm Fest finale concert is a ticketed/paid performance, with tickets as low as $15. All other events are free.
Attendance To Date: Over the festival's two years, 12,000 young people have participated.
Past Iterations: The festival has been offered twice, once in 2016 and once in 2015.
What doesn't work? CHRP aims to confirm partners sooner to ensure that each performing company and venue is featured throughout the entire marketing/PR campaign. The requirements of "partnership" will be defined more precisely to collaborators.
Past Research on Program: CHRP conducts surveys at each festival event. Sixty percent of performalogue survey respondents (338 surveyed) had not previously attended a CHRP event. See demographics above. 34% of those surveyed indicated they heard about the performalogue from a friend, while 24% heard about the event from an eblast. When asked whether they would consider purchasing a ticket to one of the Stomping Grounds companies in the future, 88% noted one or more companies of interest (each company received interest from at least 40% of total respondents).
Continuing Program? CHRP is currently planning the 2017 festival.
Target Audiences
General Audiences
Families or kid-friendly
Ideas for Working with Young Audiences
In school programs