Seeds Along the Roadside: Keshet Dance Company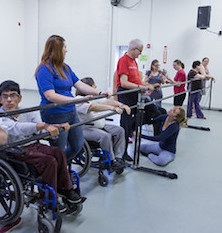 Organization Name: Keshet Dance Company
Department Submitting Recipe: n/a
City: Albuquerque
Program Name: Seeds Along the Roadside
Time of Program: any time of the day, depending on the community need, organizational partner structure
Program Length: varies per community - 1 hour performance; 1-3 hour teacher trainings; 1-4 hour workshops/classes
Program When Elaborate: before, during and after performances
Goal: Engaging audience in rural communities who have less familiarity with the opportunities for individuals with disabilities to be dancers, dance audiences, dance participants. The goals are to introduce adaptive/inclusive dance from a performance perspective, and also to educate educators who can then continue the facilitation of inclusive dance programming in their own communities after Keshet has finished a program, production or workshop.
Time of Year Offered: throughout the season
Program Description:
Keshet's audience engagement philosophy is heavily focused on an in-depth community relationship approach engaging the full family, the fully community and meeting each community where they are, both geographically, and also where they are in terms of familiarity with dance experiences. In expanding and engaging audiences throughout the region we found that vocabulary was an important element of our outreach – how do we define dance, ability, audiences, etc.
We focus on multiple approaches within each community including providing adaptive/inclusive dance classes, presenting formal performances, engaging "non-traditional" audiences via pop up performances, and offering a teachers/providers workshop for anyone interested in taking this work a step further and providing adaptive/inclusive dance programming in their community after Keshet's programming had completed. This providers/educators workshop is focused on and marketed to dance teachers, physical and occupational therapists, physical education teachers and others who wanted to incorporate adaptive dance into their work/community. When conducting this workshop in New Mexico, it is credited by the State of New Mexico's Occupational Therapy Licensing Board as a Continuing Education Credit for Occupational and Physical Therapists, providing an opportunity to explore the use of dance as a modality in their therapeutic work.
Number of Participants: As few as 10 and as many as 220 have attended
Target Audience: The program targets all ages and all abilities. It is currently occurring in primarily rural areas, but has also been executed in larger towns/cities.
Is the program for kids? Youth program components of this program can occur both in school and out of school. It has both instructional and self-expression elements to the program experience.
Private/Public Public
Nature of Audience Engagement: Audience members participate in a few different ways, depending on their comfort level. They can remain passive observers in a traditional audience sense; they can participate in a Q & A following each performance; they can choose to join the dancers on stage in a piece that is collaboratively created (usually this will take place the day of the performance in a "pre-performance workshop" open to community members of all ages and abilities who would like to participate in the show that evening). When available, there is a social element following the show in which the Q&A process takes place in a more informal setting with food and drink, audience and performances engaging socially.
Location: In theatres, in lobbies, in gardens, in studios, in nature, in community centers, in museums...anywhere that we can dance and engage formally or informally.
How Many Staff: 10-20 depending on the event. Choreographer/Director/Facilitator - creating content and facilitating audience discussions; Education Director - liaison between other educators, teaching faculty and scheduling of classes; Teaching Faculty; Dancers; Marketing Staff; Admin Staff handling logistics; Box Office/Front of House Staff for ticketed events. These staff members are supported by 2-15 volunteers depending on the events.
Program Cost: Approximately $85,000. The majority of the funds are for artistic/program staff time, with the next largest item travel/housing costs. This total amount covers a full season of Seeds Along the Roadside programming (approximately 10 communities throughout the region)
Marketing for Program: Keshet works with state agencies to identify appropriate communities to target within the region. Then each community works with Keshet to identify targeted individuals and organizations that should be reached out to and collaboratively, Keshet and the community leaders and/or presenting entity reach out to these individuals or institutions. This marketing outreach is also supported by the umbrella agencies that have referred Keshet to the community (i.e. the University of New Mexico's Center for Development and Disability; the State of New Mexico's Governor's Commission on Disability).
Cost for Program Participants: Generally the program is free, however if a community would like to charge for programming, they can do so based on their knowledge of their community pricing. When this happens, the community keeps the money earned.
Attendance To Date: 1400
Past Iterations: one season (10 communities reached)
What works? Long term relationship building! Our best advice would be to be OPEN to each new community. Each community had very different expectations, needs, and desires for long-term program development. However we were thrilled to experience the enthusiasm that came with each new audience member and program participant. From this season a number of long-term program partnerships have been built with a few communities now facilitating their own adaptive/inclusive dance programming.
What doesn't work? Our biggest lesson was being prepared to be as flexible as possible with scheduling and logistics, particularly if the rural community did not have a history of presenting or a formal structure in place to work in this type of a partnership format.
Performances Where Offered: No. This program is a specific track of Keshet program offerings. However, inclusiveness and Q&A process are included in all of Keshet programming.
Past Research on Program: No, not yet. However, following performances we provide an audience survey asking about their experience, if they have ever attended a live performance before, how they found out about it, would they return, etc.
Continuing Program? Yes. The factors leading to this decision were the incredible relationships that were built and the interest from communities reached for the program to continue.
Additional Comments:
We have loved growing this program, and look forward to future seasons.
Resources & Links:
Not currently, other than general information on Keshet's website - www.keshetdance.org