Bandaloop Experience Exposed: BANDALOOP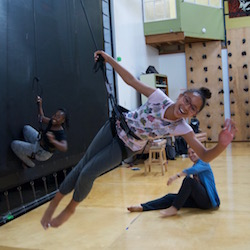 Organization Name: BANDALOOP
City: Oakland
Program Name: Bandaloop Experience Exposed
Time of Program: Anytime of day
Program Length: Intensive workshops are 3 hours in length. School visits are 1.5-2 hours. Rehearsal processes are 5-10 weeks with 3 hour rehearsals once or twice a week.
Program When Elaborate: Being multidimensional, our programming can occur in connection or in preparation for a performance or as a separate stand-alone workshop experience.
Goal: Bandaloop Experience Exposed is a multidimensional immersion experience that includes intensive small group workshops, school visits, and pre-professional performance mentorships. Our primary goal with this program is to develop a connection with our Oakland youth community by expanding our partnership with long time collaborating organization Destiny Arts.
Time of Year Offered: Any time of the year
Program Description:
The three parts of our programming are described below.
Immersion Workshop:
Our vertical dance immersion workshops begin with a shared question - what do we hope to get out of this experience? Framing the beginning with an open ended, collaborative question allows the group to move beyond the limiting model of a predetermined agenda and into shared creative agency designed to consciously address our lack of awareness regarding educational or engagement models that perpetuate cycles or systems of social inequity in our programming.
This initial question is followed by a guided session designed to encourage exploration of Bandaloop's culture of safety with an emphasis on interpersonal safety – highlighting interdependency and trust as we move into the unknown and become disoriented. How can we trust our bodies and one another while solving complex movement tasks and keeping one another and ourselves safe? We then launch into a period of collaborative dance making – including technical training with the gear as a means to facilitate new movement vocabulary dancing and expressive opportunity. We close the workshop with a group sharing and discussion, with each person sharing their experience in response to pointed questions.
The Bandaloop Immersion Experience has the potential to lead us into a creative journey that will be both individual and collective. Participants feel their unique value and personal experience as fundamental to the meaning and shape of the work that we make.
Pre-Professional Program:
Destiny Arts and Bandaloop partnered to create a professional development program and invited a very select group of Destiny alumni artists to participate.
This program consisted of the following components:
· Two Bandaloop performance opportunities - Destiny alumni created a new vertical work as a part of the annual Destiny performance and an additional piece for an open showing on Bandaloop's 8 story rehearsal wall in downtown Oakland called The Great Wall.
· 11 Rehearsals January 6th – March 2015 and 6 rehearsals April – May.
· An honorarium of $250 was provided to each participating Destiny alumni artist for the first showing and $150 for the additional Great Wall Showing.
School Visits:
Our original intent had been to present at school assemblies and in classrooms. Sarah Crowell, Destiny's Artistic Director, suggested it would be more impactful to engage directly with the students Destiny already works with in two of Oakland's Middle Schools, Montera and Westlake. Our subtle re-design involved two floor work immersions on school grounds followed by two mini-immersions with the same group of students coming to our studio for a vertical dance immersion.
Number of Participants: · Immersion Workshops - 16 people · Pre-professional mentorship program – 6 people · School Visits 10-30
Target Audience: Our target audience for this program was Oakland youth (ages 10-25).
Is the program for kids? In this current EDA iteration we partnered with Destiny Arts and worked exclusively with their students and alumni. The program is designed for youth and could take place in a school or in an afterschool context. It is primarily designed to emphasize individual empowerment within collaborative creativity, development of artistic and physical skills and encourage risk-taking in a safe and structured environment. Bandaloop's mission is to re-imagine dance, activate public spaces and inspire wonder and imagination in audiences. This project fits perfectly with our mission and affords us the opportunity to work deeply with the youth in our community.
Nature of Audience Engagement: In our workshops participants are guided in a process of collaborative dance-making that is related to open ended questions posed by the facilitator. We finish with reflection circles that ask: *Did you take a mental or emotional risk? If so, what was it? *Did you learn something about yourself? If so, what? *What was the hardest thing mentally, or emotionally and why? What insights might you draw from what you just experienced that you can bring to your personal or dance making life? (that relate to problem-solving, inventiveness or teamwork particularly.) Our pre-professional program follows the same training and creative process format as the Bandaloop company when preparing for performances. School visits introduce students to movement as creative communication and encourage students to innovate new ways of moving and thinking about dance. Follow up trips to Bandaloop studio introduce students to the techniques and experience of vertical dance.
Location: Our indoor studio - has a vertical dance sprung floor, a trampoline wall, a climbing wall as well as dance floor with vertical points. Our 8 story rehearsal wall outside - downtown Oakland. School spaces Performance venues
How Many Staff: We use one company director, one artistic director, one program coordinator and 4 teachers
Program Cost: We paid Destiny a $5000 honorarium to partner with us and administrate the school visits and alumni selection, the logistics of which were new to us. We paid a $400 fee for each of the alumni participants who also performed in the open showing performance on the Great Wall. The fee professionalized their experience and gave them an incentive to show up. We paid a small group of teachers an hourly fee of $35 to teach weekly immersions with the alumni/pre-professional group and also to lead the school visits and workshop/immersions at the studio. Our project coordinator, who worked over a period of 18 months to administer the program, received a fee of $8000. Additionally, we paid transportation costs, studio rental and maintenance, insurance and administration costs.
Marketing for Program: We partnered with Destiny Arts to connect with their student and alumni base for recruitment. Destiny used a one-on-one invitation approach to select alumni and also personal outreach through long-standing relationships with schools.
Cost for Program Participants: Free
Attendance To Date: 56 direct participants; 5000 audience members viewed the work the alumni did
Past Iterations: We held two immersive workshops, 2 school visits and 2 school trips to our studio, the pre-professional program ran from January – May. The alumni group performed in 10 Destiny shows and one performance on the Great Wall.
What works? - Be as clear, conscientious and respectful as possible with any partnering organizations. Have regular de-briefs and in-person planning meetings, and listen deeply. - Primarily white organizations can examine systems of privilege and cultivation of community connection and become more aware of unconscious blind spots and biases. - Make sure teachers are prepared and supported for success when engaging cross-cultural facilitation. - Include participants in program design.
What doesn't work? In reflective meetings we all agreed we wished we had spent more time cultivating cross partner connectivity. This would have allowed our organization to be more conscious of how we could have made our programs and teaching more accessible, welcoming and safe for students of color.
Performances Where Offered: We plan to continue the Destiny alumni immersion and school visits with certain elements culminating with Destiny's annual spring show.
Past Research on Program: We recorded and reviewed in-depth debriefs with our pre-professional alumni participants and a closing circle for all our other workshops in which participants gave feedback and asked questions. - The debriefs really allowed for deep reflection on our organizational blind spots and identified areas of growth for us as a primarily white organization when working cross culturally. - The closing circles for workshops high lighted ways that this work can impact and inspire other areas of peoples lives. Examples were teens talked about experiencing trust, happiness, adventure and new ways to play.
Continuing Program? We are committed to our partnership with Destiny and consider it a fundamental part of our connection to our community. We do plan to continue this programming after implementing changes and lessons learned and identifying budget resources to continue the program.
Additional Comments:
This program kick-started a much needed examination within the organization about diversity, equity and access to our programs. Specifically we identified the whiteness of our board, staff and performing/technical crew. Changing this monotone organizational culture will take time, coming about through new community partnerships, cultivation of partnerships with artists of color and deepening internal organizational work on our unconscious conditioned biases. Core to next year's strategic plan will be action steps establishing cultural competency activities that honor this necessity.
Resources & Links:
Vertical dance is a unique and physically challenging form of dance. We created a video cast to send to participants prior to the immersion workshops in order for them to prepare for the experience. https://www.youtube.com/watch?v=WcUsyi5hbe0
Dance Affinity Groups
Students
Target Audiences
Secondary school students
Event Formats
Workshops: for audiences to learn something about the art form or art
Dance 101
Participation - moving
Ideas for Working with Young Audiences
Out of school programs
Instruction
Participatory
Social Bonding Aspects
With artists - meeting a choreographer, dancers
With peer audience members