Classically Black Salons: 651 ARTS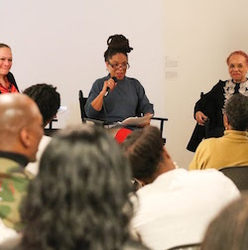 Organization Name: Kings Majestic d/b/a 651 ARTS
City: Brooklyn
Program Name: Classically Black Salons
Time of Program: Evenings
Program Length: 1.5 hours
Goal: The immediate goal of 651 ARTS pre-festival Engagement Series was to provide outlets for audiences to engage with artists in advance of seeing their works presented in order to deepen their understanding and experience when seeing dance in performance. We sought to open dialogue around dance forms of the African Diaspora and discussion of what "Classically Black" can mean – to educate audiences that there is more to African Dance than traditional dance forms or even Ballet; that contemporary dance can be classic, etc. We also wanted to provide a platform for greater understanding, and build audience awareness, around both emerging and established Black female choreographers.
Time of Year Offered: 3 months before the season
Program Description:
Our Salon Series was held in intimate venue with a capacity of 50 people or less. In addition to the Museum of Contemporary African Diaspora Arts space, we held one event in a private home. The space configuration varied from chairs place in a circle to a typical panel format with guest seated in front looking out into the audience. The series was intimate by designed and encouraged by the curator, Jaamil Kosoko who felt small settings would encourage deeper and more complex discussions. As the curator Jaaamil served as the moderator for each session either by simply introducing the artist or engaging in a discussion with prepared questions. For one event we had a guest moderator who led the conversation among a group of 6 panel members. The intimate allowed for spontaneous audience participation and was not relegated last few minutes of the conversation. Guest felt safe enough to interject during the conversation by raising their hands, making a facial expression that was acknowledged by a panel member or signifying agreement of disagreement with a sound. However, we always allowed 10-15 minutes for a Q&A. Substantial refreshments were provided before the start of the session and again at the end. Knowing that some guest would attend without the benefit of having dinner, it was important to offer a combination of finger foods and beverages. Guest lingered as long as the space was available. Usually we had to ask them to leave because the building operations person needed to close the space. The event held in the private home was the most informal; Each guest was asked to introduce themselves and the conversation was fluid and porous, resembling a dinner conversation.
Number of Participants: As few as 15 and as many as 50
Target Audience: Brooklyn based audiences of African descent. In general, NY residents interested in dance. Male and female from young adults to senior citizens.
Is the program for kids? N/A
Private/Public Public
Nature of Audience Engagement: For the salons series the audience was provided refreshment upon entering the venue. To start the program the moderator made welcoming remarks and introductions. After the moderated conversation the discussion was open to the audience to ask questions. Refreshments and mingling was encouraged at the end of the program. For our twitter chats, the dates and topics were published 1 month prio to the first session with reminders sent via e-blast and posted on social media leading up to the event and on the day of. Participants responded to a few curated questions to get the conversations started.
Location: The Salons were held in the gallery space at MoCADA and one at a private home.
How Many Staff: Guest curator - moderated the conversations and the Q&A session Admin Assistant - oversee guest check in, set-up and break down Progam Manger - assist with set-up including refreshmnets and clean-up Executive Director - mingle with guest, answer questions
Program Cost: Staff was paid as part of their salaries or consultant fee. Guest panelist were paid an honorarium of $150 -$250.
Marketing for Program: The events were first announced is our fall season e-blast where we provided an overview of all events. Individual events were highlighted in weekly e-blast which were sent on Tuesday's of each week. When necessary--due to low response-- an additional e-blast was sent the day before the event. Details were posted on Facebook, Instagram and Twitter weekly with a reminder the day of the event. We announced upcoming events at each event. Partner organizations shared details of the events in their e-newsletters.
Cost for Program Participants: Free -$20
Attendance To Date: 250
Past Iterations: The Salons have been a core program for the past 15 years.
What works? Having a guest curator who provided an overall vision for the program was an excellent strategy for us. It provided continuity and focused attention to the series. The intimate venue was also a good choice although it challenged our desire to have a broader impact. The depth of the engagement was obvious. The conversations were more complex and nuance; They felt more like talking among close friends and family than a audience Q&A.
What doesn't work? The first Twitter chat was not well moderated. After the first one, we recognized the need for a few curated questions to get the conversation started and to keep it going.
Performances Where Offered: Thus was our first time offering engagement activities 3-4 months before a performance. Typicall the events occurred as pre or post show events.
Past Research on Program: N/A
Continuing Program? Yes, we were pleased with the results and considering incorporating the process into our future program plans, especially once we are in our new facility in FY19. In the new space we will have multiple spaces to conduct more programs of various sizes.
Additional Comments:
Not at this time
Resources & Links:
N/A
Target Audiences
Young Adults, 25-35
General Audiences
Dance 101
Participation - attending performances
Participation - responding to questions, writing, giving feedback
Online Engagement
In person
Social Bonding Aspects
With artists - meeting a choreographer, dancers
With peer audience members