Audience Engagement During Dance Presenting Series: Dance Center of Columbia College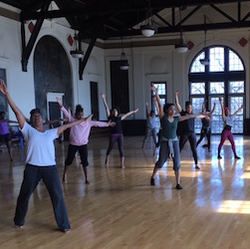 Organization Name: The Dance Center of Columbia College Chicago
Department Submitting Recipe: Dance Presenting Series
City: Chicago
Program Name: ACE (Audience and Community Engagement)
Time of Program: n/a – multiple activities at multiple locations at different times across the season
Program Length: n/a – multiple activities across the season
Program When Elaborate: This specific initiative was deployed during our 2015-16 dance presenting season
Goal: • Deepen appreciation and understanding of contemporary dance; • Contribute to the health of Chicago communities through dance-related initiatives; and • Strengthen Columbia College Chicago's position as a leading institution of higher learning in Chicago, and nationally. • work with specific audiences of color in ways that support authentic representation of their experience and to make connections between those experiences and a larger social fabric through the work of participating artists.
Time of Year Offered: The activities were embedded in our presenting series calendar. The season runs from September through April annually.
Program Description:
Our goals with the EDA grant revolved primarily around building and sustaining relationships with communities and artists of color. We have a long history of diverse programming, but embracing this as a specific and deeply-held organizational value is new. The specific initiatives focused around three presentations: Camille A. Brown and Dancers, Urban Bush Women, and Michael Sakamoto/Rennie Harris. Through work with the artists, our students, and several community-based partners including Red Clay Dance, Jones Prep High School, Kennedy-King Prep High School, and Global Girls, we designed and delivered a mix of residency activities in a number of South Side communities as well as providing free or deeply discounted tickets for young people who in many cases had never been to a formal dance concert. Each week-long residency was customized in partnership with these community organizations, the guest artists, and our resident faculty at The Dance Center. Activities included dance classes, Black Girl Spectrum workshops (Camille A. Brown & Dancers), experimental dance events (Urban Bush Women), an extended butoh workshop (Michael Sakamoto), student performances (Rennie Harris), plus pre- and post-performance talks, interactions with local dance artists and students, teaching in the Chicago Park District, and interconnections with entities in the local hip hop community.
Number of Participants: Activities ranged in scope and numbers. We did workshops for 10-40 people and performances were attended by as many as 265.
Target Audience: The project focused on sustaining and further building participation and engagement with audiences of color. This included people of any age. Performances and related pre- and post-performance talks were primarily attended by African American adults, workshops were primarily attended by pre-teen and teenaged girls.
Is the program for kids? Many of our activities were with pre-teens and teenagers, all attending public school or involved in Red Clay Youth Ensemble in Chicago.
Private/Public Public
Nature of Audience Engagement: The vast majority of our engagement activities were either movement-based classes that incorporated participant discussions (usually at the end of the class), audience observation and feedback at performances (including reading program notes and attending pre-and post-performance talks), and social media interaction on Facebook , through our blog, and on Twitter. We also conducted informal dinner parties with artists and local choreographers that encouraged unscripted social and professional interactions.
Location: Depending on the activity, we were in multiple locations ranging from our own theater and studios, the Sherwood Conservatory lecture/performance hall, studios in Chicago Park District locations, high school dance studios, Links Hall @ Constellation studios, and private homes (dinners).
How Many Staff: Our practice with this project was to have an internal point person and then hire a project manager who oversaw logistical planning and implementation of specific residency activities.
Program Cost: We pay $500-$1,000 to our guest project managers and try to provide at least ten free tickets per engagement to our community partners to attend concerts as our guests.
Marketing for Program: The marketing was folded into the overall marketing plan for the season, with targeted social media efforts with particular subgroups as appropriate.
Cost for Program Participants: Most residency activities: free. In a couple of cases small fees were charged (Links Hall project). As noted above we provided blocks of complimentary seats to our project partners.
What works? The most important element of approaching this work involved programming accomplished artists of color who wanted very much to work with our audiences and participate in planning and implementing residencies aimed at specific populations they were interested in. An extremely valuable component of the success of these residencies was that, with all three artists, ADVANCE VISITS were conducted that allowed representatives from the companies to see our situation, meet with potential partners, conduct workshops, and orient themselves to our goals and our community. We highly recommend advance visits if at all possible, it so greatly enhances residency planning and implementation as well as provide opportunities for advance promotion of the engagement.
Performances Where Offered: While all of our engagements follow a general model similar to this one, we do not always target specific populations we are trying to reach. However, we do construct engagement plans in partnership with the artists who are coming, and each is designed on a customized basis that always gives artist exposure to our students and always involves community partners.
Continuing Program? Our commitment to working with artists, populations and communities of color is very much part of our overall mission.
Dance Affinity Groups
Adults
Students
Target Audiences
College Students
General Audiences
Event Formats
Workshops: for audiences to learn something about the art form or art
Dance 101
Participation - attending performances
Participation - responding to questions, writing, giving feedback
Online Engagement
Both online and in person
Ideas for Working with Young Audiences
Participatory
Social Bonding Aspects
With artists - meeting a choreographer, dancers
With peer audience members