Black Girl Spectrum (BGS): Camille A Brown and Dancers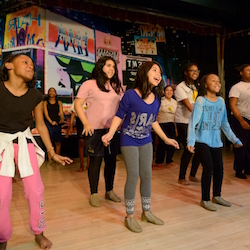 Organization Name: Camille A. Brown & Dancers
City: Brooklyn
Program Name: Black Girl Spectrum
Time of Program: Dialogue - evening performances; workshops - various times
Program Length: 20-40 minutes dialogue; 60 minutes BGS workshop
Program When Elaborate: Dialogue - pre and/or post performances; BGS workshops - stand-alone activities
Goal: The goals of BGS are: to address intersecting barriers to justice, wellness, economic stability, political visibility, and peace in the lives of Black girls and women; to amplify the cultural practices that are integral to solving the problems Black females encounter; and to activate social dance and open dialogue as a tool for visioning, storytelling, empowerment and community building. Ultimately, the focus of the work of BGS will be to bring in new audiences and participants, and to further engage current audiences in deeper and more meaningful, culturally specific outreach activities, dialogue and reflection.
Time of Year Offered: throughout the season
Program Description:
Founded in 2014, Black Girl Spectrum (BGS) is a multi-faceted community engagement initiative that explores the spectrum of identities among Black girls and women while working to create safe spaces for them to live as creative citizens.The initiative seeks to amplify the cultural and creative empowerment of Black girls and women through dance, dialogue, and popular education tools.
Number of Participants: All audiences are encouraged to participate in BGS in an open dialogue session with the dancers and a moderator. Groups of 10-50 participate in BGS workshops.
Target Audience: BGS activities will target Black females, inclusive of dancers and non-dancers, students and at-risk youth, young professionals, and incarcerated women and will take place at community centers, gathering places, dance studios, public schools and incarcerated facilities.
Is the program for kids? BGS is intergenerational. For children, the BGS curriculum, Social Dance for Social Change, is comprised of 10 dance, dialogue, and personal transformation lessons. Each lesson is aligned to NYC's Blueprint for Dance Education and NYS' Common Core Literacy Learning Standards. Additionally, the curriculum is rooted in social justice and cultural organizing standards. Each lesson requires students to write, as well as dance, and many also include a media component. Students are expected to work independently and collectively on assignments. A strength of the curriculum is also the flexibility of the lessons, which can be modified depending on the age group, dance ability, or physical ability of the participants.
Private/Public Public
Nature of Audience Engagement: BGS workshops are catered to specific audiences. BGS workshop activities typically include dance, writing and dialogue. Pre/post show dialogue includes listening, interacting and responding to audiences. All BGS participants are encouraged to engage online with our social media and our reference/resource guide.
Location: Community centers, gathering places, dance studios, public schools and incarcerated facilities. It is offered on an ongoing basis in our home city, and on a short-term basis while the company is on tour.
How Many Staff: Our Artistic Director and Education Manager created the curriculum for the program. Our Managing Director works with the Education Director on program logistics. Our teaching artists teach the workshops (1 per workshop). The Company engages in the dialogue pre/post performance and workshops on tour.
Program Cost: Costs very depending on the location, format and scope of the events.
Marketing for Program: The program is marketed by outreach led by our Education Manager, by our booking agent on tour, and on our website, monthly newsletter and social media channels.
Cost for Program Participants: Most BGS activities are provided FREE or on a sliding scale so they are accessible to all.
Attendance To Date: 500 workshop; 9000 dialogue
Past Iterations: This was our pilot season. BGS featured partnerships with 20 local community organizations in all 5 boroughs of NYC and 9 community organizations/jails/rehabilitation centers via national presenter relationships in Ohio, Pennsylvania, Minnesota, Illinois, Maryland, Michigan, Arizona and Florida. An estimated 500 people were served through interactive BGS activities with 29 partners, as well as nearly 9,000 audiences though post-performance dialogues and other educational activities with 8 presenters throughout the country in conjunction with the national tour of CABD's "Black Girl: Linguistic Play."
What works? The program was successful in the following ways: 1. Amplified participation from community-based and educational institutions city-wide; 2. Innovative programming; 3. Development of a community engagement strategy and pedagogy; 4. Pilot of a social dance for social change curriculum; 5. New and expanded facilitator team; and 6. Inaugural Annual Black Girl Spectrum Symposium
What doesn't work? We are still tweaking the evaluation tools for this project.
Performances Where Offered: At specific performances, we offered a pre/post show dialogue, which was determined in conversation with each presenter in advance.
Past Research on Program: Due to the limited support staff of CABD and our partner organizations, CABD implemented some non-conventional evaluation practices such as creative witnessing, (which was our form of participant observation), retreats and quarterly check-ins. Creative witnesses, who are artists and writers, were brought in through our relationship with our Education Manager to capture in writing the experiential components from select BGS workshops in NYC.
Continuing Program? Yes, we will continue this program due to its success and its social justice relevance in our current political climate.
Resources & Links:
Visit the following link for an overview of the program and images from workshops and performances: http://www.camilleabrown.org/black-girl-spectrum/
Dance Affinity Groups
Adults
Students
Target Audiences
Secondary school students
College Students
Young Adults, 25-35
Seniors
General Audiences
Event Formats
Workshops: for audiences to learn something about the art form or art
Participatory Engagement Methods: involving the audience in activities such as dancing or choreographing
Dance 101
Participation - attending performances
Participation - moving
Participation - responding to questions, writing, giving feedback
Online Engagement
In person
Ideas for Working with Young Audiences
Out of school programs
Social
Participatory
Social Bonding Aspects
With artists - meeting a choreographer, dancers
With peer audience members