Input/Output: Stephen Petronio Company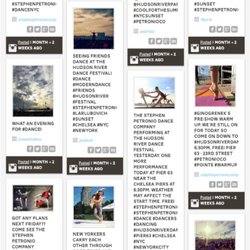 Organization Name: Stephen Petronio Company
City: New York City
Program Name: Input/Output
Time of Program: All day
Program Length: 24 hours
Goal: To create a participatory forum for sharing the work of Stephen Petronio Company globally.
Time of Year Offered: 365 days a year
Program Description:
Input / Output is conceived as a dynamic, ever-evolving interactive hub for all past, present and future constituents of the extended Petronio universe. Social media capabilities are embedded throughout the site including a blog with Facebook-powered comments, intimate videos by Blake Martin, and a "social stream" aggregating all Petronio social content. Visitors can socialize with past and present members of Team Petronio - dancers, administrators, collaborators, presenting partners - by engaging in ongoing conversations before, during and after the shows.
Input/Output is a platform for Petronio fans and Team Petronio to deepen their connections and learn more about one another. Blog posts are opportunities for artists, dancers, and collaborators to publish insight into the work of Stephen Petronio Company and themselves as individuals, and for visitors to comment and interact with their posts. Additionally, visitors' and Team Petronio's social feeds are aggregated on one page. This allows everyone to share the same space in a non-hierarchical way, encouraging conversation and associative meaning-making. Another initiative to engage audiences is through monthly Google hangouts with Stephen and collaborators, on which they can comment during the feed and be in real-time with significant artists of Team Petronio.
Number of Participants: Input/Output is available to all audience members online for every performance. The site can accommodate many visitors at a time.
Target Audience: Past and current Petronio family and fans in the US and around the world.
Is the program for kids? No.
Private/Public Public
Nature of Audience Engagement: Audiences engage in our program by reading and commenting on blog posts, watching and sharing videos, interacting with Petron.io social streams via hashtags, mentions, and shares, and publishing blog posts on the site.
Location: www.petron.io
How Many Staff: Two web designers designed and wrote the code for the site, and three staff members currently monitor and update the site with new material to initiate new conversations with visitors and artists. Artistic Director Stephen Petronio and the ten company dancers also contribute significantly to the program.
Program Cost: To date, $11,000 in direct costs has been expended for outside professional services; remaining costs include staff and overhead.
Marketing for Program: The site is consistently linked on all social media. There are also eblasts and social media updates when new material is published on the site or there are upcoming Petronio events.
Cost for Program Participants: The site is free!
Attendance To Date: 4,881 people have participated
Past Iterations: This is the first year we have had Input/Output.
What works? We're still evaluating what worked, but there was a lot of enthusiasm from audiences and fans surrounding the company's New York season in numerous posts on various social media streams. Direct interactions with Facebook posts were significant – up to 192 likes, comments or shares in some cases. It's especially important to be monitoring and updating it with company news even during slower periods. By focusing on "real-time" or present Company happenings that may not necessarily be linked to performances or dance, audiences have opportunities to engage in conversation through various avenues and content. For example, our dancers are very active on Instagram and frequently use hashtags (#petronioco & #stephenpetronio) and mentions (@stephenpetroniocompany) that loop-in the Company. Most importantly, these posts are wonderfully paired with the dancers' individual personalities and stories. Some of our audiences like and comment on the dancers' Instagram pictures, including VIP patrons that we have been looking to further engage in our programming. Most of the time, posts by dancers, Stephen, and the Company that showcase their individual stories and moments from daily life are the most engaging in terms of likes, comments, and interactions. The Talk Show worked well because the company is comfortable together and everyone is genuinely interested in the perspectives of the dancers, collaborators, and Stephen. The Talk Show was successful with 23 shares to Facebook and 6 shares on Twitter from fans. In addition, we were able to discuss the recent New York City season and mention an upcoming engagement in Arizona, which reflects the broad geographic scope of Input/Output audiences.
What doesn't work? The Talk Show format is still in development. Consultant Stephen Greco feels that an episode could go deeper into one topic rather than ranging broadly. We would also like to set it up to get live questions from the audience in order to increase interactions and engagement. A challenge that we face is that we are not getting as much traction on our blog posts as we had originally hoped. The posts offer great insight into the creation of works and the artistic process of our artists, but are not shared as Input/Output. The Talk Show was successful with 23 shares to Facebook and 6 shares on Twitter from fans, but we would like every blog post to have the same, if not greater social reach. A potential solution is integrating organizations or blog sites with strong online/social media presence who focus on artists and may be interested in joining Input/Output, i.e. HowlRound, Art Fag City, Culturebot.
Performances Where Offered: Yes. The site is designed to engage discussions for all events.
Past Research on Program: Not yet but we plan to survey our audience in the coming months.
Continuing Program? Yes. There is minimal costs associated with maintaining Input/Output and we hope to further integrate the site into the fabric of Stephen Petronio Company.
Additional Comments:
Staff flexibility and open-mindedness were extremely important to the development of Input/Output and are responsible for the program's current success. We spent a large amount of time designing a detailed plan for the site, which, while intended to efficiently guide our process, eventually hindered progress and growth. Once we shed some of the original conceptual constraints, Input/Output grew organically and swiftly. By saying Yes to new opportunities and methods of engaging audiences, Input/Output could truly reflect its audience and environment and fully integrate into the Petronio culture and audience.
Resources & Links:
We are working out some technical difficulties related to this field. Check back by late October for any additional comments provided by this EDA grantee.
Please note that Supplemental Materials for many of the grantee projects are available via Google Drive, at this link:
https://drive.google.com/a/forthearts.org/?ddrp=1#folders/0B4BGrfT7MxUWcFd3eW9MaXZLek0
Target Audiences
College Students
Young Adults, 25-35
General Audiences
Online Engagement
Online