GETTING CLOSER TO DANCE: Your Dance Score: The Joyce Theater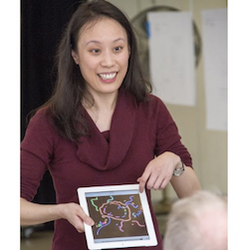 Organization Name: The Joyce Theater
Department Submitting Recipe: Education
City: New York
Program Name: GETTING CLOSER TO DANCE: Your Dance Score
Time of Program: Saturday morning; different times could be used.
Program Length: 1.5 to 2 hours
Program When Elaborate: This workshop was the second event in a three-part series. The first and last events included performance attendance.
Goal: Goals include enabling audiences to more fully experience, better understand, and derive meaning from dance. Towards that end, a workshop goal was to introduce dance as a language that can be read by being aware of how its elements--space, time, and energy shaped with choreographic intent--evoke meanings. Principals of aesthetic inquiry process inform the project whose long term goals include fostering continued interest by audience members for participating in knowledge-building activities and sharing opportunities with peers as well as with attending performances.
Time of Year Offered: January and April; mid-season in the fall/winter and spring/summer.
Program Description:
Two workshops for up to 15 participants are led by TAs. The workshop opened with a continental breakfast and refreshments. In each workshop participants explore and work with the material of dance and create dance scores to be performed by professional dancers. A group of five dancers serve as demonstrators/ performers.

Participants are introduced to dance elements, use them to create scores, and discuss the outcomes. Through scoring, participants learn about dance concepts (space, time, energy and choreographic intent) and discover how their choices in the activity also create meaning. In reflection they describe what they've seen and interpret it through analysis. Having professional dancers perform their scores transforms their creations into studies that can be viewed deeply. Recognizing the value of a kinesthetic experience, participants are invited to join in the performance of a score and also have opportunities to move during the introduction to elements. This activity is transformational for many. They interact with dancers, talking with them and discussing their dance score ideas; see work created and performed and unpack what they see to discover what is being expressed. Many noted this as bringing them closer.
The identification of skillful TAs and dancers to demonstrate and perform was key to the success of this event. Dancers were carefully selected for their willingness to interact with audience members as well as for their ability to move in a variety of ways, improvise, and create on the spot. TA selection is equally important. They must knowledgeable and nonjudgmental workshop leaders.
Number of Participants: 37 people participated during the year; 15 in the fall/winter (January) and 22 in the spring/summer (April) seasons.
Target Audience: We reached for a diverse group. The age of the group spanned the mid-twenties to mid-eighties; largely female and largely white. Most had some exposure to dance and all expressed interest in becoming more comfortable and knowledgeable.
Is the program for kids? N/A
Private/Public Public
Nature of Audience Engagement: Participants viewed live demonstrations with some opportunity to move. They created movement scores which were performed by professionals and "unpacked" the performances of their scores employing aesthethic inquiry procedure and practice---describing what they see, analyzing, and interpreting. The group socialized at the pre-workshop breakfast with dancers, TAs, and members of both workshop groups.
Location: DANY Studios (a studio space managed by The Joyce Theater).
How Many Staff: Five professional dancers devoted 1.5 hours each. Two TAs devoted 6 hours each, including planning and leading the workshops. Three full-time staff: The Director of Education served as project manager and the Education Administrator and Marketing Associate provided support. The Director of Education devoted 7 days or approximately 56 hours and the Education Administrator and Marketing Associate each devoted approximately 6 days and 48 hours.
Program Cost: The approximate budget for Your Dance Score is $5,300 (involving 30 participants and two concurrent workshops). This includes $2,500 for dancers; $200 for space; $250 for supplies/water/breakfast, $1,150 for teaching artist fees; and a one-time cost of $1,200 to purchase three iPads.
Marketing for Program: Email invitations were sent to single ticket buyers who had attended one Joyce Theater performance in the past year. Groups were registered on a first come, first served basis.
Cost for Program Participants: Free in year one.
Attendance To Date: 37
Past Iterations: We have held two Your Dance Score events this year; including two concurrent workshops per event. This was the first season in which it was offered.
What works? Your Dance Score had a big impact. The activity served to draw people in; giving them a handle and some things to look for and notice when they view dance. The experience of being with dancers was new for most, as was being in a studio and watching dance unfold in a close environment. Learning that there are elements of dance like visual arts or music elements was completely new information.
What doesn't work? Offering a morning workshop without a breakfast during the fall/winter was not a good idea so a continental breakfast was added in for the spring/summer workshop. Additionally, jamming too much content into the workshops and ineffective time keeping during the fall/winter was addressed in the spring/summer workshop.
Performances Where Offered: This workshop was the second event in a three-part series. The first and last events included performance attendance at specific performances.
Past Research on Program: Action research was conducted throughout the year by an outside observer.
Continuing Program? We hope to continue in the upcoming year if it can be budgeted. We are weighing options for how to present it to audiences.
Additional Comments:
The experience of working on the series in the open manner that has been encouraged and supported by EDA has been extremely valuable as has the participation in a learning community with colleagues. The project encouraged us to question and to build in time for reflection even when we were pressured. It brought different department areas together to work over a sustained period of time. There was generally a good feeling among all staff and a willingness to contribute time to the project. This will impact our practice in many areas in the future.
Target Audiences
Young Adults, 25-35
Seniors
General Audiences
Event Formats
Workshops: for audiences to learn something about the art form or art
Participatory Engagement Methods: involving the audience in activities such as dancing or choreographing
Dance 101 - How to introduce contemporary dance to the novice adult
Online Engagement
In person
Social Bonding Aspects
With artists - meeting a choreographer, dancers
With dance experts - professors, critics, etc.
With peer audience members