Pop Up SLAM : STREB Inc.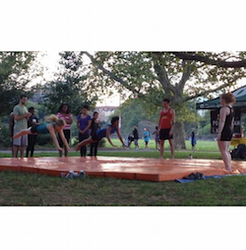 Organization Name: STREB Inc.
City: Brooklyn
Program Name: Pop Up SLAM
Time of Program: anytime
Program Length: Pop Up SLAM is variable, lasting from an hour to an ongoing schedule of events taking place over a number of days or weeks.
Program When Elaborate: Pop Up SLAM can include any or all of the following: classes, performances, interactive experiences in expected and unexpected locations.
Goal: STREB's goals for Pop Up SLAM are to: • create common ground that is inclusive, values interaction, honors diversity, encourages conversation and fosters experimentation; • strengthen connections to an expanding constituency; • reflect the diverse interests of audience members; • create the conditions for gathering, exchange and action – whether physical, conceptual, communal or economic; • shift both the "where" and "how" of audience experience; • harness the potential of collective action to make dance increasingly relevant.
Time of Year Offered: anytime
Program Description:
Pop Up SLAM, a mechanism to transmute the spirit, essence and action landscape of SLAM into roving, adaptable action zones which can occupy a myriad of public spaces -- parks, vacant lots, parking lots, commercial properties such as sound stages, stores and malls. STREB works collaboratively with partners to embed innovative programming – performances, classes, "happenings" -- in expected and unexpected places.
Number of Participants: Pop Up SLAM audiences range from 15 – 500
Target Audience: Pop Up SLAM is programmed with classes and events for children, teens and adults some of whom are familiar with STREB and SLAM but most of whom, as STREB learned from its trial run, are new participants attracted by their relationship with program partners and venues.
Is the program for kids? The elements of Pop Up SLAM that attract kids happen out of school. Children are actively involved in movement, in activities that are instructive and self-expressive. Kids in particular enjoy STREB's movement that is tailored to their abilities. Performances are appropriate for all ages.
Private/Public Public
Nature of Audience Engagement: Pop Up SLAM participants have been engaged in STREB taught classes at Williamsburg Walks, a series of car-free Saturday afternoons on Bedford Avenue, at the WilliFest Street Fair and at SLAM. During Williamsburg Walks, participants were taught Pop Action, German Wheel and wire walking, at WilliFest, participants were able to watch live demonstrations and see STREB company videos and at SLAM, participants had the opportunity to learn new skills at five different action stations including Pop Action, trapeze, trampoline, hoops and wire walking. The community nature of each Pop Up SLAM event also encouraged participants to meet each other, learn not only from STREB teaching artists but from each other and share information about neighborhood experiences and resources.
Location: Pop Up SLAM takes place in a myriad of public spaces -- parks, vacant lots, parking lots, commercial properties such as sound stages, stores and malls.
How Many Staff: For Pop Up SLAM, the number of staff required varies depending on the activity. For example, staff for a Pop Action class held in a public park includes: 1 project coordinator, 2 teaching artists, 1 technical staff member and 1 administrative person on site. If a performance were involved, additional personnel would include: performers, technical staff (production manager, stage manager, technical director, running crew) and administrative support.
Program Cost: Pop Up SLAM expenses vary depending on activity. Expenses for an afternoon of interactive activity (teaching and performances) were $12,000.
Marketing for Program: Pop Up SLAM events are marketed in collaboration with community partner organizations and on community visibility. Pop Up SLAM events are promoted digitally through eblasts, banner ads and via Facebook and Twitter as well as through "action events" in the community – on street corners, on the walls of and sidewalks in front of local businesses, etc.
Cost for Program Participants: Free
Attendance To Date: Pop Up SLAM events have to date attracted approximately 1,500 individuals.
Past Iterations: Pop Up SLAM has been held twice.
What works? By offering space to celebrate the neighborhood and asking the community to rethink their public space, Williamsburg Walks' goals aligned ideally with STREB's objectives with its PopUp SLAM project.
What doesn't work? STREB has found that working with the New York City Parks Department to secure permits, access, storage, etc. is complicated and that the capacity of Parks Conservancy groups and local neighborhood organizations is limited. The company feels that more time needs to be directed to fostering these relationships and working on advance planning.
Performances Where Offered: These are stand-alone events, not associated with other performances.
Past Research on Program: Not to date.
Continuing Program? Yes.
Resources & Links:
We are working out some technical difficulties related to this field. Check back by late October for any additional comments provided by this EDA grantee.
Please note that Supplemental Materials for many of the grantee projects are available via Google Drive, at this link:
https://drive.google.com/a/forthearts.org/?ddrp=1#folders/0B4BGrfT7MxUWcFd3eW9MaXZLek0
Target Audiences
Primary school students
Secondary school students
General Audiences
Families or kid-friendly
Event Formats
Workshops: for audiences to learn something about the art form or art
Participatory Engagement Methods: involving the audience in activities such as dancing or choreographing
Online Engagement
In person
Social Bonding Aspects
With artists - meeting a choreographer, dancers