Family Day at PNB: Pacific Northwest Ballet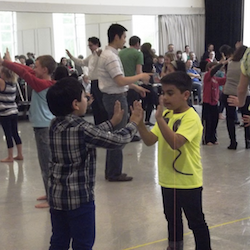 Organization Name: Pacific Northwest Ballet
Department Submitting Recipe: Education
City: Seattle
Program Name: Family Day at PNB
Time of Program: afternoon
Program Length: 90 minutes
Program When Elaborate: In studio "performance"/sharing with students
Goal: To offer students an opportunity to share their dance knowledge with families. To engage family members in the artform of dance.
Time of Year Offered: Spring
Program Description:
Family Day at PNB is an in-studio sharing opportunity for students that participate in PNB's DISCOVER DANCE in-school residencies. The event takes place on a Saturday, in PNB's largest, black-box, studio. Students from the residency program meet in the studio with their teaching artist and classroom teachers and rehearse for 30 minutes. During this time, family members (adults and siblings) have the opportunity to see costumes up close in one room, view dance videos/slideshow in another, or participate in a dance obstacle course in a third room. Each room is manned by a PNB teaching artist who facilitates learning opportunities.
After this initial 30 minutes, families are invited to the black box studio to watch a demonstration of their students' learning, narrated by the teaching artist and classroom teachers. At the end of the student demonstration, family members (one per student) are invited to join in. Families participate in two movement activities- a mirroring dance and a shape activity- with their students, with the student acting as the expert as they learn together.
Following the family dance activity, PNB professional division students (apprentices) perform excerpts from PNB repertory. Students and families are guided to watch for the dance concepts they just explored kinesthetically. PNB dancers and staff are available for conversation and photos after the event.
Number of Participants: We had 150 participants, but the event would work with as few as 30
Target Audience: Students in grade 3 participated, but the program would work for Grades PK-6 and their family adults and/or siblings.
Is the program for kids? This is an out-of-school experience designed to make connections to the professional world of dance following an in-school experience. The program is based both in instruction and expression.
Private/Public Public
Nature of Audience Engagement: Watch their students dance. Watch professional dance. Ask Questions. Move and dance themselves. Converse informally. Provide written response via survey. View video of PNB.
Location: In a studio and meeting rooms
How Many Staff: We had six staff members on hand: teaching artist, accompanist, 3 teaching artists to lead family activities during student rehearsals, plus one staff members to coordinate the PNB performers. We also had the assistance of three classroom teachers from the school.
Program Cost: The teaching costs for the residency that takes place before the event are $3,000. The costs for the event itself include: teaching artists $750, accompanist $100, costume cleaning for PNB dancers $250, additional staff and security $350, programs $250, bus transportation for families $450
Marketing for Program: Families are invited through printed and email invitations, which are sent home with students via classroom teachers.
Cost for Program Participants: Free
Attendance To Date: 310
Past Iterations: We have held two Family Day at PNB events
What works? Providing transportation for families was key. We specifically targeted a low-income school and we would not have has as high attendance without providing two yellow school buses for them to ride (from school to PNB). Also, having activities for the adults and siblings while the students rehearsed was key. The students needed time to orient themselves to the studio space, and we had a chance to talk with and inform families about dance and our company.
What doesn't work? Keeping the program to 90 minutes was tough (30 minutes for rehearse/family activities, 60 minutes for dance). We also suggest holding the activity during a time when the building is able to accommodate lots of visitors (i.e. not on a Saturday morning when studios and hallways are already crowded). Post signs on doors, many attendees are new to the space!
Performances Where Offered: n/a
Past Research on Program: Yes, families are asked to complete a 5-question survey on their way out of the building.
Continuing Program? Yes! The program is a huge success. It brings families into our building and gets them excited about dance. They feel welcome at PNB and are likely to return in the future.
Resources & Links:
We are working out some technical difficulties related to this field. Check back by late October for any additional comments provided by this EDA grantee.
Please note that Supplemental Materials for many of the grantee projects are available via Google Drive, at this link:
https://drive.google.com/a/forthearts.org/?ddrp=1#folders/0B4BGrfT7MxUWcFd3eW9MaXZLek0
Target Audiences
Families or kid-friendly
Event Formats
Workshops: for audiences to learn something about the art form or art
Participatory Engagement Methods: involving the audience in activities such as dancing or choreographing
Online Engagement
In person
Ideas for Working with Young Audiences
Out of school programs
Instruction
Social
Participatory
Social Bonding Aspects
With artists - meeting a choreographer, dancers
With peer audience members
With other "guides" such as students, volunteers