Family Day at the Ballet: Pacific Northwest Ballet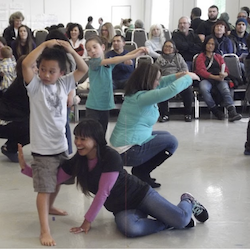 Organization Name: Pacific Northwest Ballet
Department Submitting Recipe: Education
City: Seattle
Program Name: Family Day at the Ballet
Time of Program: evening
Program Length: 45 minutes
Goal: To offer students from in-school residency programs an opportunity to bring their families to see and explore dance. To increase family participation and attendance from low-income schools and neighborhoods.
Program Description:
Family Day at the Ballet is a combination of backstage tours and low-price tickets for families of students that participate in PNB DISCOVER DANCE Residencies. Students from DISCOVER DANCE schools are given invitations to share with their families, which include a discount code for tickets ($5 per child, $10 per adult) to a regular repertory performance. Before the performance families are given a backstage tour to see the behind-the-scenes elements of a ballet production. The 45-minute tour includes three stations, lasting 15 minutes each: front of house (history of the production and basic background information), stage right (meeting the stage manager and looking at rigging), stage left (meeting sound technicians, viewing set pieces, viewing/chatting with dancers as they warm up). The families then attend the ballet and have a chance to talk with staff at intermission.
Tours are guided by PNB teaching artists, individuals that teach the in-school residencies and have experience working with youth and families. The tours are casual and informal, prompting conversation and questions rather than lectures. Each tour group is between 25-40 people each.
Number of Participants: Overall attendance was over 160, but the groups were broken into smaller sections in order to invite conversation with the tour hosts/teaching artists. We also grouped families that knew one another together, to foster community.
Target Audience: Students were ages 4-13, attending with adult members of their family.
Is the program for kids? The primary purpose of Family Day is instructional. The students have already participated in a residency at school that is more about self-expression. Family Day is a way to tie the in-school, student-based program, to an out-of-school, family-based program.
Private/Public Public
Nature of Audience Engagement: Families purchase tickets. Download information online. Tour the backstage area. Ask Questions. Talk with Artists. Attend a live performance. Provide oral and written feedback.
Location: In the lobby and backstage areas of the theatre
How Many Staff: One staff member to organize and email participants. One teaching artist per every 30 attendees.
Program Cost: We pay teaching artists $200 for the 2-hour time commitment (tour plus intermission). We also pay them $20 each for a one-hour training. Marketing and supplies cost approximately $500. Rent for a special reception room at the theater was $500. Translations for languages was $500.
Marketing for Program: We sent home invitations to events with students, who took them home to families. We provided translated invitations in multiple languages and also sent email invites to families via school newsletters.
Cost for Program Participants: The backstage tour is free. Tickets to the performance are $5 per child, $10 per adult.
Attendance To Date: 165
Past Iterations: We held one Family Day so far. This is the first season of Family Day at the Ballet.
What works? Having stations for the tour was key. It kept the guides on pace and offered a variety of things to look at/ see/do. It was also important to let all of the staff (dancers, stage crew, etc.) know about the tour and ask key individuals to say hello to the groups.
What doesn't work? One group was over 40 participants, which was difficult. The tour ran late and some participants didn't hear everything well.
Performances Where Offered: Only specific ones, which are family friendly.
Continuing Program? Yes, absolutely! It was a large success for the families and PNB. We need to secure funding in order to subsidize ticket costs, but it was a win to have new families in our audience!
Resources & Links:
We are working out some technical difficulties related to this field. Check back by late October for any additional comments provided by this EDA grantee.
Please note that Supplemental Materials for many of the grantee projects are available via Google Drive, at this link:
https://drive.google.com/a/forthearts.org/?ddrp=1#folders/0B4BGrfT7MxUWcFd3eW9MaXZLek0
Target Audiences
Families or kid-friendly
Event Formats
Workshops: for audiences to learn something about the art form or art
Participatory Engagement Methods: involving the audience in activities such as dancing or choreographing
Online Engagement
In person
Social Bonding Aspects
With artists - meeting a choreographer, dancers
With peer audience members
With other "guides" such as students, volunteers