AXIS Explored: AXIS Dance Company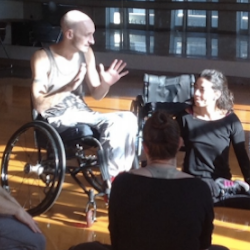 Organization Name: AXIS Dance Company
City: Oakland
Program Name: AXIS Explored
Time of Program: Various timeslots throughout the week
Program Length: AXIS Explored started 4 weeks prior to the first performance. Explorers were engaged over a 4 week period.
Goal: To provide audiences with a variety of engagement opportunities surrounding the creation and presentation of our work. To support different types of audience members, from light engagers to critical thinkers, to find something to help them make deeper meaning of AXIS performance. To reach people with a meaning-making activity along all the points of the arc of engagement, prior to the performance all the way to the impact echo stage. And to help audiences gain a greater appreciation of AXIS and our art form.
Time of Year Offered: The months leading up to the April 11-13 performances at our home base
Program Description:
AXIS Explored is a selection of targeted engagement opportunities surrounding the creation and presentation of our work. For an $80 subscription, AXIS Explorers gained admittance to the following activities:
- AXIS Up Close – an open rehearsal allowing participants the opportunity to see work in progress and to give feedback to the choreographer and artists on the creation of a new AXIS work.
- InMotion - pre-performance workshop for all dance levels within one week prior to AXIS Home Season Performances. The workshop introduces material from the new work(s) to be premiered.
- One ticket to the performance
- Dance Chat - a post-performance discussion facilitated by an expert in the field without artists present. Dance Chat emphasizes the sharing of ideas with fellow audience members rather than being lectured to by an "expert."
- Voucher for an AXIS T-shirt and a DVD of our work
- Digital Log Book – featuring behind the scene information about the performance pieces.
Number of Participants: As few as 7 and as many as 35 people have attended.
Target Audience: AXIS Explored is designed for both individuals who already know AXIS and are interested in another level of engagement, and towards those who would like to learn more about AXIS. The program can also be a great means to cultivate donor involvement.
Is the program for kids? n/a
Private/Public Public
Nature of Audience Engagement: An AXIS Explorer signs up for the package and participates in the different events from observing a rehearsal, taking a movement class, to attending an after performance chat. The general audience is invited to participate in the after performance Q&A and to use our post-its approach to elicit thinking about the performance.
Location: In our studio and performance space.
How Many Staff: 3-4. - Education Director: developing and scheduling the actual programs. - Development Manager: identify and target potential explorers. - Managing Director: managing communications, messaging and overall progress. - Artistic Director: Choreographer and dancers to participate in workshops, open rehearsal, etc.
Program Cost: Managing Director ($70,000 x 25% to project) 17500 Artistic Director ($53,500 x 20% to project) 10,700 Education Director ($53,500 x 20% to project) 10700 Marketing and Office Administrator ($20,000 x 25% to project) 5000 Facilitator: 200 Dancer Salaries: 1200 Space Rental: 4200 Hospitality: 200 additional costs tbd
Marketing for Program: This program was marketed through direct email campaigns, and personal phone calls. The board of directors was asked to reach out to friends and family that might be interested in participating in the event.
Cost for Program Participants: $40 - $80
Attendance To Date: 35 (at different parts of program)
Past Iterations: This was the first time we carried out the program in this format.
What works? The events in general were very well attended. We decided to open up the movement class to our general audience to create a critical mass. The workshop was one of the biggest successes in our program with 25 attendees. Although we initially wanted to keep all the Explorers events exclusive for Explorers we felt that the program would make a bigger impact if we would expose them to our general community. So much of what AXIS is about comes from the loyal following of our community; they make what we do so much richer and meaningful.
What doesn't work? From the five explorers who paid for the package, only two actually attended the events. The other people seemed to consider the subscription more as a donation. One challenge for our members was that that all the events were within 4 weeks from each other. This is asking for an intense commitment in already busy lives. If we are to do this again we will provide the different events further apart and would even consider spreading it out over a whole year. An additional challenge was the additional research conducted by EDA that came into play. For this research, we knew that we would interview individuals with little personal ties to AXIS. Knowing this, we attempted to bring in people fairly new to AXIS. If we were to have focused primarily on people who already have buy-in, perhaps we would have been able to bring more people on board.
Performances Where Offered: The Dance Chat was only offered after our Sunday performance. The Sunday performance was a matinee performance. Schedule wise having the Dance Chat on that day made more sense. The public Q&A took place on Saturday as not to interfere with the Friday post-performance celebration or the Sunday Dance Chat. Other parts of the Explorer program were offered prior to the show.
Past Research on Program: We did several focus groups prior to applying for the EDA II grant which helped shape the program. After the program we asked participants to fill out a survey. Additionally research will be done by Dance USA.
Continuing Program? Most likely yes, but with some adjustments. We want to make this program part or our development strategy and will investigate if we can spread out this program throughout the year. It is important going forward that we take into account the investment costs of providing these intimate engagement opportunities, and their possible impact on our development efforts or subsidized education outreach initiatives.
Target Audiences
General Audiences
Event Formats
Workshops: for audiences to learn something about the art form or art
Online Engagement
In person
Social Bonding Aspects
With artists - meeting a choreographer, dancers
With peer audience members