DANCentricity: Gibney Dance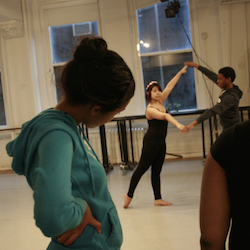 Organization Name: Gibney Dance
Department Submitting Recipe: Development
City: New York
Program Name: DANCentricity
Time of Program: DANCentricity takes place after school; activities generally start at 4:30 PM.
Program Length: Over the span of a month. Students meet on four Friday afternoons and sessions last about 90 minutes.
Goal: 1. Cultivate a life-long love of dance in a young adult population. 2. Increase student's perceptual capacity for watching and talking about dance. 3. Teach students core concepts of choreography. 4. Introduce students to a specific choreographer and her creative process.
Time of Year Offered: Several times throughout the year.
Program Description:
DANCentricity invites high school students to explore the creative process by learning about and actively engaging with a professional choreographer. A Cycle of interrelated workshops center around the premiere of the choreographer's latest work and are led by a teaching artist known as the "Animateur." The Cycle is comprised of four workshop experiences for the students:
1. Choreography Workshop
Students learn about the basic building blocks for creating a dance, such as time, space, and movement quality. Students dive in and create compositions. The Animateur leads students into the world of making, observing, and then discussing movement.
2. Master Class & Dialogue with the Artist
The choreographer leads a workshop which engages students in her specific tools for movement creation and approaches to shaping a dance. Students try out these tools and create compositions under the mentorship of the choreographer. After the Master Class, there is an opportunity for the choreographer to discuss her background, influences, and inspirations, and for the students to ask questions.
3. Body of Work & Premiere
Students research the choreographer's body of work by reading artist statements and reviews. Other contextual information is introduced into a conversation led by the Animateur. Students then break for a pizza dinner and travel to the venue to attend the choreographer's premiere of a new work! The premiere connects the students' creative experiences and newfound understanding of process with the final artistic product, bringing their experience of the work full circle.
5. Creative Response
Post-premiere, students create their own compositions using the work they've seen to inspire or inform.
Number of Participants: 10-20 students participate in each Cycle of DANCentricity.
Target Audience: The target audience is students in grades 8-12 who have an interest in or affinity for the performing arts.
Is the program for kids? The program takes place outside of school. Its primary purpose is instructional.
Nature of Audience Engagement: Students participate in multiple ways, including moving, watching, dancemaking, reading, and discussion. The program biases experiential learning, so each workshop has a strong movement component. Students improvise and make choreographic choices within large and small group settings. Discussion takes the form of both informal conversations in the studio about what is taking place as well as structured conversations with the choreographer about their work, process, and inspirations. Students are asked to respond verbally to what they are seeing in the studio as way to identify and articulate language that is useful for describing dance and as a way to develop their perceptual capacities. The Animateur facilitates these conversations, often reframing the students' responses to contextualize them in relation to a larger choreographic idea. This modeling empowers the students to speak more articulately and confidently about their personal experience of the dancework.
Location: The program primarily takes place at Gibney Dance Center at 890 Broadway in New York City, with the exception of the premiere, which occurs at an outside venue.
How Many Staff: There are three main roles to fill in order to implement this program: 1. The Animateur is the lead educator and is responsible for the overall program design and execution. He or she leads the students through their exploration of an artist's work as well as their own artistic expressions. The Animateur for DANCentricity in its pilot year at Gibney Dance is Hilary Easton. 2. The Producer is responsible for coordinating the program logistics between program staff, students, schools, and participating choreographers. He or she is also present at each session and serves as the primary documentarian, creating media content for promotional use and gathering data on the program. The Producer of DANCentricity in its pilot year at Gibney Dance is Jeremy Williams. 3. An administrative staff member is needed to support the program's outward facing activities, such as outreach to potential school partners, managing the request for proposals process for choreographers, and coordinating logistics for each activity session. This staff member for DANCentricity's pilot year is Center Programs Manager Sarah Holcman. Gibney Dance also enjoys program support from its Associate Artistic Director, Amy Miller, who is present in the studio for each session, working alongside the students and modeling behavior. Additionally, she shadows the Animateur in order to train to that role for future Cycles of the program.
Program Cost: Each Cycle costs approximately $6,000. This includes fees for program staff, participating artists, tickets for the performance, snacks/food for the students, and teaching materials.
Marketing for Program: Gibney Dance maintains a database of NYC schools and leverages contacts via its Board of Directors and peer organizations. The Center Programs Manager does initial outreach to educators and administrators at these schools and provides information about the program. She follows up with video content that showcases past students' experiences. Students can also sign up at assemblies presented by Gibney Dance Company at their schools.
Cost for Program Participants: There is no current cost to students in the pilot year. Gibney Dance may implement a small fee for participating schools in consecutive years.
Attendance To Date: 17 students and 2 choreographers/companies have participated as of spring 2014.
Past Iterations: Gibney Dance will have completed four Cycles of the program by July 1, 2014.
What works? Working with an Animateur who is knowledgeable, enthusiastic, and has a background in education is key.
What doesn't work? We originally planned six meeting times for students over a six-week period. This was too much of a commitment for their busy school schedules, so we scaled back to four meetings over a month. This increased engagement throughout the Cycle with much lower rates of attrition. In fact, Cycle 2 gained students as it progressed.
Performances Where Offered: This program is not part of the performance season of Gibney Dance Company, but rather serves as part of the organization's and partners with multiple choreographers and their performance seasons.
Past Research on Program: We have not conducted formal research.
Continuing Program? We plan to continue the program in FY15. DANCentricity serves the dance field by both cultivating new audiences and supporting artists through financial resources and by allowing them to articulate and share their artistic process. It has been informative and inspiring for the Gibney Dance programs staff to work with a high school-age student population, which is a demographic we do not reach through our other programming. We feel that the program is very worthwhile.
Target Audiences
Secondary school students
Event Formats
Workshops: for audiences to learn something about the art form or art
Participatory Engagement Methods: involving the audience in activities such as dancing or choreographing
Forming Dance Affinity Groups, either adults or students [keep?]
Online Engagement
In person
Ideas for Working with Young Audiences
Out of school programs
Social Bonding Aspects
With artists - meeting a choreographer, dancers
With dance experts - professors, critics, etc.
With other "guides" such as students, volunteers