VPL Performance Club: Vermont Performance Lab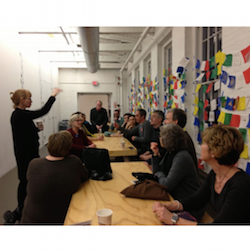 Organization Name: Vermont Performance Lab
City: Guilford
Program Name: VPL Performance Club
Time of Program: evening
Program Length: 4-5 hours depending on travel
Program When Elaborate: it happens before, during and after a performance
Goal: The goals for VPL's program are to provide a platform for adults to become more intellectually, emotionally and socially engaged with contemporary dance in hopes that they will become more regular participants, foster greater awareness and advocacy for dance in our community and potentially develop a core of volunteer "docents" for VPL who will help introduce and connect broader audiences with dance.
Time of Year Offered: fall & winter/spring
Program Description:
The VPL Performance Club, based on the traditional book club, pioneers a model for engaging non-urban audiences with contemporary dance. The project build strong conceptual, social and aesthetic frameworks live performances that Club members will see together as a group over the course of a season. The project tapped into the offerings of VPL's Lab Program and artists and a constellation of contemporary dance presenters within a 90-mile radius of VPL's home base in Guilford, Vermont. The Performance Club was co-directed by VPL's Director Sara Coffey and choreographer and dance educator Candice Salyers. Salyers with a PhD in philosophy and dance complemented Coffey's background in performance studies and dance history.
Once a month Performance Club members saw a live contemporary dance performance, either seeing an artist in residence at VPL or traveling by bus to performances at nearby venues. In some cases VPL was able to offer behind the scenes studio visits and conversations with some of VPL's Lab Artists. Prior to attending each performance Club members received contextual readings and related work on video or film, that gave insight to the artist's voice or point of view and provided a cultural or historical context to the work. The group would dine together prior to attending a performance. Following each performance the group gathered for 45-60 minutes to discuss the work. The travel time to and from performances (typically 45 to 90 minutes) provide additional rich opportunities for participants to make social connections and share impressions and ideas inspired by the work they saw. Additionally VPL invited curators, critics, scholars, facilitators, and artists to join some of the outings to participate in pre and post-performance discussions with the participants to enrich discussion sessions.
Number of Participants: 20 people per session
Target Audience: adults, living within 20 mile radius of our home base in Guilford, VT
Is the program for kids? n/a
Private/Public Public
Nature of Audience Engagement: Read and view written materials and video prior to each outing. Listen to pre and post-performance talks. Watch the performances. Socialize. Eat and drink. Converse informally. Participate in group discussion including reflecting on the readings and describing and interpreting the live performance. Write written responses/reflections. Eventually possibly serve as ambassador for the art form.
Location: In a variety of venues including a bus, theater lobbies, restaurants, theaters and classrooms
How Many Staff: Two people to co-direct the program (VPL Director + project consultant) to curate performances, develop related pre-show content for each outing, invite guests, run program and facilitate discussion. VPL Director is responsible for developing marketing material for print and on-line materials, hiring and working with graphic designer to develop Performance Club webpages and handling announcements/communications with Club members One program coordinator handles transportation, tickets, and food logistics and manages the addition of online materials.
Program Cost: The entire costs for both the fall and spring session of the Performance Club cost $30,000 which includes: $460 (avg) for performance tickets per outing $350 (avg) for drinks and food per outing $250 for invited experts (artists, scholars etc.) plus travel $320 per visit $700 avg. bus charter per outing $1,000 design of web platform for Performance Club (private members use only) $2,300 for marketing materials (including design, printing and postage)
Marketing for Program: We promoted the Performance Club by including it in our fall and spring event brochures, mailchimp/e-blasts, Facebook, printed articles in the local press and word of mouth.
Cost for Program Participants: $100 per person for the fall session / $125 per person for the winter/spring session
Attendance To Date: 40
Past Iterations: We have nearly completed two sessions which included 10 performance activities 2 kick off receptions and 1 potluck (1 canceled due to snow)
What works? Marketing the Performance Club in two series (rather than single events) was the right model for VPL. Both sessions quickly sold out, and there is great interest among participants in continuing the Club beyond the grant period. Through sharing meals and traveling together over a series of events, we successfully created a convivial social network around contemporary dance-going where participants bonded. The combination of building relationships and good facilitation helped create a safe environment for sharing and discussion. We observed in both sessions that the participants became increasingly comfortable talking about work as the series continued; sharing experience around a series of contrasting works has allowed participants to make surprisingly sophisticated observations, connections and distinctions. Through a members-only web page we provided links to contextual readings and/or videos for each of the performances, and we send these same materials in pre-performance e-mails. We found that only some of the participants read before the performance, and others have said they do not have time or have discovered that they prefer to read after the show. We experimented with finding the right load of reading and other materials. For the spring session we included an orientation to show participants how to most effectively use the website, and that worked. We have used chartered buses for transportation. They have been comfortable and conducive to large-group discussions, as well as to private conversations among members. We learned that venues more than an hour away make the night too late for many people, so for the spring session selected venues closer to our home base. The program is appropriate for a novice or regular dance goer.
What doesn't work? When we travel to other venues finding nearby gathering places after performances for discussion has been a challenge: bars or cafes are often too noisy to work well for whole-group discussions but we managed to work with the presenters to find quiet space in most instances. Additionally, we had hoped to be able to create a performance reader for the Club, but because we are not a university or college obtaining permissions to use published essays for the Club's reading materials has been a challenge. We had three people drop out for different reasons: one person in the fall who discovered that she was over-booked and a couple that discovered after one outing that they did not like the format of post-show group discussion. In the future we hope to be able to offer an alternative which would require less of a time commitment and be in more of a lecture format. We are currently considering a VPL Supper Club where participants would have a two-part experience have a small group dinner and talk by an artist or a dance expert followed by a performance and discussion the following week.
Performances Where Offered: Specific ones. Many of VPL's offerings are work-in-progress showings and we wanted to select work that was at a more completed state.
Past Research on Program: Only the Slover - Linett study and we plan to to a survey at the end of the program.
Continuing Program? We hope to - but we need to find an economic model that will work and make it affordable to participants.
Additional Comments:
No - thanks
Resources & Links:
We are working out some technical difficulties related to this field. Check back by late October for any additional comments provided by this EDA grantee.
Please note that Supplemental Materials for many of the grantee projects are available via Google Drive, at this link:
https://drive.google.com/a/forthearts.org/?ddrp=1#folders/0B4BGrfT7MxUWcFd3eW9MaXZLek0