Metro STEP: Supplying a Team Engagement Process: Pentacle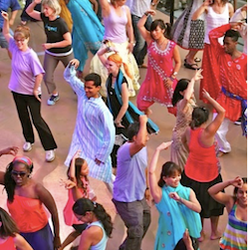 Organization Name: Pentacle
Department Submitting Recipe: Artist Representation
City: New York
Program Name: Metro STEP: Supplying a Team Engagement Process
Time of Program: varies
Program Length: varies
Goal: The goal of Metro STEP is to test whether a booking organization can enter into the engagement process in a pro-active way, and whether presenters will embrace a partnership between presenter, artist and booking agency to create a stronger support system for audience engagement. In its role as artist representative, Pentacle seeks to expand the services it provides in booking the artists that comprise its Metropolitan Intersections roster.
Time of Year Offered: Throughout the season at all performances
Program Description:
Pentacle's unique position as a not-for-profit organization that represents dance companies in the marketplace has allowed it to explore creative and outside-the-box ways for presenters and artists to have more successful experiences with their audiences. Metro STEP brings a fresh approach to booking dance by having Pentacle's artist representatives collaborate with presenters to more fully engage and expand their audiences during the performances and residencies of Pentacle's Metro Intersections' Artists. Inspired by EDA Round One Projects, Pentacle adapted and created materials that presenters could use to strengthen their audiences' experience and to widen the scope and breadth of their audiences. Pentacle also provided technical assistance and staff guidance to presenters towards creating and implementing engagement activities unique to their venues and potential audience pools.
Through Metro STEP, Pentacle worked with the artists on its Metro Intersections Roster and with the presenters of these artists to more fully engage targeted audiences and to broaden and increase potential audiences in two main ways:
• Creation of a portfolio of tools presenters can use to promote, educate and create bonds between communities and Metro Intersection (MI) artists. Pentacle worked with each MI artist to create materials presenters may use to build interest in, understanding of and insight into their performance or activity. These tools were adapted from EDA Round One Projects and include: Dance Trailers, Video Interviews, Opening Acts and Open Rehearsals as well as other unique offerings such as audience flashmobs, and integration of local performers into MI Artists touring performances.
• Strategic engagement thinking, planning, and collaborative implementation. Metro STEP staff joined with presenters to create engagement teams that evolved unique and imaginative ways to enrich audiences' and participants' experiences of the MI artist's time at the venue, and to reach out to new participant pools. Examples of this include researching and outreach to Los Angeles-based South Asian organizations and community groups for participation in Sheetal Gandhi's one woman show at Theatre Raymond Kabbaz, and searching for a local spoken word artist to open for Illstyle and Peace Productions at Cain Park in Cleveland, OH.
Number of Participants: The online videos have received up to 200 views per performance. The live activities can involve between 10-1200 participants depending on size of the venue.
Target Audience: Our target audiences are the target audience of our presenters: all ages, often locally based and sometimes culturally specific.
Is the program for kids? Our educational outreach residencies can be both in schools or at the presenter's venue. The main focus is usually instructional and to inspire kids to want to learn more.
Private/Public Public
Nature of Audience Engagement: Audiences can preview and learn about the artists' work through our online videos. In person they can view an open rehearsal, and participate in residency activities such as taking a master class or a workshop, or watch a lec dem. Local dancers can audition to be in the cast of some of the touring shows. In the case of Blue13's performances, audience members can also participate in an audience flashmob that takes place during the show. There are almost always post-show discussions for audience members to listen and ask questions. Local artists can sometimes be invited to open for Metro Artist's performances.
Location: Wherever Metro artists perform and tour, as well as online (YouTube, Facebook, Vimeo, Twitter, and presenter websites).
How Many Staff: Two, one staff member to produce the materials, and one staff member to work with the presenters to coordinate the implementation of the project for each residency. Outside personnel was hired to shoot and edit the videos.
Program Cost: Each video cost about $2000 to create, plus about $250 to customize them for each presentation. Staff time to work with presenters varies considerably.
Marketing for Program: Pentacle makes it easy for presenters to market the program to their audieces by providing videos customized with their performance information and uploaded to Youtube and vimeo for embedding on the presenter's site or social media pages. We also provide copy to describe the engagement activities, and even help research target audiences in their areas for culturally specific programming. Pentacle also created a website specific to Metro STEP for easy access to tools and resources for presenters to use.
Cost for Program Participants: Free for audiences, some of the Metro STEP Tools have a cost for presenters. We offered the videos for free, but outreach activities and other audience engagement activities are negotiated on an individual basis and included in the overall performance fee.
Attendance To Date: 500
Past Iterations: So far the Metro STEP tools have been used for two performances this year.
What works? The videos have been a huge hit among presenters and have resulted in increased buzz and ticket sales for the performances. It is important to keep the videos short (under 5 minutes) and very clearly provide the artist's name and performance information. The videos tell a story about the artists, and that little bit of background information and context can help someone connect with the artist on a human level and want to see/learn/engage more.
What doesn't work? It's important to get the videos done early enough to give presenters time to use them in their marketing. This can be hard to accomplish in the first year. We hope that once all the videos are done, the refining and customization can happen more quickly.
Performances Where Offered: All presenters get the videos, most will work with us to craft some engagement activities as well. It really varies by presenter and their needs.
Past Research on Program: We are conducting post-performance interviews with presenters and collecting metrics on the videos. We'd like to hire an outside assessor to help us collect information and evaluate the program objectively.
Continuing Program? Yes, but we will have to defer some of the costs of making the videos onto the artists. Hopefully the investment will pay off in increased bookings.
Additional Comments:
Metro STEP is just becoming part of how we do business now with presenters, giving them a more hands-on and holistic approach to building a successful residency for our artist that results in better audience engagement. It's really a win win win for all. When the audience is more engaged, presenters are more willing to book dance, and our artists get invited back again.
Target Audiences
General Audiences
Event Formats
Workshops: for audiences to learn something about the art form or art
Dance 101 - How to introduce contemporary dance to the novice adult
Online Engagement
Both online and in person
Social Bonding Aspects
With artists - meeting a choreographer, dancers
With peer audience members