The BANDALOOP Experience: BANDALOOP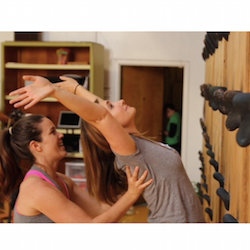 Organization Name: BANDALOOP
City: Oakland
Program Name: The BANDALOOP Experience
Time of Program: It can happen anytime of day but upcoming events are scheduled for 12:30-4pm.
Program Length: The BANDALOOP Experience itself is a half-day immersion of approximately three and a half hours
Program When Elaborate: The BANDALOOP Experience is a workshop format flexible in its application.
Goal: In adapting project the ODC program I Speak Dance to creative and management teams at Bay Area technology and design companies, we have generated a project that directly brings our targeted audience into the studio with us for experiential education. We believe that having a direct experience deepens both the understanding and the investment for the audience. We are literally bringing our audience into our dance making process and positioning them as creative people with something to gain. This experience will reach beyond their appreciation of the art to understanding just how much the language of dance has to contribute to design methodologies and creative team management. As ODC's project also indicated, this development in arts literacy will contribute to the field of dance in general, increasing audiences for dance, and potentially inspire these corporate partners to support arts education and policy. Our intention is to deepen our participants' ongoing connection to our company and performance community, and so we wanted to build a program that was independent of a singular event or performance. Our EDA project, The BANDALOOP Experience, will become an integrated part of our ongoing outreach education programming.
Time of Year Offered: It is offered year round.
Program Description:
The BANDALOOP Experience is a half-day workshop designed to introduce participants to our unique form of dancing in the air. We engage the participants in a creative process that inspires connection, innovation in problem solving and risk management. It challenges participants to transcend their preconceived physical and expressive limitations, mine the body for creativity and collaboratively compose movement in flight to solve compositional challenges. Before the event, the participants will be sent a video that inspires and engages them with BANDALOOP imagery, techniques and culture in order to generate creative momentum for their upcoming BANDALOOP Experience.
Number of Participants: At this time we have an upper limit of 16 people per event. We can do multiple events in a day.
Target Audience: Our current focus is on creative and management teams at Bay Area technology and design companies. We hope to expand this program beyond the Bay Area. The original I Speak Dance program initiated by Oberlin Dance Collective (ODC) stated that "face-to-face contact is the only truly reliable method to real constituency building". Following this idea we aim to engage a new social and economic demographic in the field of dance. Again as ODC's program states, the goal is to "cultivate a better-informed constituency for contemporary dance; demystify the artistic process and develop a shared language for artistic response; and introduce critical thought as a vital element of the dance experience."
Is the program for kids? This program is for adults but we have other programs for youth.
Private/Public Public
Nature of Audience Engagement: The BANDALOOP Experience workshop consists of the following components: • Advance completion of an 'intake' form and viewing of a videocast which includes preparatory exercises, both physical and mental; • Instruction in use of the gear that will allow them to safely engage this new vertical environment • On-the-ground ground exercises that will introduce participants to embodied awareness of their internal physical intelligence • Introduction to the basic principals of dance composition including elements of time, space, relationship and dynamics • Immersion into vertical dancing on the wall and in the air • Collaborative creation and vertical compositional problem solving - once participants are primed with tools, awareness and a compositional sense, we challenge them to collaborate and creatively "solve" several physical and spatial composition "problems". Each group will then "perform" their solutions and as a group and we will discuss and respond to each "performance" • Guided reflection and informal sharing of experimentation and experiences as a conclusion.
Location: The program can take place at our studio or a modified version can be manifested on site – on or in the company's building. This requires a permitting process, which we are familiar with and can facilitate.
How Many Staff: Onsite, we need a minimum of 4 teachers, a coordinator and the assistance of our administration/managerial team. Additionally, we would include the services of a videographer and photographer. If the event is held on site (not at our studio) then we would require the services of our rigging team.
Program Cost: The cost is determined by the scope of the workshop. Range of cost is dependent on location, number of participants and required staffing. $2,500 - $8,500
Marketing for Program: At this time we have issued invitations to the companies we wanted to connect with. In the future we will market this information to companies in our community and in communities we are touring to and connect with their HR departments to facilitate outreach opportunities.
Cost for Program Participants: The initial program was covered by the EDA grant. In the future The BANDALOOP Experience will be offered to institutions on a sliding scale based on a negotiated budget with the goal of this becoming an income generating program for BANDALOOP.
Attendance To Date: To date 56 people have participated in the 4 workshops we have hosted.
Past Iterations: The BANDALOOP Experience is a new program, but is rooted in our general workshop methodology, with critical differences in the way the curriculum unfolds.
What works? Our initial orientation to the workshop includes exercises to facilitate ease, interaction and creative play. People were surprised by how playful they were. This helped them break down barriers for creativity and connection. Many people reported that the experience was a communication building experience. Many people found that they could relate to dance and enjoy it even as non dancers. The teachers of BANDALOOP are honing curriculum and how to interact with more information and sensitivity with our students. People reported that they strongly appreciated our ability to make them feel "safe" both emotionally and physically. We are able to attract companies to this unusual program.
What doesn't work? We learned that intake forms will help us know participants better prior to the workshop, assess participants' fears, strengths and potential physical liabilities and limitations and will help the teachers best prepare for facilitation. Levels of physical adaptability vary widely – among professional peers there may be both a competitive bent but also a propensity to 'over-do' in order to avoid appearing 'unfit'. BANDALOOP needs to be sensitive to this dynamic to avoid exposing participants to a loss of face among peers and to encourage full participation within a range of diverse experience and fitness levels. Our advice for any engagement program is to have a way to familiarize the teachers/facilitators with the participants prior to the event so they can be prepared to offer modifications and useful suggestions.
Past Research on Program: We offer a brief exit survey that participants can do right after the workshop or through email later. We have also interviewed willing participants so we could ask follow up questions and record their response on video.
Continuing Program? Our current focus within the grant period is on creative and management teams at Bay Area technology and design companies. We hope to expand this program beyond the Bay Area. Our EDA project will become an integrated part of our ongoing outreach education programming with the goal of this becoming an income generating program for BANDALOOP.
Resources & Links:
We are working out some technical difficulties related to this field. Check back by late October for any additional comments provided by this EDA grantee.
Please note that Supplemental Materials for many of the grantee projects are available via Google Drive, at this link:
https://drive.google.com/a/forthearts.org/?ddrp=1#folders/0B4BGrfT7MxUWcFd3eW9MaXZLek0
Event Formats
Workshops: for audiences to learn something about the art form or art
Participatory Engagement Methods: involving the audience in activities such as dancing or choreographing
Forming Dance Affinity Groups, either adults or students [keep?]
Online Engagement
In person
Social Bonding Aspects
With artists - meeting a choreographer, dancers
With dance experts - professors, critics, etc.
With peer audience members