Dance Is...What YOU Make of It: Audience Architects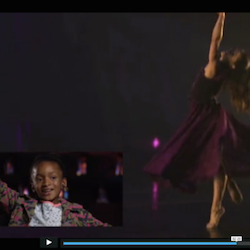 Organization Name: Audience Architects
City: Chicago
Program Name: Dance Is...What YOU Make of It
Program Length: 14 episodes released weekly, each segment is 2-4 minutes in length
Program When Elaborate: online
Goal: To offer online audiences insights into how others view and experience dance, particularly the opinions and views of people who are not steeped in dance. To increase viewers' comfort level with discussing and articulating their own thoughts about dance. Increase awareness and confidence and decrease barriers.
Program Description:
This 14-part video series is intended to teach / show new dance audiences how to view / watch dance, and demonstrate some of the ways that people, especially non-dance audiences, think and talk about the art form. The aim is to de-mystify dance and validate multiple points of view. Hopefully through this we can help new audiences appreciate and understand that you don't necessarily have to "understand" dance to enjoy it. Our volunteer video participants (15 people, from all ages and walks of life, from a middle school student to an attorney) came together for an afternoon in a theater, and with guidance and production support from a highly skilled video team, HMS Media, watched a variety of high definition Chicago dance clips and responded to what they liked (and didn't like) in what they saw, how the movement/choreography made them feel, what they wish they knew or what would help them connect with the work, etc. They were guided in conversation by the executive producer of the video company, who was highly knowledgeable of each of the clips and the performing companies, and asked gently prodding and provoking questions of our volunteer participants while they watched each of the clips. The resulting clips provide an overview of responses.
The series is now being released one episode per week via our Vimeo channel.
Number of Participants: To date, since launching the video series in early February, approx. 500 unique visitors have clicked thru and viewed the online videos.
Target Audience: All ages - we intentionally created videos that are appropriate for viewing by a large range
Is the program for kids? n/a
Private/Public Public
Nature of Audience Engagement: Ex: The online audience is invited to watch the video, listen to comments made by non-dance commentators and opportunities are available for online viewers to comment further via social media tools and/or share the video link with others.
Location: Online--content was recorded in a theater
How Many Staff: Executive Director - execution of contract and in kind relationship with video production team; Project Manager - coordination of logistics,confirming participants and interview schedule, securing venue, and hospitality. Project Intern to support the Manager and check in guests and take them to green room for makeup and question prep; video production team: executive producer and two cameramen who provided the rights approved video clips for viewing, and the onsite full sound and video equipment.
Program Cost: Total cost for video production is approx. $6,000. $4,000 of that was provided in kind by HMS Media who donated the shoot production. We are just paying $2,000 for video editing and incidental rights.
Marketing for Program: The video is being marketed through our website and a weekly "new release" eblast to our ticket buyer list, and through the websites of our EDA partner organizations. We also include the video participants on every eblast, and encourage them to social share clips in which they are involved.
Cost for Program Participants: free
Attendance To Date: 15 videotaped participants; over 500 online viewers
Past Iterations: The series was all taped in one 10 hour session in fall 2013. The individual episodes were edited during the winter, and a weekly release of each episode began in February 2014. The weekly episodes will conclude with the conclusion of our EDA public program, Moving Canvas, in early June.
What works? We were very fortunate to have connections to a high quality video production team that already held the reproduction rights to air and use the clips of professional dance companies. A core video collaborator is essential. Additionally, the Executive Producer of HMS Media, Scott Silberstein, is very knowledgable about dance. He conducted the interviews with grace and skill. His goal was to always encourage any response, and to not make any of the participants being taped feel like their comments were "wrong" or invalid. This resulted in many candid responses, some of which we have chosen not to air publicly, because there are comments that are sincere, but potentially negative toward the dance company works. We were also very pleased by the range of video taped participants: a 10 year old girl, a 60 something attorney, a librarian, history teacher, accountant, poet, etc. The fact that the majority of our participants are from outside the dance field, gives the video episodes a broader and more unexpected range of responses.
What doesn't work? The method of recruiting "real life" participants to be video taped was a fairly intimate circle. Staff and members of the board sent invitations to their own colleagues and friends, specifically recruiting a range who are not part of the inner dance circle. However, because all participants have some relationship with a board or staff member, that ultimately influenced their ability to be objective. The majority of video subjects were very nice and complimentary, perhaps in large part due to the fact that they had a friend or colleague relationship as a connecting point. In the future, I would recommend casting a wider net to recruit video participants, to broaden the degree of response, increase transparent answers, and eliminate any bias. Some of the most revealing responses are from those participants who chose to be very honest and somewhat negative. While I don't advocate for marketing a series of less positive responses, I do think the field could gain great insights from capturing those honest comments. Also, be very thoughtful about taping minors. We encountered some delays in getting airing approval, because some of our content contained minors. While the comments made by the three minors taped during our series is tremendously valuable, it did require a substantial amount of consideration and approval to air their likeness.
Performances Where Offered: The video is intended as an encouragement tool primarily for non-dance and novice audiences, and is online. It's therefore not limited to a specific event or performance. However, we do send the videos to everyone who attends a Moving Canvas performance.
Past Research on Program: To date, our only research is keeping tabs on the number of views each video receives either through Google Analytics or through Vimeo tools.
Continuing Program? Yes, we hope to do an ongoing series of Dance Is...What YOU Make of It videos, to be aired on our website, SeeChicagoDance.com, and compliment and increase awareness about the ongoing dance performances in Chicago. We are seeking funding to make that possible.
Additional Comments:
We are thrilled by the launch of this program, and are eager to see it continue! We are contemplating different models and looking for financial support to make this highly engaging side product of our EDA grant, into an ongoing feature for our own digital platforms.
Resources & Links:
We are working out some technical difficulties related to this field. Check back by late October for any additional comments provided by this EDA grantee.
Please note that Supplemental Materials for many of the grantee projects are available via Google Drive, at this link:
https://drive.google.com/a/forthearts.org/?ddrp=1#folders/0B4BGrfT7MxUWcFd3eW9MaXZLek0
Target Audiences
General Audiences
Event Formats
Dance 101 - How to introduce contemporary dance to the novice adult
Online Engagement
Online