Dance: A Moving Canvas: Audience Architects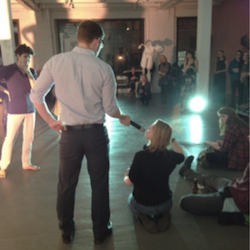 Organization Name: Audience Architects
City: Chicago
Program Name: Dance: A Moving Canvas
Time of Program: 6pm-8:30pm
Program Length: 2.5 hours
Goal: To provide audiences with guided methods to deepen their understanding of choreographic principles, learn how those principles relate to similar constructs in the creation of visual art, and then in moderated dialogue, participate in real time in the choreographic process. By lifting the veil that separates audiences from the act of choreography, attendees will reach a greater understanding of the complexity, and the exhilaration of dancemaking. Additionally, by working with select participants who are demographically inclined toward dance appreciation, the program seeks to build dance audiences for the Chicago dance community.
Time of Year Offered: 4 events, once per quarter
Program Description:
Moving Canvas is a highlight component of our EDA programming, and take place four times per year in the Chicago Artist Coalition art gallery. Moving Canvas events cross pollinate and engage dance and visual art audiences and artists to explore and understand the commonalities and unique aspects of each art form in an intimate, moderated, and highly participatory setting. For the series, Audience Architects (AA) is bolstered by supporting business partnerships with the Chicago Artists Coalition (CAC), and the Arts & Business Council of Chicago (A&BC), and FlySpace, serving as lead choreographic collaborator. Working with our partner organizations, we targeted their members (who are culturally supportive, but are not dance patrons) to attend these events, hoping to introduce them to the magic of dance by allowing them, and through moderated discussion, encourage them to engage with the choreography.
Each event starts with 15 minutes of wine and food, and then the choreographer (selected via panel review) shows 10-12 minutes of material. The moderator guides conversation around what people saw and experienced, and then with specific prompts, gives the audience 4-5 options on how they can change and/or manipulate the work (make it twice as fast, go to a different space in the gallery, etc.). The choreographer and dancers go into another room for 20 minutes and incorporate the audience changes, then show the revised piece for additional feedback. The event is kept festive with wine, quality snacks and live music. At the conclusion of the evening, patrons are asked to complete a survey about what they experienced and if it changed their opinions about dance. A moderator who is relaxed and has a sense of humor is essential.
The choreographic work is also inspired by or in response to the visual artwork installed in the gallery. A new gallery show, curated by CAC is installed for each Moving Canvas event, and the choreographer and visual artists have at least two meetings prior to installation to discuss similar themes, constructs, etc. The moderator attends all meetings. The choreographers also are given at least 10 hours of rehearsal in the gallery space after the visual work has been installed, to further and deepen their understanding of the pieces. Since there is a connection between the movement work and the visual work, we find that many of our non-dance patrons are more comfortable discussing elements in terms of visual info – similar color palettes, unique shapes, repetition of form, etc. This more familiar language seems to help our attendees open up and see the similarities between the art forms.
Number of Participants: Our average group size is 60 attendees, with approx. half of the audience being somewhat new to dance (visual art fans).
Target Audience: Adults who have an expressed interest in other non-narrative art forms, especially contemporary visual art. We specifically also targeted people who volunteer for visual art, and music and theater organizations. The target patrons are in Chicago and are well educated and middle or upper middle class income brackets. We hope to create ticket buyers, so we are intentional about not giving away tickets for free.
Is the program for kids? n/a
Private/Public Public
Nature of Audience Engagement: The audience engages in multiple ways - they get refreshments and socialize; converse informally among themselves and with artists and dancers who are present; watch the shown choreographic material; listen to responses by their peers and the moderator; ask questions and give their own feedback; offer suggestions for the choreographer; and provide written responses via a survey.
Location: in a large art gallery
How Many Staff: Admin: Executive Director: all contracts, financial, and oversight of various partnerships. One part time contracted project manager, and a project intern: Project manager handles logistics, event management, execution of marketing plan and survey tabulation. Artistic: Choreographer + dancers, musician, and 2-4 visual artists. Production: Sound engineer, photographer, caterer/bartender. Engagement: Moderator, dance writer.
Program Cost: These events are expensive, since they require many participants: Gallery rental is $1,000. Dance artist fees vary depending on the size of the group and number of rehearsals, and are between $2,000-$4,000. Visual artists receive a $100 stipend. Sound and photography are paid $100-$150 per event, as is the writer for each piece. Moderator receives $300 per event. Bartender is hourly and typically $150. Project Manager is on contract for $2,000 per event.
Marketing for Program: We market heavily through our partner organizations: CAC and AB&C send eblasts and Facebook posts to their member lists. We cross promote all videos and written features between partner orgs as well. All materials are housed on our dance website, SeeChicagoDance.com. Flyers are distributed to target locations such as art galleries, art schools and restaurants near the gallery space.
Cost for Program Participants: $25 for a single ticket, or multi-packs for a discount
Attendance To Date: 130 so far, 40 tix presold for next week
Past Iterations: This is our inaugural year with the program. We have hosted two Moving Canvas events so far, and our third is next week.
What works? Strong partnerships with organizations that share your vision to build dance audiences is key. A great moderator is essential, and it needs to be someone who intimately understands dance, but does not come across as an "expert." Quality photography in the gallery helps people understand what they are signing up for. Lastly, wine, wine, more wine!
What doesn't work? Don't assume that the visual artists will work on the same time frame as choreographers. Our experience has been that the visual artists are not prepared to engage early on, and prefer to collaborate much later in the process. This requires the choreographers to be flexible, and incorporate the visual info later in their creative process. Selling multi-pack tickets has been hard. It's basically a subscription, and it's not surprising that it's tough to get novice or non-dance people to buy a block of tickets. Be willing to keep adding incentives, mix up the sales message, keep finding to perks to entice repeat attendance.
Performances Where Offered: This is a stand alone program. We are a service organization, not a venue or a presenter.
Past Research on Program: We distribute surveys before and after each Moving Canvas event. The pre-surveys are handed out while people arrive and are settling in. They are very short so attendees can fill them out on the spot. Post surveys are sent via email within 1-3 days of the event.
Continuing Program? We would love to continue producing Moving Canvas, but it is intensive on both financial and human resources. We would need to find a significant funder who could support a second series.
Additional Comments:
People love manipulating the choreography! Moving Canvas nights are REALLY fun, and have introduced Audience Architects to many wonderful new people outside of dance.
Resources & Links:
We are working out some technical difficulties related to this field. Check back by late October for any additional comments provided by this EDA grantee.
Please note that Supplemental Materials for many of the grantee projects are available via Google Drive, at this link:
https://drive.google.com/a/forthearts.org/?ddrp=1#folders/0B4BGrfT7MxUWcFd3eW9MaXZLek0
Target Audiences
College Students
Young Adults, 25-35
General Audiences
Online Engagement
In person
Social Bonding Aspects
With artists - meeting a choreographer, dancers
With dance experts - professors, critics, etc.
With peer audience members