The X-Process: A Pie, A Pint & The Process: BalletX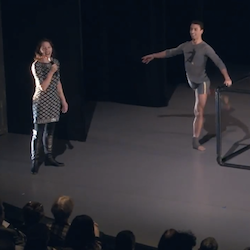 Organization Name: BalletX
Department Submitting Recipe: n/a
City: Philadelphia
Program Name: The X-Process: A Pie, A Pint & The Process
Time of Program: afternoon
Program Length: 90 minutes
Program When Elaborate: Between matinee and evening performances
Goal: A Pie, A Pint & The Process is an interactive lecture over pizza and beer that is meant to give audiences an appreciation for the relationship between classical and contemporary ballet. The program as a whole, divided into three lectures that accompany BalletX's three performance series, is designed as an enhanced Dance 101 experience for audiences moderated by a leading dance critic with the added voices of BalletX's Artistic Directors and members of the Philadelphia dance community.
Time of Year Offered: throughout the season at all performances
Program Description:
A Pie, A Pint & The Process is an interactive lecture series over pizza and beer that falls between BalletX's Saturday matinee (2pm) and evening (8pm) performances. The program is designed to provide audiences with introductory Dance 101 knowledge in an effort to help them appreciate the relationship between classical and contemporary ballet. During the 2013-2014 Season, BalletX divided this topic into three parts defined by perspectives: (1) how the audience perceives (history, styles, etc.), (2) how the dancer trains and performs (training, lifestyle, etc.), and (3) how the choreographer prepares and creates (inspiration, career, etc.). Each lecture is moderated by a leader dance critic and features special dancer/director/choreographer guests from the Philadelphia dance community. A video of the lecture is made available on the BalletX website and social media.
Number of Participants: For Fall Series 2013, we had 128 attendees. For Winter Series 2014, we had 86 attendees. Winter weather may have accounted for a lower attendance rate for the Winter Series. Our capacity is 300. A video of the lecture is made available online for a wider audience to learn from.
Target Audience: A Pie, A Pint & The Process is designed to appeal to anyone interested in learning more about dance. The combination of narrative and demonstration makes it accessible to those with no prior dance knowledge, as well as to seasoned dance-goers who are eager to refresh their knowledge base.
Private/Public Public
Nature of Audience Engagement: Audience members can engage in this program by asking questions at the end of the lecture during the Q&A portion. Each lecture tries to include an interactive demonstration in which the audience provides movement or ideas that are integrated into a live performance.
Location: The pizza and beer reception takes place in the lobby of The Wilma Theater. The lecture takes place inside the theater.
How Many Staff: In addition to BalletX's Artistic Directors, who participate in the lecture, A Pie, A Pint & The Process requires: 1-2 tech/production staff for setup of audio/video equipment, 1 staff member to work with the moderator and guest speakers in preparation, in advance, 2-3 staff members to collect tickets, prepare the reception, direct audiences, 5-6 volunteers to serve food, handle microphones during the Q&A, etc., 1 contracted videographer.
Program Cost: $3000 in direct costs per performance series
Marketing for Program: BalletX markets Conversations with the Artists in several different ways. Information on the program is included in the program book, lobby boards, monthly newsletters leading up to the event, dedicated e-blasts, series print materials, press release and season brochure, as well as on the BalletX website, on The X-Blog (Tumblr) and via BalletX's social media outlets (Facebook, Twitter, Instagram). We also do targeted outreach to local universities and colleges to invite dance students to attend free of cost if they bring a non-dance friend along. We also offer this incentive to local Dance Pass holders (Dance/USA Philadelphia).
Cost for Program Participants: Cost of entry is $5 which includes pizza, beer, and the lecture.
Attendance To Date: 214
Past Iterations: A Pie, A Pint & The Process has occurred twice so far—during the BalletX Fall Series 2013 and Winter Series 2014.
What works? These lectures have been quite successful at giving audiences a new appreciation for the relationship of classical and contemporary ballet. It is important to provide a balance in each lecture between traditional lecture (history, narrative, etc.) and demonstration. Audiences are particularly receptive to seeing dancers demonstrated differences, rather than purely being told what those differences are. One remarkably successful type of demonstration is a side-by-side performance of the same thing two different ways (i.e. classical vs. contemporary set to the same music; classical vs. contemporary choreography of the same idea; etc.) Audiences also enjoy hearing from the artists themselves, even more than from the dance critic. BalletX has been thoughtful in identifying local guest artists who are articulate and personable for this purpose. It's very important in planning an outline of each lecture to determine exactly what you want the audience to walk away with. For example, at our Winter Series lecture, we made sure that the moderator very plainly laid out 3-5 things that dancers do in classical ballet and 3-5 things they do in contemporary ballet. In order to underscore the important points, we projected a simple, unobtrusive PowerPoint presentation. People also liked receiving a "dance reading list" and "tips for watching dance" that were prepared by the dance critic (Elizabeth Zimmer).
What doesn't work? Make sure to take the time in advance to plan out exactly what you want to cover in each lecture and designate strict time allotments for each topic. As a rule of thumb, 2 pages of double-spaced text is about 5 minutes spoken. Although we call it a lecture, audiences really want to see dance. Make sure to integrate live dance as much as possible.
Performances Where Offered: A Pie, A Pint & The Process is offered in conjunction with each of BalletX's performance series.
Past Research on Program: BalletX has conducted audience surveys following each of the past two installments. The feedback reinforces the audience's interest in live dance demonstrations as a focal point of the lectures.
Continuing Program? BalletX intends to continue this program through the end of the 2013-2014 Season and into the 2014-2015 Season.
Resources & Links:
We are working out some technical difficulties related to this field. Check back by late October for any additional comments provided by this EDA grantee.
Please note that Supplemental Materials for many of the grantee projects are available via Google Drive, at this link:
https://drive.google.com/a/forthearts.org/?ddrp=1#folders/0B4BGrfT7MxUWcFd3eW9MaXZLek0
Event Formats
Workshops: for audiences to learn something about the art form or art
Dance 101 - How to introduce contemporary dance to the novice adult
Online Engagement
In person
Social Bonding Aspects
With artists - meeting a choreographer, dancers
With dance experts - professors, critics, etc.