The X-Process: Post Your Thoughts: BalletX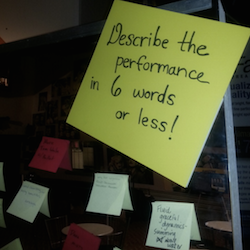 Organization Name: BalletX
Department Submitting Recipe: n/a
City: Philadelphia
Program Name: The X-Process: Post Your Thoughts
Time of Program: evening/afternoon with performance
Program Length: ongoing
Goal: Post Your Thoughts is intended to give audiences an opportunity to talk about dance using the vocabulary that they have learned through the other components of The X-Process. It is designed to provide a casual outlet for audiences to ask questions and provide responses to the performance program, while also creating a dialogue with each other from performance to performance.
Time of Year Offered: Throughout the season at all performances
Program Description:
During the course of each BalletX performance series, audiences are encouraged to respond to two prompts on a communal bulletin board in the theater lobby. These prompts have included: "Tell us what you thought in 6 words or less" and "Pose a question to BalletX" for Fall Series 2013 and "Tell us what you love about BalletX" and "What questions do you have about the performance?" for Winter Series 2014. In order to incentivize participation, BalletX offered cookies on tables beside the boards.
In an effort to extend the conversation beyond the theater, select notes and questions from the board were shared on social media, and members of BalletX's artistic team offered responses.
Number of Participants: The activity is available to all audience members. At Fall Series 2013 we had 156 post-its responses; at Winter Series 2014 we had 168. There were a handful of additional comments posted via BalletX's social media outlets and The X-Blog.
Target Audience: The target audience for Post Your Thoughts is anyone who attends a BalletX performance.
Private/Public Public
Nature of Audience Engagement: Audiences engage in this program by posting their thoughts or questions on post-it notes on a communal bulletin board in the lobby. They are encouraged to tweet their thoughts or questions to @BalletX with the #xprocess, follow BalletX on FB to see regular posts, as well and to participate online via The X-Blog.
Location: Post Your Thoughts takes place in the lobby of The Wilma Theater and online at The X-Blog and via BalletX social media outlets Facebook and Twitter.
How Many Staff: Post Your Thoughts requires: 1 staff member to oversee logistics and setup in advance, 2 staff members coordinate posting notes to social media and act as informal facilitators, 1-2 volunteers to encourage audience participation.
Program Cost: $600 in direct costs per performance series
Marketing for Program: BalletX markets Post Your Thoughts in several different ways. Information on the program is included in the program book, lobby boards, monthly newsletters leading up to the event, dedicated e-blasts, series print materials, press release and season brochure, as well as on the BalletX website, on The X-Blog (Tumblr) and via BalletX's social media outlets (Facebook, Twitter, Instagram).
Cost for Program Participants: free
Attendance To Date: 324
Past Iterations: Post Your Thoughts has occurred twice so far—during the BalletX Fall Series 2013 and Winter Series 2014.
What works? Audience participation was definitely enhanced by providing cookies beside the bulletin boards, by mentioning the activity on-stage as part of the directors' curtain talk, and by stationing volunteers on either side of the board to invite people to respond. Providing a limited number of directed, yet open-ended questions/prompts seems to be the best approach, based on our experience and conversations with other organizations who have done similar activities.
What doesn't work? In an effort to get more response from the audience, we initially tried to put a post-it note inside everyone's program book. This did not increase response and merely wasted paper. Although we did take pictures of post-it notes and highlight them on the new BalletX blog and social media, it has proven difficult to motivate our social media-following to interact with the blog content and its related links on FB and Twitter. We believe this requires a pre-existing culture of conversation, which we hope to eventually develop over time.
Performances Where Offered: Post Your Thoughts is offered during each performance series.
Past Research on Program: BalletX will collect audience feedback at the conclusion of the 2013-2014 Season.
Continuing Program? BalletX intends to continue this program through the end of the 2013-2014 Season.
Additional Comments:
It was encouraging to see audience members interact with each other through the bulletin board. Even if people might not have posted their own thoughts or comments as much as we might have liked, the board still generated a lot of attention with people stopping to read other people's post-it notes.
Target Audiences
College Students
Young Adults, 25-35
General Audiences
Event Formats
Workshops: for audiences to learn something about the art form or art
Dance 101 - How to introduce contemporary dance to the novice adult
Online Engagement
In person
Social Bonding Aspects
With artists - meeting a choreographer, dancers
With dance experts - professors, critics, etc.
With peer audience members