SLAM Remote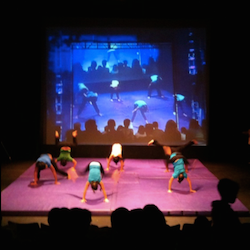 Organization Name: STREB
City: Brooklyn
Program Name: SLAM Remote
Time of Program: Residency is scheduled according to the partner's needs. Performance could be in the evening or afternoon.
Program Length: Residency is six weeks. Performance is about 90 minutes.
Program When Elaborate: Elements of the program occur before, during and after a performance
Goal: Use technology to enhance the experience of remote viewers. Learn if the impact of the show is increased when audiences are involved physically from the remote location. Explore how a remote show could be made to feel "live"
Time of Year Offered: Anytime
Program Description:
As background, dance companies are beginning to stream live performances to reach more audiences. While streaming captures the visual aspects of a dance performance, it fails to portray other important elements—interaction between dancers and audiences, physical participation, or even just the heightened sense of excitement and atmosphere of being at a live event.
SLAM REMOTE is a new presentation model that uses technology to create verbal and kinetic exchanges among audiences at different physical locations. For decades, Brooklyn-based STREB has emphasized audience participation in its performances, allowing viewers to step onto the stage, try out equipment, and meet the dancers. Now, with EDA's help, STREB has translated the feeling of SLAM, its own venue and interactive engagement style, to a new model of live streaming for off-site audiences.
SLAM REMOTE utilizes the concept of SLAM on a conceptual level (encouraging rough and ready experimentation, fostering audience/performer interaction, and breaking down physical and conceptual barriers) and in practical ways (offering small scale touring options, ensuring a flexible residency design, and engaging new technologies). Growing out of the company's concern that solutions to the erosion of audiences have centered on the use of technology as a replacement for "real" as opposed to virtual interaction, SLAM REMOTE continues STREB's goal to rewrite the traditional rules of audience behavior.
In SLAM Remote, STREB works with an off-site presenter to simulcast both the show and audience reactions at each location—home and off-site—on large video screens. Three elements are key to the experience:
• Before the show, a STREB artist conducts a residency with the offsite presenter, usually for a group of children.
• At the show, STREB involves music, djs, refreshments, and dialogue between participants, back and forth, from both locations.
• At the end of the show, the children in the remote location perform what they learned during the residency, which is broadcast back to Brooklyn.
Number of Participants: Several hundred at SLAM, plus several hundred or more at the remote location, depending on the venue size.
Target Audience: Audiences of all ages. Good for a family.
Is the program for kids? The residency portion is designed for children and can take place in or out of school period. Children are actively involved in movement, in activities that are instructive and self-expressive. Kids, in particular, enjoy STREB's movement, which we can tailor to their abilities. Performances are appropriate for all ages.
Private/Public Public
Nature of Audience Engagement: Audience members interact in a variety of ways. Students first learn some of STREB's action vocabulary. During the show, two levels of engagement happen. The live audiences at the SLAM space view the show, view the audience in the remote location on screen via live feed, and see the young people perform onscreen. At the remote location, audiences view the main part of the show on screen, via the live feed, as it is performed at SLAM in Brooklyn, and the young people come to the stage to perform in the final act. At the end of the show, kids and anyone who wants to is invited to come onstage and try out some STREB moves, using the equipment, with STREB dancers and staff. Finally, our entire approach engages audience members in nontraditional ways (at least in performing arts venues): we encourage them to interact however they wish, by cheering, clapping, texting, tweeting, taking photographs, or eating popcorn.
Location: See above, two locations—SLAM and one other venue, at or near the residency location.
How Many Staff: This project required a large team of artists and others, working in two different locations. They were: STREB: Artistic director, Project coordinator, 3 teaching artists, 2 M.C.'s, company members, 4 technical staff STATE THEATER (Presenting Partner): VP of Education, Administrative coordinator, 5 tech crew, Emily Fisher School (Residency Partner): faculty member – dance teacher, 11 performing artists/students Tech Company @ SLAM: tech director, audio engineer, video engineer, 2 camera operators, satellite technician, technical assistant Tech Company @ Crossroads: tech director, camera operator, tech assistant
Program Cost: As a first-time project that experimented with two different approaches, it was costly. Production Expenses were $66,500, and included artist fees ($26,000), equipment/freight ($8,500), video production/simulcast ($25,000), and tech personnel ($7,000). Future iterations may be less costly if cost-effective ways of doing a high-quality live feed could be found. Marketing was $2,500, and administration was $8,000 for a total project cost of $77,000.
Marketing for Program: ASK STAFF
Cost for Program Participants: As a first-time project that experimented with two different approaches, it was costly. Production Expenses were $66,500, and included artist fees ($26,000), equipment/freight ($8,500), video production/simulcast ($25,000), and tech personnel ($7,000). Future iterations would likely be lest costly. Marketing was $2,500, and administration was $8,000 for a total project cost of $77,000.
Attendance To Date: Between 400-500
Past Iterations: The two times described here. ASK STAFF
What works? The lessons that STREB shares are highly instructive to those who might consider similar experiments. The choice of partner organization is critical to success, and should be a presenter with deep experience in producing, programming and education, and an established infrastructure. Technology must be chosen carefully; at that time of this project, the goals could only be realized by using a combination of satellite and internet. The production company was accustomed to simulcasting conferences and sporting events, bringing both the technical and human resources necessary. The artistic and other human resources will be a major consideration; organizations that attempt this must accept that they will be, in essence, producing two shows simultaneously and likely have to hire two crews. Paying time and attention to developing the storyboard allows for pre-planning of camera locations, timing, etc. and attending several rehearsals "allowed the videographers to capture both the scope and the scale of STREB's work, as well as the energy, personality, and immediacy of the performers", resulting in a "tangible sense of connection." Regarding the budget, the project was meant to find a cost-effective solution for touring, when instead, the satellite was more expensive than anticipated. However, alternative tech options can likely be found and among the promising options on the horizon are VSAT, T1 connections and other arrangements, all of which would need to be explored as the technology evolves.
What doesn't work? After the first SLAM Remote was met with technological difficulties, crucial changes were made for the second show (at the NJ Crossroads Theatre in December 2010). STREB learned to utilize a satellite company instead of Internet streaming, as well as to do significant planning in advance (see below). In fact, the company found it needed to have a separate crew, storyboard and dj at each location. During a 6-week residency four dancers traveled to NJ to work with a group of 18 students, to created an original 12 minute work. The second try was a great success, with both audiences getting to experience an exciting, circus-like atmosphere, live dance, and participatory interaction. As staff reflects, there was a "crystallizing moment during the NJ performance was the palpable awareness of connection – between audiences in two locations, between performers at two highly different levels of development but equal levels of commitment and the sense of pride which exploded the possibilities for the kids, the artist and the audience members alike." (Refer to blog posts from each show.)
Performances Where Offered: Only at some performances, given the degree of coordination and technology support that are involved. Also, the residency partners must be interested and willing to provide students, a venue, and other support.
Past Research on Program: STREB implemented a series of in-venue post-performance audience surveys in order to gauge reactions to the SLAM REMOTE format, from the perspectives of Streb's home audience in Brooklyn, NY, and the remote audience in New Jersey. While Brooklyn audiences reported a slightly higher captivation level due presumably to their presence at the fully live performance in the SLAM space itself, audiences in NJ felt a stronger social bond than those in Brooklyn. And, NJ audiences reported that they may pay up to $13 for a ticket to see a live broadcast. See also the report –Wolf Brown, Engaging Dance Audiences: Summary Assessment of Grantees' Engagement Practices p. 21 (link below)
Continuing Program? ASK STAFF
Additional Comments:
STREB's interest in audience involvement and the spontaneity and energy of SLAM itself prompted this experiment. The company hopes this new model will engage and diversify its audience, increase and deepen community and presenter relationships and establish a new stream of earned income. As STREB points out, clearly "there is an appetite amongst audiences for such an experience." SLAM REMOTE has provided the field with the valuable new knowledge that "two separate audiences could be bonded through such an experience and could thereby create common ground." The video (link below) is nice way to grasp the project in about 13 minutes.
View a video of how STREB planned SLAM Remote and what it looked like.
View a webinar, about SLAM Remote and hints about how to adapt it to your needs.
View a Powerpoint from the webinar.
Read two blog posts about STREB's first experiment and its second experiment.
Read about EDA research on the project.
Resources & Links:
See the links below to learn more about the project.
View a video of how STREB planned SLAM Remote and what it looked like.
View a webinar, about SLAM Remote and hints about how to adapt it to your needs.
View a Powerpoint from the webinar.
Read about EDA research on the project. 
Target Audiences
Primary school students
Secondary school students
College Students
Young Adults, 25-35
General Audiences
Families or kid-friendly
Event Formats
Workshops: for audiences to learn something about the art form or art
Participatory Engagement Methods: involving the audience in activities such as dancing or choreographing
Dance 101 - How to introduce contemporary dance to the novice adult
Online Engagement
Both online and in person
Ideas for Working with Young Audiences
In school programs
Out of school programs
Instruction
Social
Participatory
Social Bonding Aspects
With artists - meeting a choreographer, dancers
With dance experts - professors, critics, etc.
With peer audience members
With other "guides" such as students, volunteers