On the Boards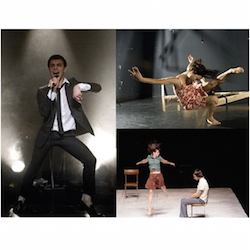 City: Seatlle
Program Name: On the Boards TV (OtBtv)
Time of Program: Program is available online at all hours.
Program Length: Depends on the length of the dance, 15-60 minutes
Goal: On the Boards hopes to use its new video platform to expand what they see as audience's burgeoning interest in mediated viewing experiences, and to reach dance enthusiasts who either live far away or are inhibited by busy schedules. On the Boards also strives to be the equivalent of a museum catalogue for dance.
Time of Year Offered: Throughout the year, after live performances
Program Description:
OntheBoards.tv (OtBtv), is first-of-its-kind website offering high quality full-length videos of contemporary performances, through both streaming and download, via a range of fee-based options. Inspired by interactions they saw on podcasts and blogs, On the Boards invested in recording the artists appearing on its season in high definition and hopes to use its new video platform to expand what they see as audience's burgeoning interest in mediated viewing experiences. By reaching dance enthusiasts who are a remote audience or are inhibited by busy schedules, OtBtv seeks to draw them into a network of artistic dialogue and ultimately inspire them to attend live performances in the future. Each of the videos appears alongside background information on the artist and work post-performance, with blogs, to build knowledge and spark conversation. Striving to be the equivalent of a museum catalogue for dance, OtB filmed, edited and uploaded nine new dance films, along with accompanying content to provide context, though interviews, research and essays. OtB splits the fee with artists for their content. On the Boards (OtB) explores answers to some of the big questions facing contemporary dance: How would audiences' experience and engagement level differ during live performance when compared to online viewing? On a more practical level, will audiences pay to view dance online and how will they respond to different subscription and purchasing options? How would copyright laws apply to online dance content? How might artists benefit financially from sharing their dances online?
Target Audience: The target audience has been one of the most interesting aspects of the project. We have had higher than anticipated interest from college dance and art departments, who have opted to subscribe to OtBtv in order to provide their students access to high-quality dance that is otherwise not available in their location. We also found strong interest from presenters in other cities, as well as artists and others around the world.
Private/Public Public
Nature of Audience Engagement: Audiences view the hi-def videos
Location: Online, post-show
How Many Staff: Filming and editing: We partner with an independent filmmaker who acts as director, editor and producer of the film. They subcontract with 4-5 camera operators, a sound engineer and editors. Technical support: We have a technical support "help desk" on retainer, as we do not have an in-house IT position. The same person who built our website offers this technical support. Averages 5hrs/month. OntheBoards.tv and Media Manager: all OntheBoards.tv activities, including artist and filmmaker coordination and contracting, website management, advertising and marketing, off-site filming and screenings, and data and research. Additional staff that are actively involved in the project: Managing Director (contracting, financial management, general implementation), Artistic Director (content selection, artist management, content creation), Production Manager (in-house film supervision), Communications Director (marketing).
Program Cost: Filming and editing: $12,000, per show (for a 1 hour show). Includes rental of 4-5 high-def cameras and equipment, 4-5 camera operators and a director, a sound engineer, editing, pre- and post-production coordination, a final film in 3 formats, a 1 minute trailer and the original film footage; Internet hosting, content distribution and technical support & fees: $1,293, per month (approx.); Internet Storage monthly fee: $238; Content delivery system monthly fee: $400 (approx.); Technical support: $625 ($125/hr for average of 5 hrs/month); Paypal monthly fee: $30; Additional variable expenses: Advertising & Marketing, Creation of additional online content, including behind-the-scenes videos, interviews and essays, Travel to any off-site venues; Staff costs (pro-rated and/or staff position); Start-up costs: Website build-out: $45,000 (approx.) to design custom system and video player (these costs could have come down since the time OtBtv was launched). Legal consultation for contracts;
Marketing for Program: We found that general mass marketing was too broad, and that (after surveys!) our audiences were coming to OntheBoards.tv because they were following the artist, or someone had recommended that particular artists work to them. Therefore our main marketing strategies are more grassroots-based. 1) Working with existing purchasers of OntheBoards.tv content by including them in monthly e-news, personal thank you emails and additional film recommendations. 2)Working with universities via email communication and sharing PDF's that provide curricula examples on how to include the films in the classroom 3)Working with other venues who have programmed the OntheBoards.tv artist and their work to share discounts on the existing OntheBoards.tv film (when applicable). 4)Social Media – the artist's social media, our social media. More grassroots (posting and talking about things) rather than paid advertising on these. 6)Online advertising with specific websites and blogs that are targeted to contemporary and performing arts enthusiasts rather than general online or print ads. 7)Special promo codes for holidays and events such as our 4th Birthday this past January! Some new marketing plans that we are working on are: 1)Re-visiting our e-news strategy to increase communication with our audience and have a clear, focused message in each email. 2)Releasing a Press Release when we launch new films 3)Re-visiting our educational marketing plan to re-vamping our existing brochure and material designs and increasing communication with our higher education customers to strengthening our relationship.
Attendance To Date: The figures above give a general sense of the annual attendance.
Past Iterations: As of Round One of EDA, the program was very new.
What works? See above. Audiences are definitely interested in this content and our audience numbers were larger than anticipated. Audience segments, too, went beyond what we had anticipated. Finally, we found that some people who attended the performance live were opting to also view it online later. Staff aptly points out the unanswered questions and challenges that remain for the dance field in considering its high-def online presence. Will audiences pay for it? What is the most effective way to advertise and market it? Is it okay to take this work outside of a direct arts context? What platforms will grow as the most popular for user access? What about the long-term intellectual rights? Is the funding model sustainable and can arts orgs afford to take on this type of financial and infrastructure growth? Can we afford not to? In OtB's words, "our sincere hope is that more organizations within the dance field…will engage in similar activity and help find the answers."
What doesn't work? Since its launch, On the Boards has adapted what it has learned. The editing process took twice as long as expected, to allow time for the artist to work closely with the editors. It became necessary to launch a national advertising campaign and engage a national PR firm to give the project the exposure it deserved. It was important to set expectations for exposure and distribution that were in line with the project. The fact that the internet is widely accessible did not mean that this new content was automatically accessible, as staff states, "our art is a niche, and it remains this way, even online." The capacity of small organizations to create and distribute such content is an issue to consider carefully, but it is possible. It is important, OtB found, to have a dedicated staff. Also, the music rights many be an issue for some artists and due to increased use of iPhones, iPads and other such devices will no doubt influence the technology choices in any similar platform.
Past Research on Program: OtB tracked the successes and obstacles inherent in their new online model, and attempting to answer the questions above, by documenting their progress and surveying viewers. As of 2011 the results have begun to address the questions. Most importantly, OtB found that people are interested in this content. During the project period, the site had 26,138 visitors from 52 states and 108 countries, with 9,750 users and 106 subscriptions. Although most subscribers have prior relationships to the artists, efforts are being accelerated to tap those who are new to the artist or organization. The limited EDA research suggests that the nature of engagement appears different in the theater from online. Audiences reported being more emotionally engaged when watching live performances but intellectually engaged when watching films, and they like to view them multiple times.
Continuing Program? Since our launch in 2010 we have more than tripled in size with plans to continue adding multiple new performance films each season. We have continued to engage and intrigue new audiences in all 50 states as well as over 124 countries in the Americas, Europe, Asia and Australia. Our subscribers are comprised of avid arts fans, intrigued browsers, students and arts professionals. Over 50 university campuses in the US, Europe and Australia have purchased educational content for their campus including Princeton, Yale, Ohio University, School of the Art Institute Chicago, Edith Cowan University and the University of Amsterdam. Since January 2010, we have launched 32 performance films by 30 different artists, and have filmed performances in Seattle, Portland, Austin and New York. We have also participated in 32 screenings of our films in venues across the US and Europe, such as the Prague Quadrennial (Czech Republic), Brooklyn Academy of Music (NYC), Oberlin Dance Center (San Francisco), and the PuSH Festival (Vancouver BC). We are looking forward to entering our fourth year and continuing to providing the best possible access to the highest quality contemporary performance films.
Additional Comments:
Please see additional pages, which give links
Target Audiences
College Students
Young Adults, 25-35
Seniors
General Audiences
Event Formats
Workshops: for audiences to learn something about the art form or art
Dance 101 - How to introduce contemporary dance to the novice adult
Online Engagement
Online
Ideas for Working with Young Audiences
Instruction