I Speak Dance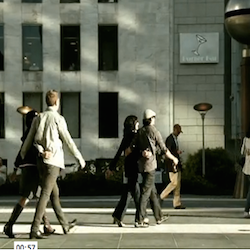 Department Submitting Recipe: n/a
City: San Francisco
Program Name: I Speak Dance
Time of Program: Part 1: anytime, Parts 2-4: during the day or evening, as students' schedules allow.
Program Length: The first online session lasts about 15-30 minutes, and subsequent sessions last several hours each.
Program When Elaborate: This four-part program is offered to students during the college semester, both online and in person (see below for details).
Time of Year Offered: timed to work during a college semester, during fall, spring or summer
Program Description:
ODC, based in San Francisco, has developed I Speak Dance to introduce 18-25 year old college students to the world of dance. It aims to cultivate fluency and life-long interest in dance among a young adult audience. This portable mini-curriculum uses Web 2.0 technology, interactive workshops, and performances to give students exposure to live, high-quality professional experiences with the art form. With ODC, each university completes four elements:
1. Students see an orientation video podcast that briefly explores the field of contemporary dance and covers the basics of dance composition. The video is called "Love on the Run" and is available through the link at the end of this entry.
2. Students participate in Unplugged, a choreographic/performance workshop where ODC and students collaborate to create a dance—using movements from the company's repertoire—that students can perform for friends and post online. In a casual setting with complementary food and drink available, unplugged is an 'in-progress' viewing of the creation of a choreographic work – a lecture/demonstration focused on one piece. In addition to exploring the genesis of a work, the Unplugged is designed to create a vocabulary for talking about dance and facilitating a dialogue about reactions to the work. The event includes food and drink and lasts 2-3 hours. The goals are to demystify dance; introduce participants to creative process; empower accidence to respond to work; cultivate a loyalty to the dancers; and make it social.
3. At Immediate Dance/Studio to Stage, a 2-3-hour choreographic performance workshop at ODC's studio, students see an in-progress creation of a choreographic work an educational lecture-demonstration. All levels are welcome and encouraged to participate in this fun creative event. ODC dancers/resident artists create movement passages and teach solos from current repertory or develop material on site according to the skill level of the different participants. Then, choreographers will figure the results into a group composition/performance by the end of the session – results to be performed for friends, videotaped and posted on the web and YouTube. The goals are: first hand movement experience; intimate connection to professional artist; establish dance as inclusive; exciting group experience; create a viral buzz.
4. Students attend a performance at ODC Theater. They can bring friends at a discount and meet the artists after the performance. Partners come to Yerba Buena Center for the Arts to see an ODC/Dance concert or to ODC Theater for a special preview performance or dress rehearsal. Participants were hosted by ODC choreographers Brenda Way and KT Nelson. Using two for one ticket discount strategy, we will ask each participant to bring a friend who has not participated in the program. All program participants and their guests will be invited to meet the artists post performance. The goals are to: create an informed first concert experience (friend is in program) for new audience members; provide more intimate experience of the concert experience; provide artists with live preview audience; create a de facto focus group of presenters and viewers; convert participants into ticket buyers.
Number of Participants: A select group of students attend, in conjunction with a class for which they register. Additional students and general audiences can attend part 4.
Target Audience: The target is college students and high school upperclassmen, and, for part 4, their friends and family.
Location: Part one happens online, and parts 2-4 happened in the ODC theater.
How Many Staff: ODC had 13 staff involved: 2 choreographers to design programs and work with students and dancers, 10 dancers to perform and participate in the workshop, and one other to assist with logistics. However, additional staff may be needed to analyze surveys and oversee administration.
Attendance To Date: During the pilot year, I Speak Dance introduced 200 students to ODC, 60% of whom were new to concert dance, plus another 150 as guests to program participants.
Past Iterations: ODC tested this program twice during EDA Round One, and has continued it since that time. Parts of the program had been piloted earlier. See below for changes that were made. [Ask staff]
What works? ODC successfully partnered with three of the four universities, finding that over 90% of students were engaged by the program. ODC came away convinced that, according to staff, the "college cohort is open and willing population," and are "in a learning mode and curious to experience new activities." The cumulative impact on students of participating in the program was clear, as they tended to cross reference learning as time went on. Having a mixed palette of experiences shifts these young people's perception and appreciation of the audience and was worth the logistical effort. The film was particularly successful in eliciting interest and a "complex verbal response." The uploaded Immediate Dance did result in extensive online traffic, which was presumed to come from on campus. Social engagement between the students and dancers significantly enhanced interest.
What doesn't work? ODC has many lessons to share, both artistic and logistic. I Speak Dance involved significant staff resources, well beyond expectations, including 10 dancers, 2 choreographers and one staff attending all events, plus others to analyze surveys, and deal with administration and reporting. Getting buy-in from faculty partners was key; while the bureaucracy can be daunting, a fully "informed faculty partner can prevail," according to staff. Artists' skills at composing on the spot among a mix of dancers and non-dancers was key to their success. Paper and face-to-face evaluation methods worked far better than online surveys. ODC offers useful lessons learned in the document called Program Model on the Dance/USA website: 1. Scheduling: The length of the Immediate Dance and Unplugged sessions will be combined and shortened into one event with a brief reception and discussion lasting a total of three hours. Activities will be scheduled across a six to eight week period, rather than a 10-day period. This timing allows students the time to process what they had learned, participated in or seen. 2. Artists: The same ODC/Dance dancers will be involved throughout the project; Love on the Run (video), Immediate Dance, Unplugged and the performance, offering consistency to students who may be new to contemporary dance. 3. Students Targeted: The graduate students from the visual arts college were able to have sophisticated responses while relating their understanding of dance to their own art form. We look forward to future collaborations with visual arts and dance. In general, we advocate for working with undergraduate classes as I Speak Dance is more easily integrated into the curriculum and coursework. 4. Communication: Ongoing communication with the faculty was crucial to successful student participation, attendance and responses.
Performances Where Offered: This program involves student attendance at only one full-produced performance, but they travel to related events two or three times during the program.
Past Research on Program: To test and refine its model ODC opted to partner with four regional universities (San Francisco State University, University of San Francisco, Mills College, and the California College of the Arts). At each university, a dance professor and non-dance academic professor participated in the semester-long I Speak Dance and explored cross-curricular tie-ins. Classes identified for participation in the program include literature, philosophy, music and visual arts, and even a scuba class. The first iteration of I Speak Dance took place in Fall 2010, with a second round in Spring 2011. Repeating it during a second semester allowed ODC to change the program length and format and assessment methods, as well as to adjust the grade level of the student participants. Each element was accompanied by surveys, with open ended questions, to capture students' impressions. ODC used a pre-/post-survey design to assess the extent to which students' attitudes and inclinations towards dance changed in light of being engaged in the program; staff was most interested in the qualitative information, specifically students' use of language to describe the dance they experienced. Notably, from its research, ODC learned that visual arts students in particular were able to express their thoughts about dance in an in-depth and sophisticated way.
Continuing Program? ODC itself will pursue this model of outreach in the future, but will consolidate events and hold them at their own space.
Additional Comments:
ODC feels the entire project can be worthy of replication by other dance companies and colleges. The company has generously provided both a Program Model and a thoughtful interpretation of the research it conducted, which includes the resulting modifications it made to the program. Both items will aid peers in replicating it and are available on Dance/USA's EDA portion of their website (see Round One, Profiles of the Grantees, ODC). The College constituency is, as they say, "low-hanging fruit for audience development" that is worthy of cultivation for long-term benefit. Note: see Dance/USA's Audience Engagement Resource Library for a range of information, including essays, research and webinars, as well as information about ODC's I Speak Dance program.
Resources & Links:
While the main audience for this is college students, it can be adapted to other audiences.
Please see the I Speak Dance Profile on the EDA portion of Dance/USA's website, where you will find research pertaining to this project: http://www.danceusa.org/odc
See also the EDA resource guide and related videos from Brenda Way, speaking about the program: http://www.danceusa.org/edalearningexchangescontent
Finally, view--and use--the orientation video from ODC, which is designed for the novice audience: http://www.youtube.com/watch?v=9RhRiLplrJQ
Target Audiences
College Students
Young Adults, 25-35
Seniors
General Audiences
Families or kid-friendly
Event Formats
Workshops: for audiences to learn something about the art form or art
Participatory Engagement Methods: involving the audience in activities such as dancing or choreographing
Dance 101 - How to introduce contemporary dance to the novice adult
Online Engagement
Both online and in person
Ideas for Working with Young Audiences
In school programs
Out of school programs
Instruction
Social
Participatory
Social Bonding Aspects
With artists - meeting a choreographer, dancers
With dance experts - professors, critics, etc.
With peer audience members
With other "guides" such as students, volunteers