Walker Recipe 5: Video Interviews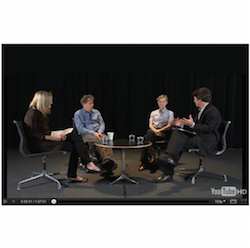 Organization Name: The Walker Art Center
City: Minneapolis
Program Name: Video Interviews
Time of Program: The program is offered at all times because it is available online.
Program Length: The final product is about one hour long.
Program When Elaborate: Not offered directly at a performance but is archived online so that it can be streamed online or download.
Goal: This online program aims to provide an in-depth perspective to learn about the creative process and insider experience of a piece, as well as deepen their understanding of a particular artist or context of the work. This is part of Walker's effort to connect all programs through common audience engagement threads, focusing on developing scalable, replicable models to engage audiences before, during, and after performances.
Time of Year Offered: Year-round throughout the run of the season
Program Description:
Video interviews with artists are archived on the Walker Channel and are available to stream or download. Our videotaped interviews usually take the form of curatorial conversations between visiting artists and the Walker's programming staff, without a live audience. The in-depth perspective of curatorial conversations allows audiences to learn about the creative process and insider experience of a piece. These interviews provide a way for audiences to hear from the dance artists directly when they often wouldn't have a chance to see or hear them speak about their work otherwise. Audiences can deepen their understanding of a particular artist or the context around a specific work, pre-performance or post-performance of that artist's presentation. They are an asset to the artist and the field and will continue to be an important part of Walker archives in perpetuity.
Number of Participants: The videos are available for the general public online in the Walker Archives.
Target Audience: Overall target audience is generally a younger (under 40) tech-savvy audience drawing from the local communities and Walker's other artistic disciplines.
Private/Public Public
Nature of Audience Engagement: Audience members view the videos, and ideally are motivated to seek more information or attend performances.
Location: The program's videos and footage are accessed and viewed online.
How Many Staff: A total of 4 staff members are involved: two staff members for videography (typically one staff member and one freelance), a staff member (or freelance) for editing, writing transcripts and digitizing, and then one curator to do the prep time for curatorial research.
Program Cost: Approximately $875 to cover the costs of staff for videography, editing and digitizing the interviews, writing transcripts and doing curatorial research.
Attendance To Date: As of the time the Recipe Book was produced, four new videos had been created since EDA began, and each video averaged 319 views.
What works? Anyone can create a YouTube account with a themed channel. Start your own library of videos today and link to your website and press releases. These type videos have the potential to become viral sensations. A similar type video interview the Walker created with jazz musician Bill Frisell has so far received 13,000 views on YouTube (and it has been linked to on dozens of other sites).While not dance-related, we are hoping for similar out-of-the-park responses with our dance videos.It's best to schedule conversations after opening night when the artist is more relaxed and the curator has had a fresh experience with the work.
What doesn't work? Due to the lengthy back and forth between editing and approval, it has been impossible to get these videos online in time to capitalize on touring venues' press and media visibility. This is because the artist needs to be in town in order to film.
Performances Where Offered: Curator interviews only done with commissioned dance artists.
Past Research on Program: Walker's EDA-related research included distributing surveys to measure differences in audience's engagement with the performance, comparing those who participated in Walker's array of EDA-sponsored activities versus those who did not participate with positive results for those who did participate in the survey. This research was across various types of events, so is not specific to the Video Interviews. Participation in engagement activities—particularly post-performance, or a combination of post-performance and online activity, resulted in significantly stronger reports of impact (captivation, feeling challenged, emotional and spiritual resonance, connecting with the dancers on stage, connecting with the audience, and the impression left by the performance) compared to those who did not participate in any engagement activities.
Continuing Program? Yes, but the video interviews are only with select programs, mainly commissions.
Additional Comments:
In general, older artists are looking forward to this service and the coverage it provides. Younger artists may need assurance that it's worthwhile to have such an intimate conversation out in the public. The "delivery" of videos streamed online has become easier due to technical advances. Our videos are posted to YouTube and then embedded onto the Walker Channel. Two cameras have been used to film interviews between choreographers and Walker curatorial staff, and included a single wide shot and also a close-up on the choreographer. It's important to remember that two-camera shoots require editing whereas one-camera shoots may not. Staff capacity issues need to be considered; the Walker had to hire a freelancer to complete our video editing goals in a timely fashion. Note: This entry was taken from the Walker's Recipe Book for Audience Engagement, a product that their staff created during Round One of EDA. The full recipe book is available on the Dance/USA website (see EDA Audience Engagement Resource Library).
Resources & Links:
Please see the information about the Walker Art Center and its recipe book on the Dance/USA website
Read a profile about the project, and access related products, including the Recipe Book: http://www2.danceusa.org/walkerartcenter
See a resource guide about the project, and view videos from Walker staff about it: http://www.danceusa.org/edalearningexchangescontent
Target Audiences
College Students
Young Adults, 25-35
Seniors
General Audiences
Families or kid-friendly
Event Formats
Dance 101 - How to introduce contemporary dance to the novice adult
Online Engagement
Online
Social Bonding Aspects
With artists - meeting a choreographer, dancers
With dance experts - professors, critics, etc.