Walker Recipe 3: SpeakEasy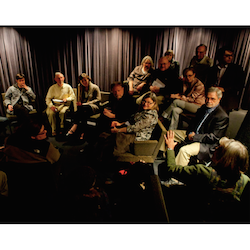 Organization Name: The Walker Art Center
City: Minneapolis
Program Name: SpeakEasy
Time of Program: Evenings
Program Length: SpeakEasy typically lasts about one hour, but in some circumstances when the discussion really gets rolling, it can last longer.
Goal: Walker strove to find ways to bridge a perceived artistic discipline 'gap' and more audiences from the galleries into the theater.
Time of Year Offered: Year-round throughout the run of the season
Program Description:
SpeakEasys are informal gatherings after our Saturday-night dance performances where audience members can discuss a performance together in a non-intimidating bar setting.The interactive conversation is facilitated by a local choreographer and a Walker visual arts tour guide who draw on their respective trainings in dance and visual arts. The artist is not present, which we have found allows audience members to express their range of reactions and questions about the performance.
Number of Participants: All audience members can participate but the average has been about 23 participants per SpeakEasy.
Target Audience: The SpeakEasy is geared toward everyone, the general audience member.
Private/Public Public
Nature of Audience Engagement: Audience members get a drink and then interact with each other, and hopefully speak about the dance they just saw--they might voice their opinions or ask questions of each other.
Location: At the Walker, the program takes place in the upper balcony of the theater in the "Balcony Bar," literally a makeshift bar set up in the theater's upper balcony. Our catering staff oversees the set-up but a less formal set-up would work.
How Many Staff: We use a mix of volunteers and staff. About 2 volunteers are required for onsite moderation of discussion, then 2-4 staff members are needed to manage post-discussion blog/response, work the front of house and to manage space and 2 bar staff members. The bar is open one hour before and one hour after every performance, so no additional staffing was needed for this program.
Program Cost: $500.00 to cover the cost of staff (bar staff and front of house staff), comp and drink tickets for moderators. There is no cost for moderators because they are typically volunteers.
Attendance To Date: Since the program's inception, the average has been about 23 participants per SpeakEasy, usually more. It is common for people to have different levels of commitment and to float in and out of the conversation.
Past Iterations: There were 10 SpeakEasy events in the 2010-2011 season when the program debuted. Currently almost all events have a Speakeasy.
What works? SpeakEasys have been well attended almost always, with the Balcony Bar often full. Creating guidelines for facilitating the discussion is a good idea so that the choreographer and tour guide are able to prevent the discussion from becoming stuck or dominated by any one voice or opinion.
What doesn't work? The SpeakEasy is promoted in the program notes and blogs online, but most attend because of our onstage announcement immediately after the show when the facilitators are named and the meeting space is pointed out. After one performance there was not an onstage announcement about the SpeakEasy, and no one showed up.
Performances Where Offered: Walker debuted Speakeasy in February 2010 with a group of 20 dance novices, and continued with nine dance events in the 2010-2011 season. Currently almost all events have a Speakeasy; these and other visual arts-related activities have been hugely successful in empowering audiences to talk about dance.
Past Research on Program: Online questionnaires were used to capture feedback on participants' experiences of the SpeakEasy format. At each SpeakEasy, a Walker staff member asked attendees to provide feedback on the program, and if they consented, collected their email addresses. On the Monday following the Saturday evening SpeakEasy, while the program was still fresh in their minds, a link to the online questionnaire was sent to participants. In total, the Walker collected data from participants at three SpeakEasys, following the performances given by Bruno Beltrao (Feb 13, 2010), Morgan Thorson/Low (March 6, 2010) and Saburo Teshigawara (April 24, 2010). Participants' feedback about the SpeakEasy suggests that the peer-exchange format enabled an engaging post-performance conversation. When asked why they attended the SpeakEasy, their most common response was that they wanted to hear others' questions and thoughts about the piece. When asked which aspect of the SpeakEasy they enjoyed the most, however, respondents were most likely to cite the opportunity to voice their own point of view about the performance. The feedback suggests that the dynamic created by the SpeakEasy format truly engaged people in peer exchange about the performance they had just attended.
Continuing Program? The education and community programs department at the Walker has decided to keep using the SpeakEasy model and even test it as an institution-wide program across disciplines.
Additional Comments:
Dozens of participants have expressed their pleasure with this program. One local choreographer sent us an email in which she called it "perfect" and said "It's exactly what you want to do after seeing a show—sit and chat (with drinks) with a group of people who have just watched the same show." Within the post-performance discussion format, there is an essential duality: they involve a balance of giving and taking, and different people like to play different roles. Managing this balance is one of the central challenges of the practice and in response, the Walker provided an orientation for its facilitators. The Walker developed a discussion guide for moderators. Note: This entry was taken from the Walker's Recipe Book for Audience Engagement, a product that their staff created during Round One of EDA. The full recipe book is available on the Dance/USA website (see EDA Audience Engagement Resource Library).
Resources & Links:
Please see the information about the Walker Art Center and its recipe book on the Dance/USA website
Read a profile about the project, and access related products, including the Recipe Book: http://www2.danceusa.org/walkerartcenter
See a resource guide about the project, and view videos from Walker staff about it: http://www.danceusa.org/edalearningexchangescontent
Target Audiences
College Students
Young Adults, 25-35
Seniors
General Audiences
Families or kid-friendly
Event Formats
Dance 101 - How to introduce contemporary dance to the novice adult
Online Engagement
In person
Social Bonding Aspects
With peer audience members
With other "guides" such as students, volunteers