Walker Recipe 2: Post Show Q & A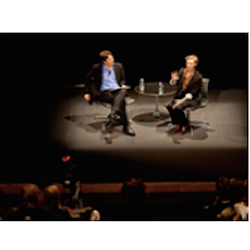 Organization Name: The Walker Art Center
City: Minneapolis
Program Name: Post Show Q & A
Time of Program: Evenings
Program Length: The quality of the conversation is a good guide as this can vary from one Q&A period to another. If questions start to lose focus, that's an indication that all the "good" questions have been asked.
Goal: This post-show program provides a forum to hear the authoritative voice of the artist. This is part of Walker's effort to connect all programs through common audience engagement threads, focusing on developing scalable, replicable models to engage audiences before, during, and after performances.
Time of Year Offered: Year-round throughout the run of the season
Program Description:
Every Friday night after a dance performance at the Walker, the artists return to the stage after their curtain call for an interactive question and answer session with either a member of the Walker's performing arts program staff or a guest interviewer from the local arts community. This moderator from the local arts community is often a dancer, curator, or writer. The Q&A session starts with a few questions from the moderator then opens up to include questions from the audience.
Number of Participants: About 50 - 60% of the audience stays to participate.
Target Audience: Overall target audience is generally a younger (under 40) tech-savvy audience drawing from the local communities and Walker's other artistic disciplines.
Private/Public Public
Nature of Audience Engagement: Audience members stay behind after the performance, listen to the discussion and ask their questions.
Location: The program takes place in the same theater and area where the performance took place. Audience members who wish to participate move closer towards the stage and artists return to the stage.
How Many Staff: Three people: a curator, a guest moderator (if the curator does not moderate) and a staff videographer. The curator does prep work and curatorial research, a guest moderator facilitates the question and answer and a staff videographer documents the performance and post-show talk and edits fil
Program Cost: $425.00, which is used to cover the cost of staff members.
Attendance To Date: Typically, 50-60% of the audience remains for a post-show Q & A.
What works? Making an announcement about the Q&A after curtain call is beneficial and lets everyone know that those who wish to participate may move closer to the stage. Giving some time frame ("Artists will be back in five minutes") ensures that those leaving will not disrupt the dialogue. Less is usually more, so don't let it drag on. It is fine to conclude with some hands still in the air.
What doesn't work? Facilitation is an under-appreciated skill, as grace and care are necessary with both artists and audience members (who are often nervous). It is important that the moderator consider all the participants when asking their carefully considered questions; if you invite the entire cast on stage (or often, it is the artist who wants the company there), be sure to give them a chance to talk and contribute to the conversation. It can feel awkward otherwise. If the audience's questions constantly refer to one artist's contribution over another's, the moderator can jump in to ask 5 more questions of the others in order to keep the Q&A balanced.
Performances Where Offered: This program is offered at all Friday night performances, including all theater performances those nights as well.
Past Research on Program: Walker's EDA-related research included distributing surveys to measure differences in audience's engagement with the performance, comparing those who participated in Walker's array of EDA-sponsored activities versus those who did not participate with positive results for those who did participate in the survey. This research was across various types of events, so is not specific to Q & A sessions. Participation in engagement activities—particularly post-performance, or a combination of post-performance and online activity, resulted in significantly stronger reports of impact (captivation, feeling challenged, emotional and spiritual resonance, connecting with the dancers on stage, connecting with the audience, and the impression left by the performance) compared to those who did not participate in any engagement activities.
Continuing Program? Yes.
Additional Comments:
Whether to ask a question of the artist directly or to hear the responses in this setting, many audience members choose to attend Friday night performances because of this opportunity. Post-show Q&As are a tried and true mainstay and have a built-in audience that loves these opportunities to react to the work they have just experienced. Depending on your venue, you can play around with moving the conversation offstage to a more social environment to keep it fresh. Also, you can invite the audience down to the stage to meet the artists (if they are ok with it) at the conclusion, which builds an even closer social bond to the event and to dance. Remember that it takes time for a moderator to research and gather questions for a successful talk. Note: This entry was taken from the Walker's Recipe Book for Audience Engagement, a product that their staff created during Round One of EDA. The full recipe book is available on the Dance/USA website (see EDA Audience Engagement Resource Library).
Resources & Links:
Please see the information about the Walker Art Center and its recipe book on the Dance/USA website
Read a profile about the project, and access related products, including the Recipe Book: http://www2.danceusa.org/walkerartcenter
See a resource guide about the project, and view videos from Walker staff about it: http://www.danceusa.org/edalearningexchangescontent
Target Audiences
College Students
Young Adults, 25-35
Seniors
General Audiences
Event Formats
Dance 101 - How to introduce contemporary dance to the novice adult
Online Engagement
In person
Social Bonding Aspects
With artists - meeting a choreographer, dancers
With dance experts - professors, critics, etc.
With peer audience members