Walker Recipe 1: Opening Night Reception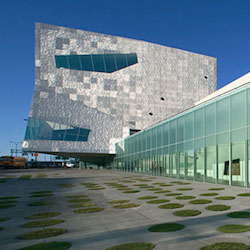 Organization Name: The Walker Art Center
City: Minneapolis
Program Name: Opening Reception
Time of Program: Evenings
Program Length: The program allows for attendees to stay as little or as long as they wish.
Goal: This post-show program aims to provide audiences with intimate, one-on-one access to artists. This is part of Walker's effort to connect all programs through common audience engagement threads, focusing on developing scalable, replicable models to engage audiences before, during, and after performances.
Time of Year Offered: Year-round throughout the run of the season
Program Description:
The Walker's Thursday night receptions provide audiences intimate, interactive, one-on-one access to artists. These receptions differ from the post-show Q&As, where the audience does not typically mingle with the artists, or the Saturday night SpeakEasys, where the audience discusses a piece and its meanings separate from the influence of the artists. And, unlike A Think and A Drink, this is not an exclusive gathering for members only. After Thursday night performances, the choreographer, cast and crew join the audience in our informal Balcony Bar (literally a makeshift bar set up in the theater's upper balcony) to celebrate opening night together. (Note: see other records in this EDA database to learn about these other events hosted by Walker.)
Number of Participants: We invite the entire audience to join us, along with the company. While participant size varies, we tend to get around 20 - 40 people.
Target Audience: Overall target audience is generally a younger (under 40) tech-savvy audience drawing from the local communities and Walker's other artistic disciplines.
Private/Public Public
Nature of Audience Engagement: Audience members stay after the show, have a drink, and interact informally with their peers, the artists and Walker staff.
Location: At the Walker Art Center, the program takes place in the upper balcony of the theater.
How Many Staff: 2 Bar Staff and about 2-4 staff members to manage and host the event.
Program Cost: Approximately $600.00, which covers costs for drink tickets for artists/guest and bar staff for before/during/after show.
What works? Encourage the local art community to come by providing cheaper tickets the night of the post-show reception and provide cast and crew with a drink ticket. Hosting receptions in an informal environment (with drinks) helps everyone to be comfortable.
What doesn't work? Occasionally, an artist prefers not to spend this time with the audience, so you need to check with them ahead of time. It also needs to be clearly communicated to audiences that the cast and crew reception is a perk, not a guarantee. Curators make themselves available to talk during the post-show reception regardless of the artist's participation.
Performances Where Offered: Program is offered at all Thursday night performances, including at theater performance that night as well.
Past Research on Program: Walker's EDA-related research included distributing surveys to measure differences in audience's engagement with the performance, comparing those who participated in Walker's array of EDA-sponsored activities versus those who did not participate with positive results for those who did participate in the survey. This research was across various types of events, so is not specific to this opening night reception. Participation in engagement activities—particularly post-performance, or a combination of post-performance and online activity, resulted in significantly stronger reports of impact (captivation, feeling challenged, emotional and spiritual resonance, connecting with the dancers on stage, connecting with the audience, and the impression left by the performance) compared to those who did not participate in any engagement activities.
Continuing Program? Yes
Additional Comments:
Many times after the reception, local dancers are more interested in taking a master class with the touring choreographer. Note: This entry was taken from the Walker's Recipe Book for Audience Engagement, a product that their staff created during Round One of EDA. The full recipe book is available on the Dance/USA website (see EDA Audience Engagement Resource Library).
Resources & Links:
Please see the information about the Walker Art Center and its recipe book on the Dance/USA website
Read a profile about the project, and access related products, including the Recipe Book: http://www2.danceusa.org/walkerartcenter
See a resource guide about the project, and view videos from Walker staff about it: http://www.danceusa.org/edalearningexchangescontent
Target Audiences
College Students
Young Adults, 25-35
Seniors
General Audiences
Families or kid-friendly
Online Engagement
In person
Social Bonding Aspects
With artists - meeting a choreographer, dancers
With peer audience members
With other "guides" such as students, volunteers