Dance/USA 2019 Honorees
The 2019 Awards were presented during the Dance/USA 2019 Annual Conference at the Opening Night Celebration on Wednesday, June 12, 2019.
R
egistration for the 2019 Annual Conference is open - register now!


Dance/USA 2019 Honor Award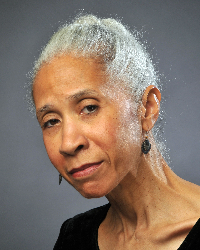 Dianne McIntyre has been a leading contributor to the performing arts world for over 40 years. As a dancer/choreographer/researcher/mentor/director/dance-driven dramatist, she travels in many circles. Her arenas include concert dance, theatre, film and opera. Originally from Cleveland and graduating in Dance from The Ohio State University, McIntyre made her New York choreographic debut in a solo, Melting Song at Clark Center's New Choreographers Concert. The following year 1972, she launched her company of dancers and musicians – Sounds in Motion. By the mid-1970s the company was touring extensively and running a studio/school in Harlem where numerous dance artists and community folks were nurtured and mentored. Her "Studio Works" series presented dance, music, poetry concerts and Sounds in Motion became a popular hub where artists gathered. McIntyre and her companies have collaborated with countless musicians including: Olu Dara, Hannibal Lokumbe, Cecil Taylor, Ahmed Abdullah, Onaje Allan Gumbs.

Recent activities: For New York Live Arts - Time is Time, honoring James Baldwin and we carry our homes within us… with yMusic; creative residencies at Baryshnikov Arts Center/NYC and Dance Place/DC. Company commissions; Change for Dance Theatre of Harlem; When We Come To It for Dance St. Louis; The Call of Mrs. Hamer for Cleveland State University; Cleveland and Cuban elders Dancing Memories for Verb Ballets; The Witness for GroundWorks Dance Theater. Opera: Porgy and Bess in London and Amsterdam. Film: Hal King by Steve Wallace and vignette clip for Lauryn Hill. Theatre: Crowns at McCarter and Long Wharf Theatres.
Previous dance commissions: Dallas Black Dance Theatre, Alvin Ailey American Dance Theater, Dayton Contemporary Dance Company, Dancing Wheels, Cleo Parker Robinson Dance. Her work has been in several Broadway productions and Off-Broadway in Spell #7 and The Great MacDaddy. Theatre also includes London theatre and over 30 U.S. regional theatre productions including at Cleveland Play House, La Jolla Playhouse, Karamu House, Center Stage Baltimore, Arena Stage, Berkeley Rep, Goodman Theatre. For screen: Beloved (Oprah Winfrey); Miss Evers' Boys (Emmy Award nomination); for colored girls who have considered suicide when the rainbow is enuf (PBS). Some writer/director associations: Ntozake Shange, Jonathan Demme, Regina Taylor, Des McAnuff, Bartlett Sher.
Her signature dance works include: Take Off-From a Forced Landing, Life's Force, Mississippi Talks Ohio Walks, Eye of the Crocodile and How Long, Brethren? recreated through research of Helen Tamiris' work. Her theatre-dance from interviews include: I Could Stop on a Dime and Get Ten Cents Change (her father's stories) and Open the Door, Virginia! (school civil rights).
A guest faculty at many universities and at American Dance Festival, Bates Dance Festival and Jacobs Pillow, where she was the 2018 co-director with Risa Steinberg of the Hicks Choreography Fellows Program. She was the 2015-16 Distinguished Visiting Scholar at Spelman College. Other awards/distinctions: 2016 Doris Duke Artist Award, John S. Guggenheim Fellowship, three Bessie Awards (1989, 1997, 2006), Ohio Creative Workforce Fellowship, Helen Hayes Theatre Award (DC), two AUDELCO Awards (NY Black Theatre), Honorary Doctor of Fine Arts Degrees from SUNY Purchase and Cleveland State University, ADF Chair for Distinguished Teaching, Teer Pioneer Award from National Black Theatre, numerous grants and fellowships. Mentors: Gus Solomons jr, Vera Blaine, Elaine Gibbs Redmond, Helen Alkire, Louise Roberts, Virginia Dryansky, Rick Davis.
photo credit: Larry Coleman
Dance/USA 2019 'Ernie' Award
Glenn McCoy's nearly 40-year tenure as a leader in the field of dance has helped preserve and build sustainability of the art form at every level. A passionate and dedicated advocate, he has worked alongside leaders, presenters, educators, advocates, filmmakers, and most importantly, artists and creators of dance from around the globe. McCoy joined San Francisco Ballet in 1987, after working for San Francisco Opera and the Metropolitan Opera, and served as company manager and general manager before being appointed Executive Director in April 2002. The 2019 season is Glenn McCoy's 31st and final season as Executive Director of the San Francisco Ballet.
At the San Francisco Ballet, McCoy has overseen the production of more than 130 new ballets, and more than 50 tours, including engagements in Paris, London, New York, Beijing, and Washington, DC. He supervised San Francisco Ballet's operations for the critically acclaimed international dance festival, UNited We Dance, in 1995; SF Ballet's 75th Anniversary Season in 2008; and the 2018 Unbound festival. He has overseen tapings of Lar Lubovitch's Othello, Helgi Tomasson's Nutcracker, and John Neumeier's The Little Mermaid, which have been broadcast on PBS by Thirteen/WNET New York's performing arts series Great Performances, as well as Tomasson's Romeo & Juliet, which premiered in Lincoln Center at the Movies' Great American Dance series in 2015.
In addition, Glenn McCoy is an active leader in arts advocacy, spearheading two major ballot measures benefitting all arts organizations in San Francisco, including the successful passing of Proposition E which restores arts funding for San Francisco arts and culture to the hotel tax without raising taxes. He is also deeply committed to advancing Diversity, Equity and Inclusion within the dance field, having launched San Francisco Ballet's DE&I Initiative. Glenn McCoy's incredible contribution to the past, present, and future of dance is profoundly admired throughout the arts community worldwide.
photo credit: Chris Hardy
Dance/USA 2019 Champion Award
Terry and Sheldon "Shelly" Adelman are long-time supporters of Playhouse Square (Cleveland, OH), the country's largest performing arts center outside of New York. Through their time, talent and financial resources, both have demonstrated their commitment to the organization and the Cleveland dance community.
Mr. and Mrs. Adelman reside in Boca Raton, Florida and Beachwood, Ohio. They have two adult children and five grandchildren.
Notable among the Adelman's contributions to Playhouse Square has been their presenting sponsorship of Playhouse Square's annual Dance Showcase, a highly anticipated event that showcases some of Northeast Ohio's finest dancers on the stages of Playhouse Square. The event features a wide range of dance styles from ballet to swing, tango to hip hop. Featured companies in the past have included: C-Town Stompers, ELEVATED, GroundWorks DanceTheater, Inlet Dance Theatre, Kent Dance Ensemble, The Dancing Wheels Company, Travesty Dance Group, Verb Ballets and Viva Dance. The Adelman's support of the event makes it possible to present it free to the public.
Terry has been on the Playhouse Square board of trustees since 1989. During that time, she has been active on the Community Engagement and Education Committee. Toward this end, Terry's contributions have helped Playhouse Square provide thousands of events, workshops, classes and more, most with minimal or no fees, to people of all ages from all areas of Northeast Ohio.
In addition, Terry is a charter member of Playhouse Square's Leading Ladies. The 200+ member group was created three years ago to engage women by providing the opportunity to connect with each other through a shared passion for Playhouse Square and its not-for-profit mission.
The Adelman's demonstration of civic leadership reaches beyond Playhouse Square as both have served on a number of boards, committees and leadership councils. Shelly is an active member of the Board of Directors of University Hospitals (Cleveland, Ohio), serving as a Director and member of the President's Strategic Advisory Committee, Chairman of the Development Committee, and former Co-Chairman of Ahuja Medical Center.
Terry serves as a trustee of the Boca Raton Museum of Art. She is also involved in the Jewish Federation of South Palm Beach County and is a member of Lion of Judah. Terry was a past board member of the San Jose Ballet of Cleveland.
Terry and Shelly generously support a broad range of civic organizations including: The Boca Raton Museum of Art, The Jewish Federation (Cleveland, OH and Palm Beach County, FL), Agnon School, Montefiore, The Hanna Perkins Center for Child Development, Temple Tifereth Israel, and University Hospitals, where they have been honored as Samuel Mather Award recipients.